The Road to Nationals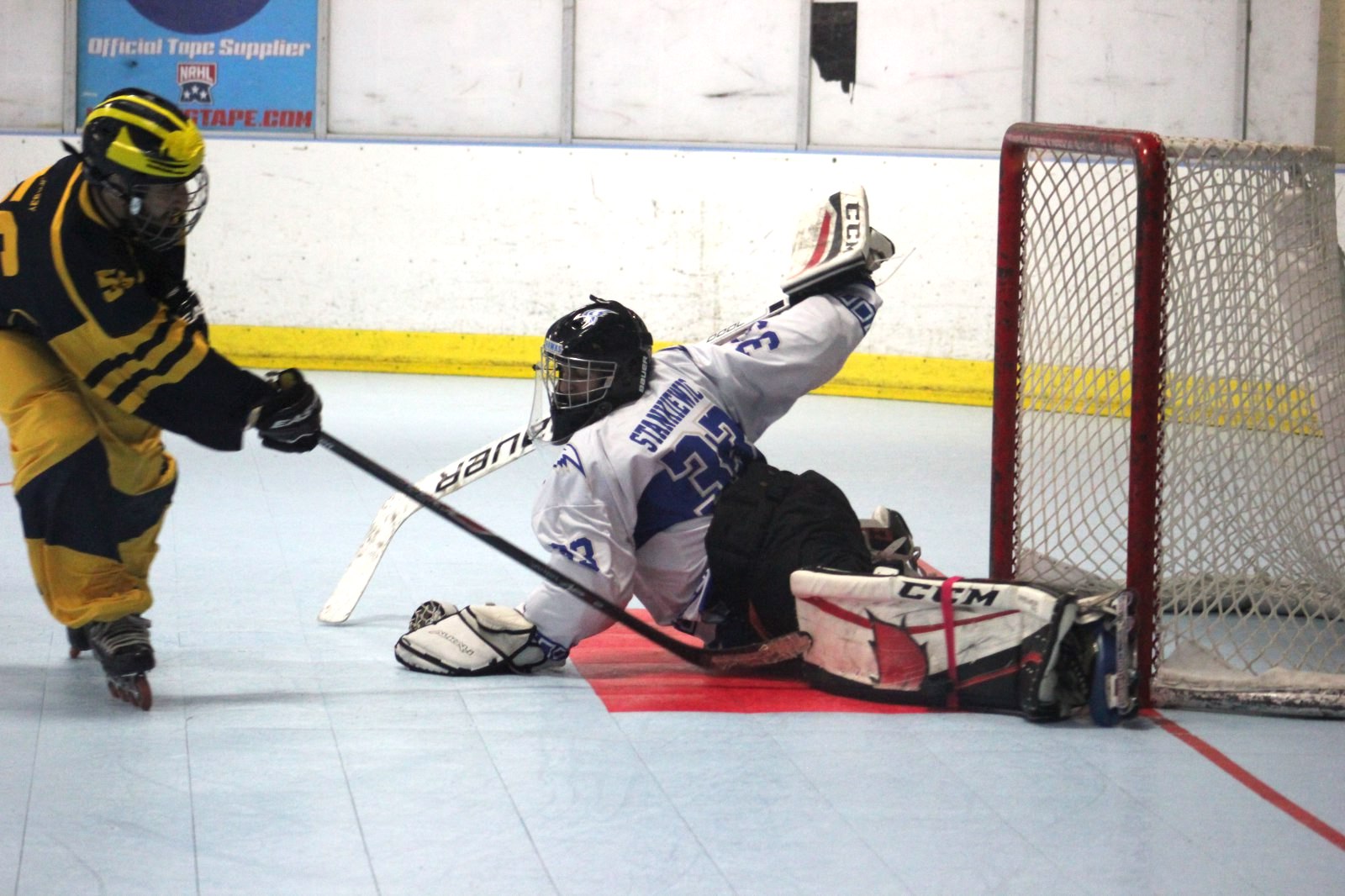 Photo courtesy of Dominic Stankiewicz
The road to the college roller hockey national championship in Fargo, North Dakota, was not initially in the picture for the Henry Ford College roller hockey team.
It all began with the idea of bringing the sport of roller hockey to HFC, so that's exactly what I did. I was given paperwork to complete to request the creation of a new club/sport and began my journey to find players and a coach to lead the team. Rick Fenwick, who was my psychology teacher, introduced himself as the "Next Wayne Gretzky," so I instantly approached him after class with the idea of coaching our team. After Mr. Fenwick agreed to coach the team, we scheduled tryouts and shortly after had a roster of eight guys.
Mr. Fenwick then met with Rochelle Taylor, HFC's athletic director, and convinced her to give the roller hockey program a shot. She was all in for the idea of a hockey team at the college and expanding the sports program at HFC.
We joined the National Collegiate Roller Hockey Association (NCRHA). I personally met with the director of the Midwest Collegiate Roller Hockey League (MCRHL). The Henry Ford College roller hockey team officially joined the MCRHL on Aug. 25, 2017, for the 2017-2018 hockey season. We were placed in Division II of the MCRHL as a Junior College.
Looking at our conference and who we would be playing, we did not have a lot of confidence to start. We had been matched up against two top caliber teams, Miami (Ohio) and Akron, as well as a few other big-name schools in our division, such as Ohio State, Michigan, Michigan Tech and DePaul.
We only had a few weeks of practice before the pre-season tournament. We knew we had to prove ourselves immediately so other teams knew we were serious and were coming to compete. We skated every Monday night at Taylor Sportsplex at first until the roller tile was taken out of the building and then we moved to the Livonia Rec Center where we still continue to practice every Monday. It was a constant flow of chemistry drills and basic skill drills to get us familiar with each other so we did not look sloppy going into the pre-season tournament.
The tournament schedule consisted of games against Michigan Tech, DePaul, Michigan and Michigan State. We won our first three games with ease and played the best team in Division I in the final game. Michigan State is a team filled with the top players from across the state as well a one professional roller hockey player. We knew going into the game that we would not come out victors but we wanted to make a statement. Our goal was to keep them under ten goals which is what we did. At the end of the game, we were out shot 63-15 and took the 9-1 loss but kept our heads high. We were a junior college team playing a Division I team.
After our pre-season tournament, we won three out of four games in October with our single loss to our fiercest competition, Miami (Ohio).
The season continued in November and we ended up taking two out of three games. As a new team, we did not want to take any time off. We ended up playing in the Great Lakes Collegiate Inline Hockey League's junior college games in St. Louis, Missouri, in late January. We wanted to play other teams outside our league and junior college teams that might be going to Nationals. At this point in the season, we were ranked number 3 in the country in the Junior College Division of the NCRHA. We won three out of four games and beat the numbers 4 and 5 seeds in the NCRHA. We knew at this point that we were headed to Nationals.
We continued our season through February and ended up in second place in the MCRHL with a record of ten wins and five losses. The first-place team, of course, was Miami (Ohio). One of our players, Eric Holgate, ended up as one of the top five players in the conference in points and goals. We also had several other players with double digit points. I managed to make the top goaltender in the conference with the most saves of 446 for the season. I also made the top five goaltenders in goals against average and save percentage. Not bad for a new team.
Regional championships were held at the beginning of March. We really wanted to win the trophy for the school, especially as a first-year junior college team playing in Division II. We beat Akron by five goals and were getting ready to play Miami (Ohio). We had lost to Miami (Ohio) twice during the season and were hoping to beat them and knock out their chances of going to the regional championship game. At the end of the second period, it was tied 1-1. Five minutes into the third period, Lucas DiMascio scored the second goal. We just had to stop them from scoring for another seven minutes or so, and we did! We were headed to the championship game. You would have thought we won the Stanley Cup.
Unfortunately, Miami (Ohio) went on to beat its next opponent, Akron, by only one goal to make it to the championship game against us. They got their revenge to beat us 3-2.
After the regional championships, several of our players were injured but we knew we had to get healthy and work hard to improve our game to prepare for Nationals.
We leave Detroit on April 12. There are four other teams in the Junior College Division, two from California and two from Missouri. We will give it our all, but no matter how we end up, we will be very proud of having made it this far in our first season – and very grateful for the support of HFC.