Changing the Face of Music in Detroit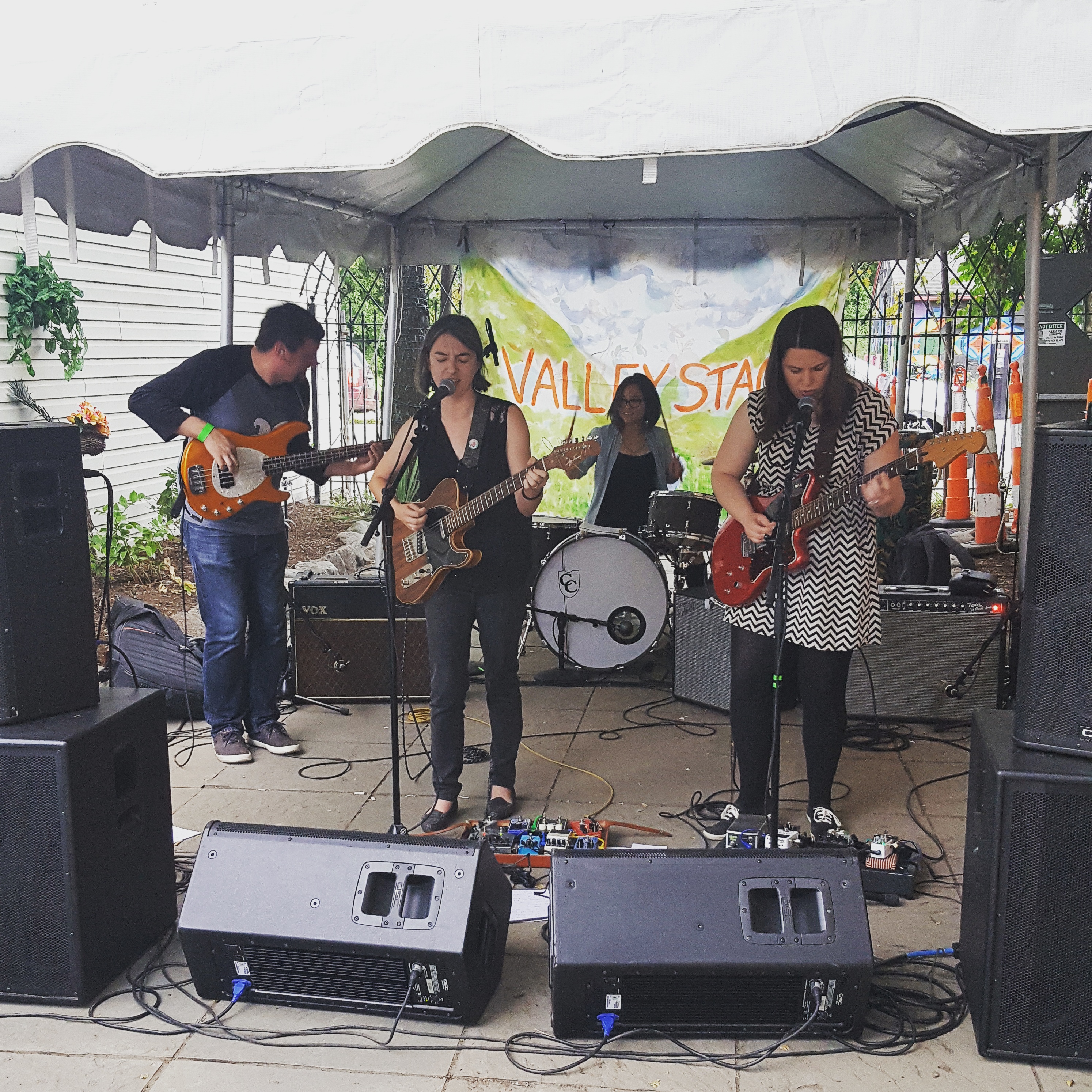 Photo by Jessica D'Alfonso
Seraphine Collective and Girls Rock Detroit have been working diligently to promote local, inclusive and community-based music.
Seraphine Collective strives to create a collaborative space for those who may feel underrepresented in the current Detroit music scene. The Collective promotes female-led performances at local venues, publishing female, trans- and non-binary focused mixtapes and 'zines,' and hosts a "Beatmatch Brunch" – a four-week course led by local electronic musician Mother Cyborg, in which students are taught to DJ. They learn to handle vinyl, how to identify beats per minute, and how to read audio waves and beat matching.
Board member Tina Louise says that fostering a sense of community in Detroit's music scene is important because women, femme, queer, transgender, and "people of color" (POC) have always had a presence, but often feel invisible. She adds that "acknowledging and supporting this presence is necessary because if we don't then that invisibility will remain" and "being visible, appreciated, valued, and included is important to us and for those who will come after us."
Louise first fell in love with music after she was given her first 7 inch record to play on her Fisher-Price Record Player, and, more so later when she was given a Michael Jackson album on cassette tape in the first grade. She became more involved in making music after seeing many of her male friends starting up bands. "I was watching all my guy friends getting used equipment and starting punk bands," she says. "At the same time, I was exposed to Riot Grrrl and even though I couldn't afford musical instruments or lessons or anything like that, I just decided to work at it until I could and that's what I did."
According to Louise, the Collective is currently working a major goal to establish a music venue "that is truly safe, inclusive, and available in the city of Detroit where the diverse community of women, femmes, queer, transgender, and POC adult and youth artists, patrons, and residents can support and foster visibility of this community in a music scene dominated by patriarchal and institutionally racist cultural norms." She goes on to say that the venue would ideally have a large room for performances and workshops, smaller rooms for practice spaces, and a recording space.
Louise clarifies that the venue wouldn't necessarily be owned by Seraphine: "The dream isn't for Seraphine to own the space as Seraphine, but to own in collaboration with other Detroit groups with like-minded goals and objectives. We want everything we do to not just support us but everyone we can that is working so hard to further the mission of bringing visibility and access to marginalized youth and adult artists and musicians in Detroit."
Local musician Stef Chura feels that the music scene in Detroit is fairly diverse. "So many of the bands I've played with and I'm friends with – almost all of them have a woman in the band," she says, adding, "that's also a huge crossover with Seraphine Collective. I think it's organized a lot of women to be in the same place, which is really cool."
Chura says she has always wanted to be a musician. She learned to play guitar when she was 13 and started playing more public venues when she was a senior in high school. She says, "We played some coffee shops in Alpena, Michigan, and we played for a school talent show. When I was 19, I moved downstate and I had some songs, so after I met the right people, I started playing house parties." Chura was signed to Saddle Creek Records in 2017 and re-released her debut album "Messes" on the label earlier this year.
She feels that there is definitely a change being made, especially in rock music. "Rock 'n' Roll is dead for men," she says, adding, "that's just the shift that rock music is taking right now. Boys have controlled it for so long and it's just becoming our turn, and that's cool."
However, she hopes for a future where being a woman in a band is seen as "normal" rather than something special: "There is such a big influx of women playing music and women-fronted bands and all-women bands that we're still in a stage where it's a little bit of a gimmick, but I think what will happen in the next few years or the next decade is that it's just going to start to be normal and it won't be special that there's a woman in a band."
Another organization working to promote inclusion of women in music is Girls Rock Detroit, a non-profit which focuses on music education. According to their website, Girls Rock Detroit is "dedicated to fostering creative expression, positive self-esteem and community awareness for girls, women, gender non-conforming, and transgender people." The organization hosts two separate 1-week summer camps in which girls, women, gender non-conforming, and transgender people are taught to play guitar, bass, drums, keyboard or DJ skills. hey also hold workshops throughout the week focused on building "experience, teamwork, and self-esteem." Girls Rock Detroit currently has their Rock Camp 2018 scheduled for July 9 – 14 and July 30 – Aug. 4 at Christ Church Detroit for ages 8-11 and Detroit Institute of Music Education for ages 12-15.
Melissa Coppola, executive director of Girls Rock Detroit, feels the camp is incredibly important for encouraging young women to have a voice: "These role models are helping guide these girls into a place where they feel like their voices are important, like their self-esteem matters. So, when you put them up on stage and they're able to sing into a microphone and have it blasted to an entire room, it's so empowering for them."
Coppola, who plays drums for two local bands – The Free Bleeders and JUNGLEFOWL – got her start in music playing piano at six years old. She didn't get into playing rock music until her mid-20s and only learned to play the drums about six years ago. "I never felt like I had permission to write songs and I didn't feel comfortable with my voice in songwriting," she says, adding, "I didn't get started with that until much later and I think Girls Rock was responsible for it."
She also feels that volunteering at the camp had a profound effect on her: "My life was completely changed by volunteering for Girls Rock. It's just amazing to work with the youth across the country and to see all of the different camps because all of them are so different. It is really, really rooted in their communities and it is targeted toward what these girls need."
In addition to the summer camp, Girls Rock Detroit holds an annual "Rock Roulette" fundraiser and showcase event. Local musicians sign up for the Rock Roulette and are randomly assigned into bands together. The bands are given seven weeks to work on material for a 15-minute set. This year, Rock Roulette will be held on May 6 at El Club in Detroit.
Coppola feels that although organizations like her own and Seraphine Collective have made a massive effort to promote women in the local scene, there is still a long way to go: "I don't see a lot of people who look like me on stages that I'm sharing bills with. I do think women are represented because people are making a conscious effort to make them. Organizations like Seraphine Collective and Foundation for Women in Hip-Hop and our organization are really trying to bring this out of the woodwork."
Citing a recent Billboard article by Nicole Pajer that states that only about 12 percent of music writers and 2 percent of producers are women, Coppola emphasizes the importance of representation in the music scene: "You think of Beyoncé and Lady Gaga as famous women in music, but as far as writing music and producing music and playing instruments on stage, it's way less common. I think that girls being able to work with people who actually do it, who look like them, gives them a lot more options for what they might be able to do in the future."