Protest at Local Church Accused of "Conversion Therapy"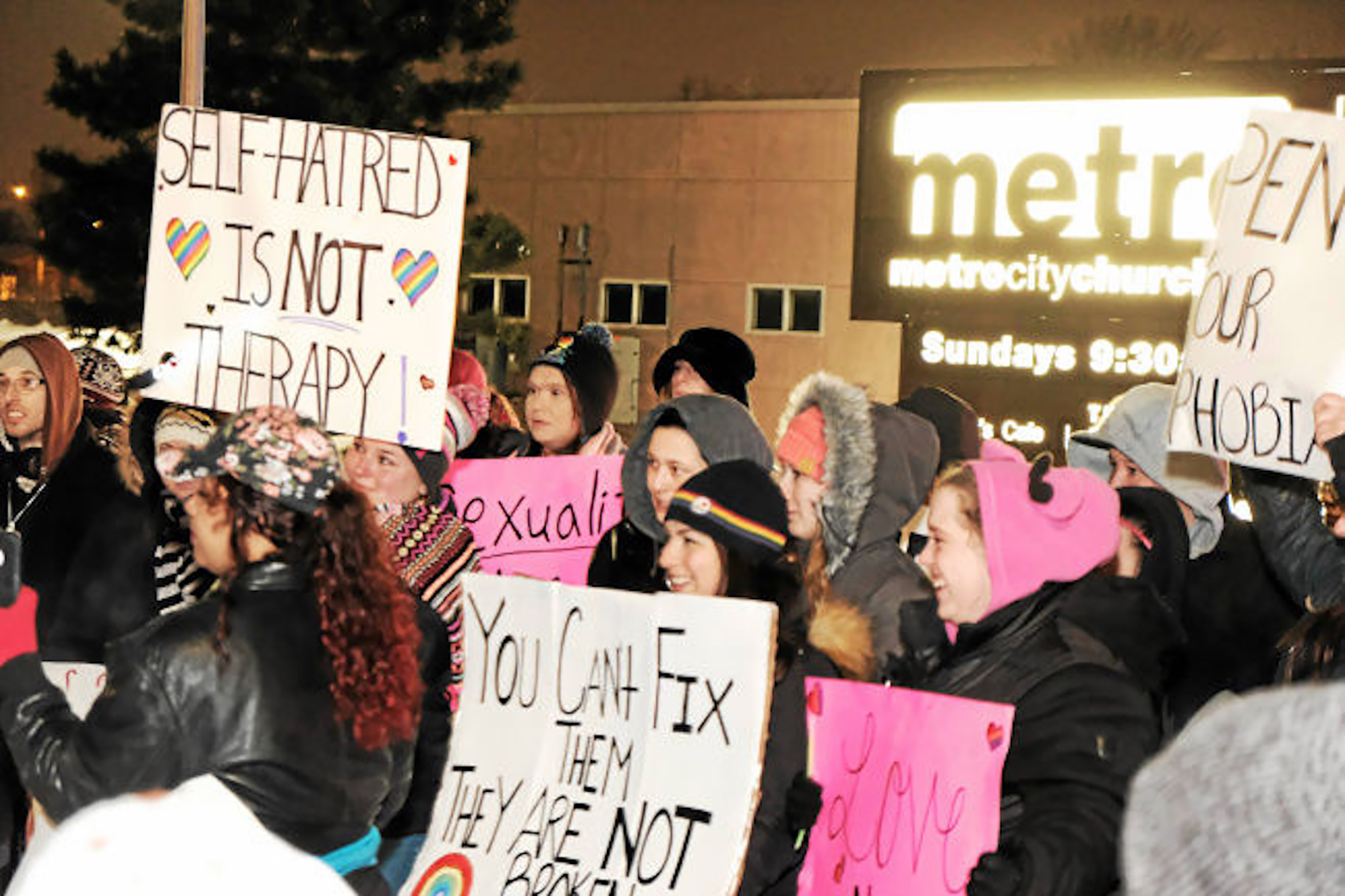 Photo courtesy of The News Herald
A church in Riverview, Michigan, has faced backlash over its six-week "Unashamed Identity" workshop aimed at adolescent girls. A now-deleted listing for the $200 workshop on Metro City Church's website sought "GIRLS ONLY (by birth), 12-16 years old, for those struggling with the thoughts that they are Trans – Bi – Gay – or other." The post also claimed that "through thoughtful, relevant and biblical counsel we will help your girl be unashamed of her true sexual identity given to her by God at birth."
Some feel the workshop is a form of conversion therapy, a practice that attempts to change an individual's sexual identity. A 2018 report published by the Williams Institute claims that 698,000 LGBT adults have received conversion therapy and 20,000 LGBT youth will receive conversion therapy before they reach the age of 18. The report also states that several techniques can be used, including aversion treatments and hypnosis. Currently, talk therapy is the most common technique.
According to the American Psychiatric Association, the risks of conversion therapy include "depression, anxiety, and self-destructive behavior, since therapist alignment with societal prejudices against homosexuality may reinforce self-hatred already experienced by the patient."
Metro-Detroit Political Action Network, a local activist group, organized a series of protests to coincide with the dates of the workshop, every Thursday from Feb. 8 to March 15. Drew Howard of Pride Source reports that 300 members of the community showed up to the initial Feb. 8 protest, carrying signs that read "Love is Love" and "Self Hatred Is Not Therapy." Char Davenport, a speaker at the event, said, "This protest is not about this church. It's about these kids," as reported by Jim Kasuba of The News Herald. In addition, Aleanna Siacon of the Detroit Free Press reports that a former member of the church claims that a church tried to pray the "demon" out of her son.
However, Metro City Church claims their workshop is not conversion therapy. "We are about conversations, not condemnation. We believe sexuality is a choice. We believe that you can be what you want to be and do what you want to do," Lead Pastor Jeremy Schossau says in a statement on the church's YouTube channel. "People seem to think that we are looking at people and making a judgment against them and demanding that they somehow come into our office to fix them or to change them. That is just simply not true." In a separate video, Schossau stresses that, although the church leaders are a "traditional family, 'men-marry-women' type of people" that they would not condemn anyone who does not follow their preferred path: "just because somebody doesn't go the way we want them to go doesn't mean we don't love them and care deeply about them."
Schossau says, "This is something that people in our church community and our friends around us want to talk about." Schossau continues, "They're coming to us. We're not going to them and dragging them in." He says the workshop was meant to "help young adolescents who were struggling with sexual identity and sexual directional issues." He later adds that the church wanted to "provide a safe environment for them to connect with their parents, and to connect with a counselor who we think is gentle and helpful." He regrets the way it was initially handled, saying he thinks that they could have been clearer about what they were trying to achieve.
The church has also received threats in response to the workshop. As reported by Kasuba, a Southgate man was charged with a misdemeanor after leaving a threatening voicemail claiming that "every member of Antifa will show up armed and ready" if the church continued the workshop. "There has been a tidal wave of vitriol and hatred given toward me, my family, and our church and I just don't think it is merited," Schossau says in a YouTube video. MDPAN organizers have criticized the threats on their Facebook page, writing, "We do not agree with violence or threats. We want to get Bill 5550 passed." Introduced on Feb. 13 by State Rep. Adam Zemke of Ann Arbor, Bill 5550 would prohibit mental health professionals from engaging in conversion therapy with a minor. It defines conversion therapy as "any practice or treatments by a mental health professional that seek to change an individual's sexual orientation or gender identity." According to Siacon, if passed, Michigan would be the 10th state to ban conversion therapy, along with California, Nevada, Oregon, New Mexico, Illinois, Vermont, Rhode Island, Connecticut, and New Jersey.
On March 4, a church in Royal Oak held a "Safe in my Church" event in response to the workshop. Pastor Jeff Nelson of Royal Oak First United Methodist Church began the event by emphasizing the welcoming atmosphere of the church, saying, "The church is yours. It always has been and it always will be." They hosted a multitude of speakers from the LGBTQ community, including Natasha T. Miller, who read a poem about the importance of identifying as gay, and Laci Basel, a local transgender woman who is a member of the church.
Several pastors of nearby local churches spoke at the event about the importance of accepting the LGBTQ community into their religion. Pastor Louise Ott of the Congregational Church of Birmingham in Bloomfield Hills and a member of the LGBT community said, "It's time all of our churches and Christianity take a lesson from Jesus: Stop doing harm. Stop warping people into positions that do not fit who they are."
Share it now!