M Cantina? Pleased to Meet You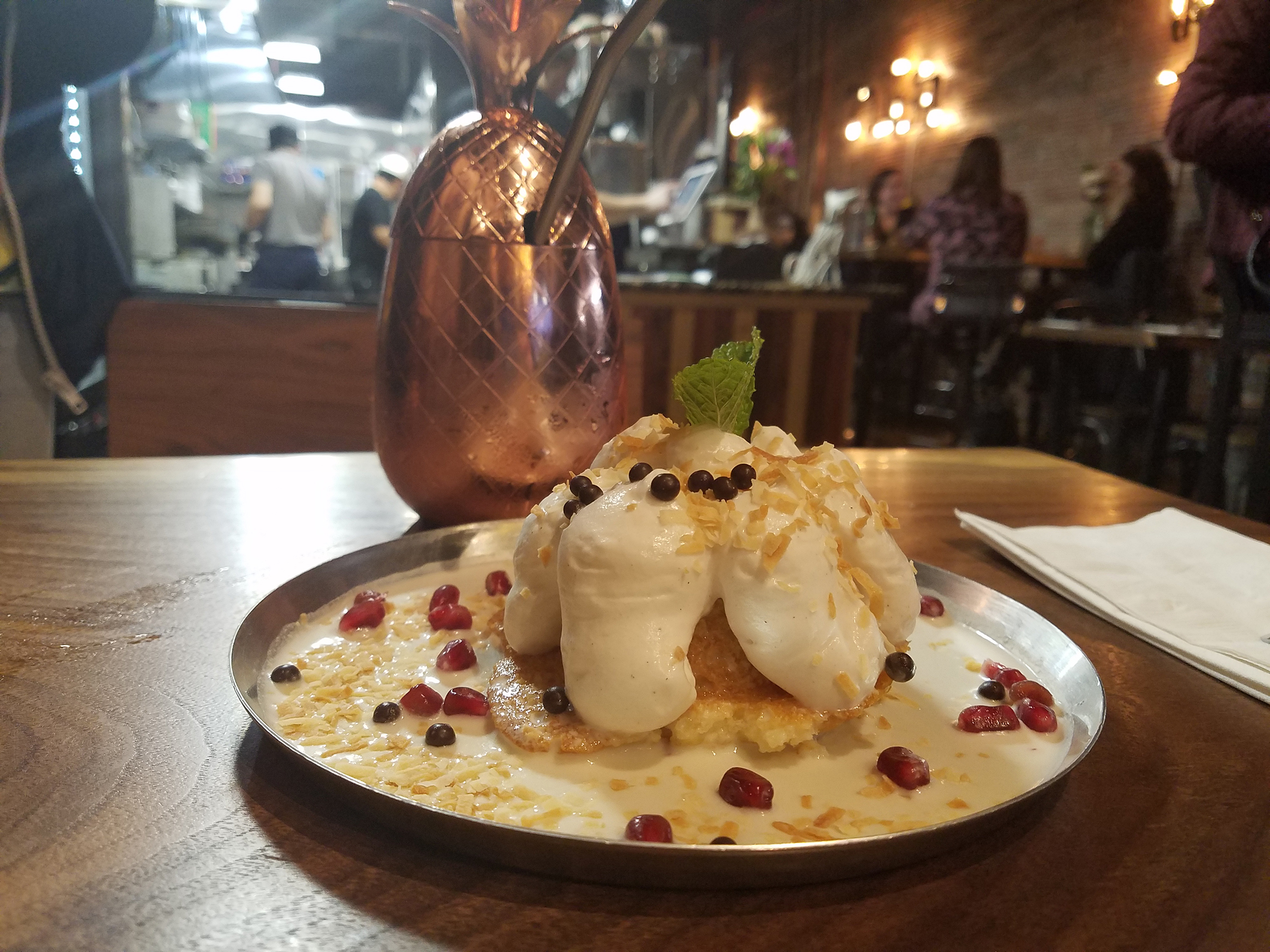 Tucked away in a small strip of businesses on Michigan Avenue in Dearborn is a contemporary shoebox shaped establishment where you can find gourmet nuevo Latino street food and an assortment of Mbar juices filled with exotic flavors.
Named one of Dearborn's thirteen healthiest restaurants, M Cantina is a new take on the classic taco shop. The establishment is co-owned by the dynamic husband and wife duo, Junior and Heidi Merino.
Junior Merino is not only a chef, but he is a celebrity mixologist in New York City. Merino designed cocktails for the cities top bars and restaurants, theme parks, cruise ships, and airlines. Junior and his wife were the go-to for parties in NYC with celebrity icons such as past New York Mayor Bloomberg, President Barack Obama, Neyo, Justin Timberlake, President Bill Clinton, Michael J. Fox, Billy Joel. He even created a drink for Oprah Winfrey called "Coming Up Roses." Junior is an official ambassador of Mexican gastronomy and tourism and created Mexico's first national cocktail. Merino is the Heisenberg of edible chemistry.
Heidi Merino is not merely a restaurant manager. Inspired by her mentor and husband, she pursued her own dream of becoming an executive chef. She went through the ranks with skill and persistence and joined forces with Junior to create a fusion of the couple's passions, food and alcohol.
The first thing that pops out at M Cantina is the nonalcoholic bar menu that is teeming with unusual and intriguing juice options that each have a healthy purpose. Juices that help with focus like the "Detox" with ingredients like chlorophyll, green apple, and romaine. There is a metabolism boosting juice that has jalapeño, cucumber, and agave and another desert-like chocolate drink that contains chile pasilla, pomegranate, and soy milk. I chose the focus refreshing drink of watermelon, mint, and lime, and the flavors complimented each other perfectly.
The fresh drink of the day, Ginger Lemonade, demonstrated Merino's showmanship. The bartender flung tiny white balls on top of the drink, resulting in exciting loud popping and a thick layer of smoke, giving the impression that I was drinking a science experiment. Impressed by the display, I also ordered the "coolest drink" they make, a sweet and delectable pineapple drink that came in a bulb topped with a purple hibiscus surrounded by a glass case and pumped with opaque white steam. Lifting the case to take a drink prompted a display of steam rising that captivated myself and the other close diners.
Junior Merino's love and talent for mixology does not stop at drinks. The first thing I ordered was chips and salsas and there were over a dozen carefully scrutinized concoctions for your tasting pleasure, ranging from a mild but immaculate tasting chickpea salsa to the intensive and sneaky ghost pepper salsa. The Mexican street corn, something customers clamor for, was so full of taste that audible moaning was mandatory during the first couple bites.
The main course menu is full of multiple options among three major themes: Tortas, Tacos, and Tapas. My companion targeted the Al Pastor, a chili marinated pork topped with grilled pineapple, onion, and cilantro taco that comes in threes, as all the tacos do. My companion found the pork was tender and delectable, topped with fresh pineapple, onion, and cilantro..
I tried their top recommended vegetarian option, the Fingerlings Potato, a finely cubed and spiced potato covered in cheese and Aioli hot sauce, which combines to make a hearty, distinctive, and savory taste combination. In a world of bland vegetarian options, the Fingerlings will rock your world.
I was lucky enough to save room to taste two of their most famous desserts. Cinco Leches Cake with Café de Olla Cream is a light spicy white cake that is soaked with creamy milk and topped with fluffy whipped cream, crunchy chocolate morsels, coconut shavings, and pomegranate that create a sweet and subtly tart combination that has gusto.
The Molten Lava Cake, topped with cream and a blackberry and a side of mango nitro ice cream, a candied pear, and an edible hibiscus is combined with oozing melty chocolate cake and mango ice cream. The cake was so moist and so enjoyable it felt illegal to partake.
The menu is highlighted by a foodie favorite, a $60 taco featuring American Wagyu beef, Hudson Valley foie gras, pearls of Golden Osetra caviar and shaved black truffles. The taco is topped with the succulent ice plant and served on the side is Hawaiian salt, smoky chile morita sauce and roasted grasshoppers for crunch. Even though the menu features this high dollar item, the rest of the menu is very reasonable, especially considering the quality of ingredients and the care and creativity of the cooking. It would not be hard to imagine dinner for two costing around fifty bucks, making it a good choice for the budding romances of Henry Ford College students.
M Cantina is a delight for any foodie, small time snacker, family night out, or taco fanatic. Every bite is solid proof that love, effort, and creativity are the best ingredients. The love for their food is not the only time-tested success under the roof of the "M," which stands for the last name of the married couple. I asked Heidi Merino about what it was like to work so closely with her husband for thirteen years and she replied, "I wouldn't want it any other way."
Share it now!