Lexus Velodrome brings Olympic Cycling to Detroit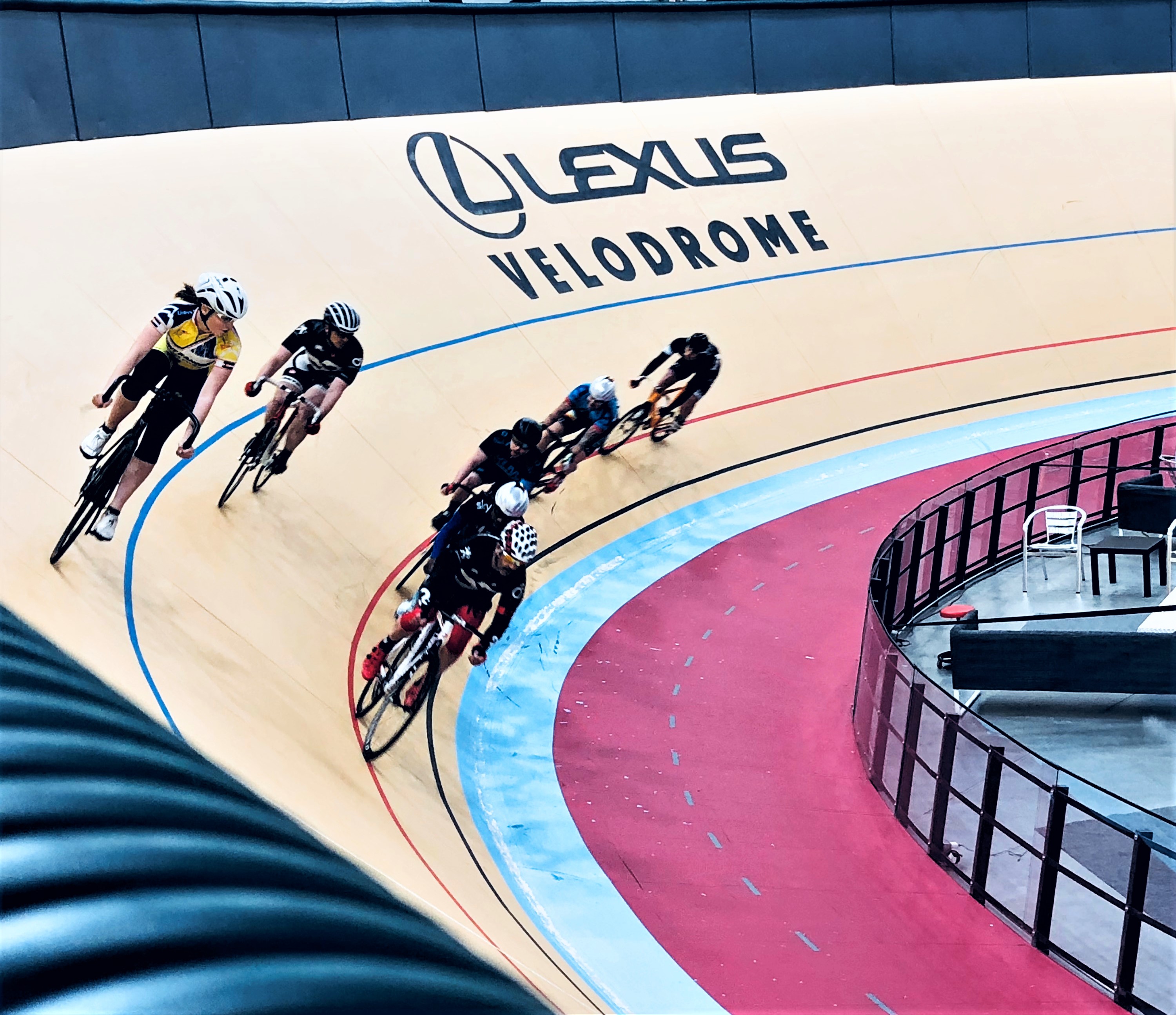 The Lexus Velodrome, located near Eastern Market at I-75 and Mack, offers Detroiters an exciting new fitness opportunity and a unique family-friendly entertainment venue in which to spend their Saturday nights. Opened on Jan. 26, the 64,000 sq. ft. multi-sport complex brings competitive Olympic style track cycling to the forefront of local sports. The $5 million air dome construction, funded by an undisclosed "angel donor" and supported by sponsors led by Lexus, is only the second permanent indoor velodrome within the U.S.
The project was designed by Dale Hughes, executive director of the Detroit Fitness Foundation (DFF), a non-profit formed to operate the velodrome in cooperation with the Detroit Parks & Recreation Department. The foundation's mission is to provide fitness and sporting opportunities for area residents with a focus on youth and seniors.
Hughes, born and raised in Highland Park until his family moved to Rochester where he attended high school and college, is one of only a few people in the world who design and build velodromes, a name for the arena in which track cycling is held as well as the track itself. Hughes says he just sort of fell into the unusual career after college. Post graduation, with a degree in business, he traveled to Germany to visit his sister who was there for a teaching position. During this visit, Hughes witnessed his first professional European bike race and says he just fell instantly in love.
"I think I rode a bike like everybody did until I was 16, until I got keys to the car," Hughes recalls. "But I wasn't interested in the bike at all until I saw that race in Europe." This was well before competitive cycling was established or popular in the U.S. Hughes came back and asked his father to loan him money to open a bike shop and then asked his friend and nextdoor neighbor to partner with him. Together they ran the shop for two years during the first bike movement in the 1970s when Schwinn ruled the market. When Hughes met a world class cycling coach he asked him what else he could do to stay in the sport. "Build a velodrome," was his answer.
"I was 25 years old," Hughes says, "and I did."
Since building his first track, and the U.S.'s only portable velodrome in the late 1970s, Hughes has gone on to design and build more than 20 velodromes around the world, including for the 1996 Olympic Games in Atlanta, the 2002 Asian Games in Seoul, Korea, the 2010 Commonwealth games in Delhi, India, and the 2015 Pan-Am games in Canada. Hughes is currently working on a project in Tel Aviv as well as with the upcoming 2019 Pan-Am games in Lima, Peru.
Inside Detroit's Lexus Velodrome, three fields of play welcome guests of all fitness levels. They include lanes for running, walking and skating, a 1200 sq. ft. space for fitness and exercise classes, and a 1/10 of a mile world-class, banked cycling track where beginners learn to ride and competitive cyclists race to win. The foundation is using these fields of play to increase overall fitness and activity within the city and to establish a thrilling entertainment venue highlighting the Olympic sport.
The Lexus Velodrome shares a parking lot with Ben Carson High School on the northeast corner of Tolan Playfield. The location connotes its commitment to youth in the community and its intention toward the extraordinary. "While we have many goals," our mission is just to get people more fit and involved with sport, says Hughes. "But do we have a goal of seeing if we can't get some youngster into the Olympic Games?" he adds."Yeah," he answers with a smile.
The Tolan Playfield, nine acres owned by the Detroit Parks & Recreation Department, is named after Thomas Edward "Eddie" Tolan who was better known as "The Midnight Express" and described by fans as "the fastest man alive." The Cass Tech graduate won 300 races during his career, most notably two gold medals in the 1932 Summer Olympics in Los Angeles for records set in the 100-meter and-200 meter events. He was admired by athletes and friends, including Olympic gold medalist, Jesse Owens. The Velodrome honors Eddie Tolan with its one-eighth mile ET Oval, four lanes providing indoor training space for varied training.
With the goal of engaging youth in cycling and providing safe and fun local activity, all programming at the Velodrome is completely free for ages 18 and under. This is not exclusive to Detroit residents. "Any kid, anywhere, if they want to come here, we'll put them on a bike and teach them how to ride," says Hughes. The free programming includes coaching, helmets, shoes and bikes specific to track cycling. Youth may also use the ET Oval lanes for running, walking, inline and quad skating, free of charge. Far from suburban mall walking opportunities, Detroit seniors 65+ enjoy free morning walks out of the elements on the ET Oval on Tuesday and Thursday mornings. Additional senior programming is in the works as participation increases.
And of course, there's the races. Each Saturday night, the Velodrome hosts competitive racing open to the public for viewing. Spectators can stand right in the middle of the oval track or look down on cyclists from the Sky Walkway above. At either vantage, viewers are close to the action and able to engage the excitement in a way that no other $10 sporting ticket can provide. For an upgrade of $5, guests can be seated in the ring or reserve roped off group suites, just feet away from racers. The Rumble and Roar Indoor Cafe provides concessions and will soon be able to accomodate adult beverages.
The Velodrome stays committed to youth in the entertainment arena as well. Not only are teens able to train to achieve a competitive racing status, but children 18 and under receive free admission with the purchase of an adult ticket.
Race nights are comprised of individual sprints (3 laps around), multiple mile scratches and eliminations, and the much anticipated Madison race, a two-person team event that encompasses 50, 60 up to 100 laps with riders slingshotting one another forward to relay through the distance. The evening's race contestants range from junior competitive status to semi-pro and professional, reaching speeds of 35 miles per hour as men and women, boys and girls, race shoulder to shoulder. All events are live streamed and can be viewed on the Lexus Velodrome website and Facebook pages.
The Championship Games, hosted by the Rumble & Roar Indoor Track Cycling Society, are held one weekend each month at the Velodrome, bringing in cyclists from across the nation and eventually, around the world to compete for status and cash prizes. Championship Games are held on Friday and Saturday evenings and are broadcast nationally via PBS. While the weekly Saturday night racing has been building an audience organically over the past six to seven weeks, the Championship Games are well publicized and currently draw a crowd of 600-700 viewers, inching towards the Velodrome's capacity of 1000 guests. For beginners, the Velodrome offers a 101 class, where the cyclist learns to ride a track bike which, unlike a road bike, has only one fixed-gear and no freewheel (clutch) or brakes. This optimizes racing ability within the Velodrome where the wooden track is banked 50 degrees in the turns and 15 degrees in the straights. Speed is controlled up and down through the rider's feet and there is no option to coast.
While this may sound intimidating for beginners, Hughes says, "Anyone that regularly rides a bike or is medium fit will have no problem riding the track."
The 101 classes start on the flat apron and move onto the 50 degree bank as the rider learns to balance. This bucket list class is perfect for adventuring individuals, couples, work parties, and youth and adult hang outs. If you like the ride, memberships are available in six and twelve month increments and include unlimited open riding, structured training through upper level classes like 201 and 301, ET oval access, and a $5 track bike rental at each visit if you don't have your own. The 201 teaches riding etiquette and advanced handling so that riders are prepared to participate in all open riding times. The 301 allows serious riders to practice racing shoulder to shoulder and participate in structured training, working up to a competitive level.
Joaquin Kiley, who teaches multiple level classes at the Velodrome and is a sprint racer himself says the time it takes a rider to reach a 301 level varies based on the individual and can be anywhere from weeks to months with no experience necessary."You can be right off the street and never have ridden," says Kiley. "If you are already strong and you are good with the bike, you might progress quickly, but not necessarily, because the track is a lot different. There are a lot of other skills needed that you don't learn riding on the road." So whether you're brand new to cycling or a seasoned road rider, Kiley says there's still a learning phase.
"What was the most challenging?" I ask Wade Siegel, a 101 student fresh off the track and sporting an "I did it" grin. "That first lap," he says. "Just that first corner, knowing that you're not going to fall over." The advantage of the banking, Kiley explains, is that riders can go as fast as they are able, and the banking will hold you in rather than a flat track, which requires a decreased speed at the turns.
"As a Detroiter,' says Kathryn Arnold who has also just finished the 101 class with Kiley, "it's amazing to have some place to come during the winter, especially when it's horrible outside, when there's ice and snow."
Pro racer Brett Beddow of Grosse Pointe, who has already taken first place wins in the new arena, agrees. "Having the velodrome open in Detroit has changed winter training," he says. "Previously, I would ride the trainer, which is a way to ride stationary in your basement, or go outside to brave the cold. The fitness that you can achieve on the track will carry over well into the spring and summer, as opposed to coming into the spring and summer out of shape due to poor riding conditions. It's also a bonus to be able to get out of traffic."
When asked what he loves most about racing, Beddow replies, "I love to have goals that I can work towards each day. Cycling is an activity that if you want to be good, you have to be consistent. There's a lot of days where you don't feel like training, or are fatigued, and if you can push through that, you can learn a lot about yourself." He adds, "Racing bicycles will take you to a lot of new places and you will meet people that you wouldn't have otherwise."
Beddow began road riding at 15. The Velodrome is working on giving kids a taste of the track at even earlier ages. Additional outreach curriculum includes the upcoming balance bike program which will teach 2-5 year olds how to ride bikes by scooting while balancing their weight, before moving on to junior track classes. "That's really the way you teach kids how to ride a bike," Hughes says. "No more running behind them holding on to the back end of it." The foundation also hosts a "Field Trip" program which will focus on bicycling and transportation history, mathematics of 50 degree banking, and the importance of physical fitness. This program is free to any Detroit school and its students.
As an instructor at the Velodrome, Kiley shares what he appreciates most. "The best thing is when you see someone who was struggling to get on the bike in the infield, much less on the track, and oftentimes it's a young kid so you're concerned. But then they get out there and they do it. That's really rewarding. It's a challenge, it's very intimidating, and it takes some physicality to do it. You can see how it helped their confidence because they know now that they can do that."
Kiley met Hughes while working and racing at the International Velodrome at Bloomer Park in Rochester Hills where Hughes, a city resident, donated his talents and design to work with the local cycling community to build the outdoor IVBP in 2001.
Hughes points out that Detroit has a history and culture of Velodrome racing, whether people remember it or not. "Do you want to win a bar bet with someone who says they know everything about sports?" he asks. "Ask them what two sports all the original national hockey league arenas were contextually designed for. The original six NHL buildings were Madison Square Gardens, the Montreal Forum, Chicago Stadium, Boston Garden, the Toronto Maple Leaf Gardens and Detroit's Olympia. They all housed three sports— boxing, hockey and velodrome racing, with the latter two requiring a specific building design. Each arena hosted "6 Day Bicycle Races" on a circuit which regularly drew in crowds of thousands. The popularity of track racing lost its momentum in the U.S. by the end of World War II and the boom of the automobile but continued to build popularity in Europe. Hughes's favorite race, The Madison, a two man slingshot relay, was formed at Madison Square Gardens in New York City in 1889 and is going to join the existing track cycling events in the 2020 Olympic Games. The race can be 5 miles, 10 miles, and even as much as 30 miles in Europe where the event is referred to as the "American race," in French course à l'américaine and in Italian and Spanish as Americana.
Detroit began to bring back track racing in the late 1960s with the Dorais Velodrome, built by the Wolverine Bicycle Club on Detroit's northwest side at Mound and Outer Drive. Several female Olympic champions trained with the Wolverine Bicycle Club, including Sheila Grace Young-Ochowicz, Denby High School graduate who won three world titles in both speed skating and track cycling and in 1976 became the first American to win three medals at one Winter Olympics. By 1986, however, the races at Dorais had stopped and it wasn't until Hughes design and build of the International Velodrome at Bloomfield Park in 2001 that the Detroit area had a world class track for racing again.
Long before we were the Motor City and four wheels became king, cycling played a large role in the lives of Detroiters from transportation to recreation and entertainment. Over the past few decades, interest in the bike has found rebirth here. The city has invested in greenways and bike lanes, bike rentals connect through the heart of mid- and downtown, and well established cycling communities extend into many surrounding neighborhoods. You can take it casual on Monday nights during the spring and summer with Slow Roll Detroit and now you can ride it fast and furious at the Lexus Velodrome all year round. With options like these, Detroit is on a roll to becoming one of the top biking cities in the world. With a visionary like Dale Hughes inspiring investment in the city's youth, it may not be long before Detroit athletes are once again taking a bow on the world stage.
Share it now!