Behind the Mask of a Goaltender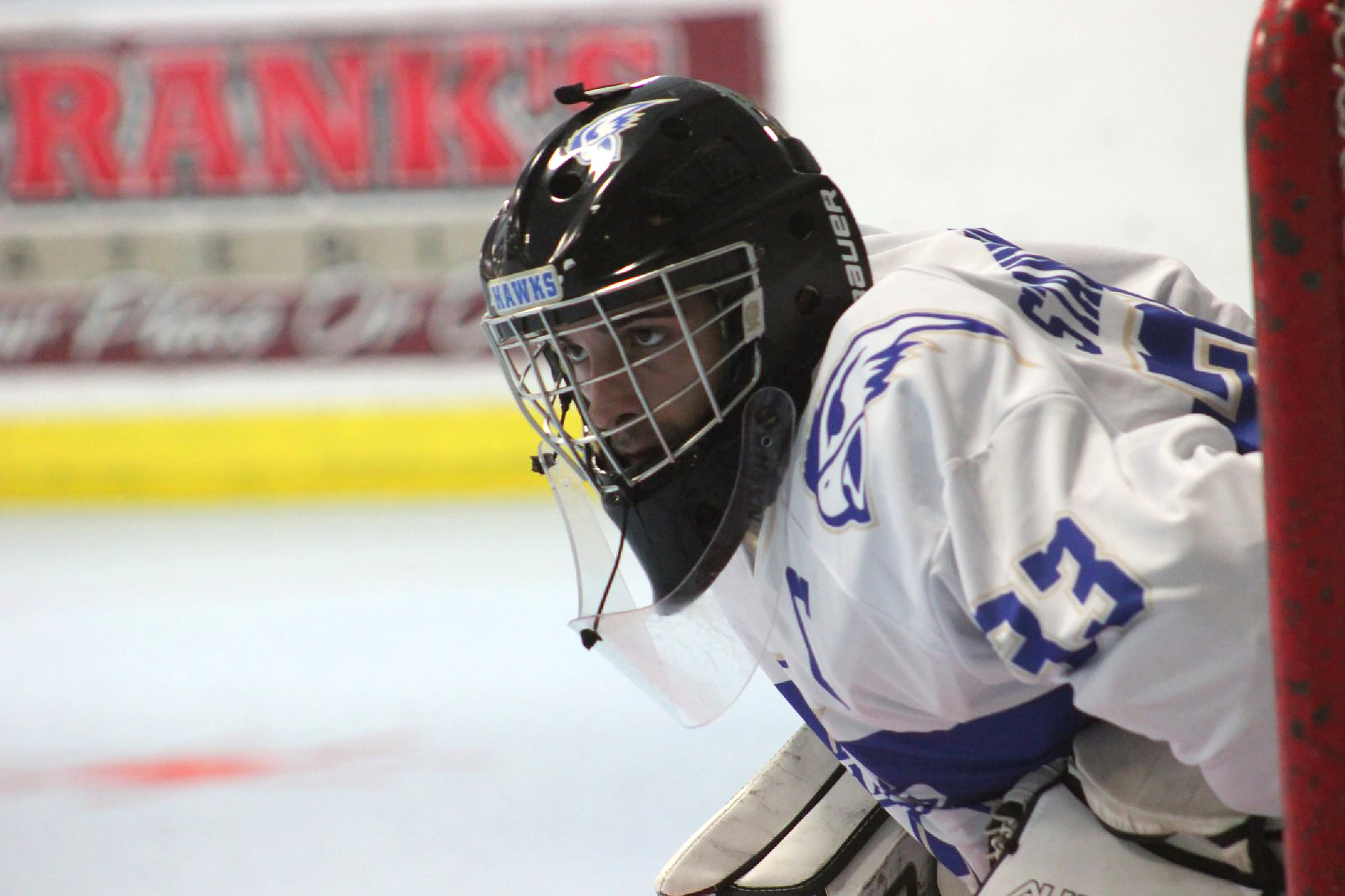 Photos courtesy Dominic Stankiewicz
I began ice skating at 2 and began playing ice hockey as soon as I could skate. I would always beg my mom and dad to let me sub in as goalie for one of my hockey games because I initially started out as a player. My dad did not want me to play goalie until I mastered skating, stick handling and puck control. I would beg them for goalie pads, glove, blocker, stick, whatever. I did not give up wanting to play the position. Eventually my hockey team lost its only goalie and I knew that it was my opportunity to hop in between the pipes. At the beginning of my goalie career, I was obviously not very good but I was flexible, had no fear of the puck and was confident I would do my best to help my team. As I played the various hockey divisions and moved into more difficult leagues, my dad continually pushed me to always try and improve and take my game to the next level. I can honestly say if he did not push me as hard as he did, I would not be the goalie I am today. It was a consistent regime of shooting pucks at me (in full gear) in the basement (and putting some holes in the walls) and sticks and pucks at the local hockey rink with my dad running back and forth drills and shooting pucks at 100 miles per hour until my legs would give out. I even had off-ice training with John Vickers (Xplosive Performance Academy owner and trainer). In the long run these "workouts" gave me the stamina and leg strength I needed to continually move onto the next level and to better my skills as a goalie.
As I moved on to high school, I elected to leave travel ice hockey behind and play for my high school. I knew I was going onto a team that might not have had the strongest players or skill level that I had played with previously. Through my three years of playing high school hockey, I received team awards from most improved player in my sophomore year to most valuable player in my senior year. I also received all-state awards twice, all Catholic League awards, all-city awards and was placed on the list of the top twenty players in the State of Michigan for high school hockey.
After high school, I began playing roller hockey at the local recreation center. I initially started out as a player (again) but went back into the net because of lack of goaltending in the rec league. I was enrolled at Henry Ford College pursuing an associate's degree in telecommunications. A co-worker at the recreation center and I decided to pursue discussions with HFC for the formation of a college roller hockey team. With the help of coach Rick Fenwick, the HFC roller hockey club was created for the 2017-2018 hockey season. Now I am here writing to you as the team president, co-captain and goaltender of the HFC roller hockey team.
Roller hockey uses fewer players than ice hockey. The game is played four on four instead of five on five. There are still three periods, but each frame is 12 minutes instead of the customary 15 or 20.
Not skating on the beautiful white ice surface to roller blading on the blue court tile is a big transition for any goaltender, both physically and mentally. Easy slides, different rules and more teammates are the big differences between hockey on ice and hockey on tile. In addition, the puck on tile is harder to control than a puck on ice. The addition of rollerflys in the game of roller hockey is a big part of why it was easier for me to transition. Rollerflys are plastic boards with white balls in between two plates that hold them together, attached to goalie pads, which mimic an ice surface.
Before every game, I have my headphones on listening to my playlist, relaxed and focused mentally on what's ahead of me and hoping my teammates are as ready to play as I am. I always need to keep a positive mindset. Pre-game mental focus is a huge part of game play for all goaltenders.
Neither ice hockey nor roller hockey is all fun and games. Hockey has its downsides as well, such as mental and physical exhaustion and injuries. And there is a unique pressure that is put on the goaltender. Few players are aware of it unless they have actually played the position. The goaltender is the last line of defense and stands alone. If a player makes a mistake, it's not really noticed or remembered. And the player always has a chance of redeeming himself by making a great next play or scoring a goal. The goaltender does not have that opportunity. I believe being a goalie is the hardest position on the floor with tons of responsibility.
If a shot goes in during the game, I need to immediately move past it. Everyone says "put it behind you," but it's not that easy to bounce back. I need to remain positive and focused and tell myself to stop the next shot. I cannot focus on what has happened or what may happen - my focus must always be in the moment.
As I got older and developed my skills, the players got bigger and their shots became more accurate, stronger and faster. I am extremely flexible and have done the splits to stop a shot and have lunged from one side of the net to the other to halt an opponent from scoring. This can also be a curse. Consistent groin pulls and tightness on the side of my legs sometimes slows me down during games. Back problems are also a major part of being a goalie. Being young and in shape and having had the training I've had throughout my hockey career, I wouldn't imagine having the back problems that I have today. Some nights I can't get myself to sleep because of the pain being so bad that I start thinking how much more can I take. I have to play through any injuries or pain during a game because I do not have a back-up goalie to take over.
A goaltender can either win a game or lose a game for the team. A famous quote from Roberto Luongo (NHL Florida Panthers goalie) sums up what it's like inside the head of a goalie: "I don't fear stopping a 100 MPH slap shot. I fear not stopping it!" Obviously every goalie's biggest fear is letting in a shot, not only hard ones but slow ones as well. The slower the puck moves affects me mentally because I'm not sure what angle the puck is going to take. Reading plays such as 2-on-1s, 3-on-0s and penalty shots is a tough mental decision. Is the player with the puck going to shoot or make a pass? Is he going to shoot high or low? I have to be able to read the play based on the player's body language such as his eyes or upper body positioning – and I hope I'm right. My eyes continuously need to be on the puck which sometimes can be difficult when six-foot tall players are standing in front of me, and my reaction time to a shot must be spot on.
Behind the mask of a goalie is a relentless, fierce athlete in a solitary position relying on his intense mental focus, speed and power to rob his opponent and not let his team down – I'm always ready for the challenge and I wouldn't trade it for anything else.
Share it now!