Protecting Female Athletes Under Title IX After Nassar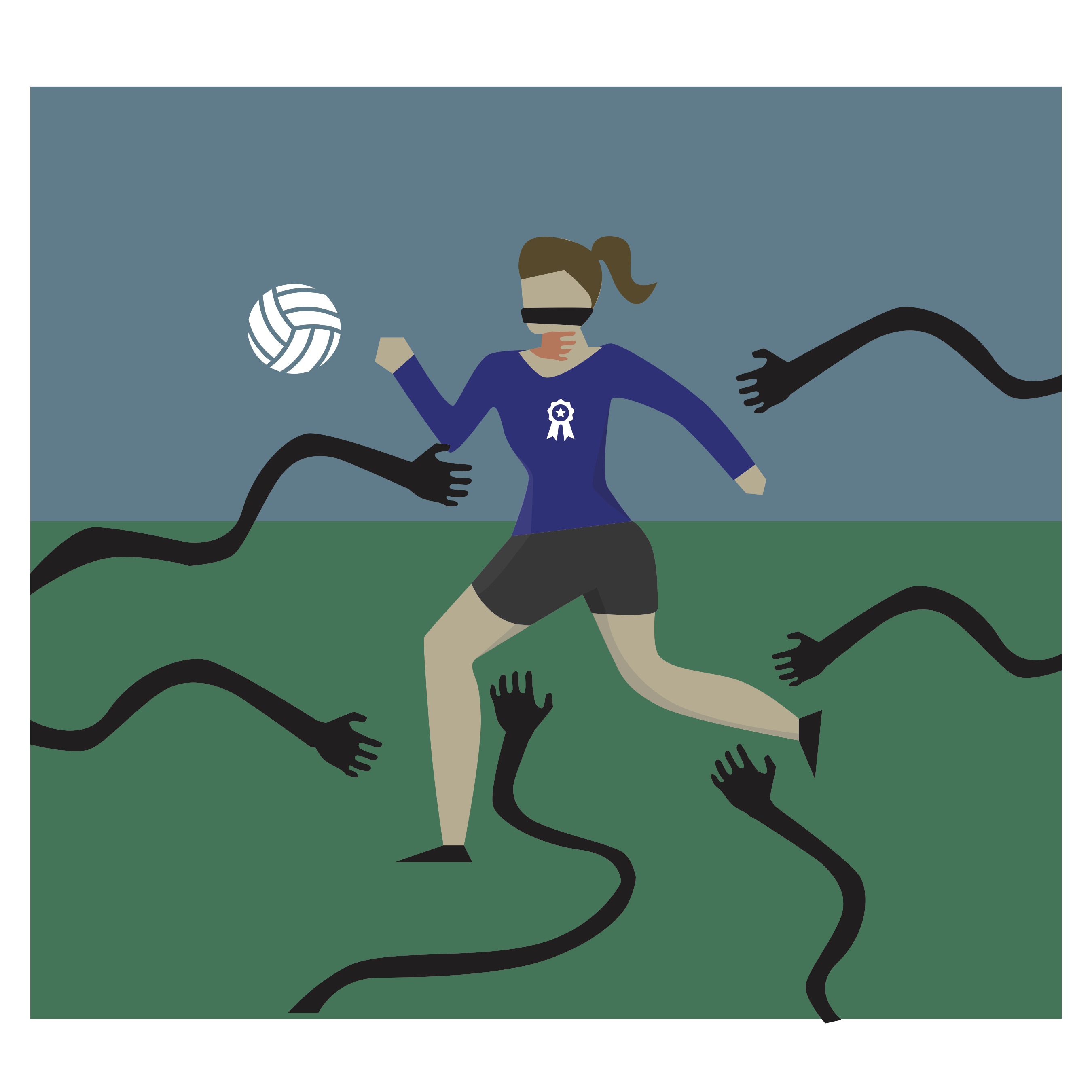 Illustration by Zainab Saleh
Larry Nassar, former USA Gymnastics and Michigan State University doctor was sentenced to 40-175 years in Ingham County and 40-125 years in Eaton County, after pleading guilty to several counts of first degree criminal sexual misconduct. Nassar will serve both sentences in state prison.
As Matt Mencarini of the Lansing State Journal reported, as a part of Nassar's plea deal, 125 of the women and girls who reported Nassar to police would be given a chance to make court statements in front of Nassar. During his sentencing hearing in Ingham County Circuit Court last month, 156 women and girls confronted Nassar. Another 57 people gave statements confronting Nassar at his sentencing in Eaton County earlier this month.
One father had to be physically restrained as he tried to attack Nassar in the Eaton County courthouse. As NBC's Samira Puskar and Tracy Connor reported, Randall Margraves lunged at Nassar, after Judge Janice Cunningham had denied his request to be granted a minute in "a locked room with [that] demon."
Police were forced to bring Margraves to the floor and escorted him out of the room. Margraves was later allowed to reenter the courtroom to apologize to the court for his outburst and reaffirm his respect for the court. Following his apology Margraves was released, and pledged to donate $30,000 raised on his behalf to Michigan groups that aid sexual abuse victims.
In December, Nassar was sentenced to 60 years in prison on three federal charges related to child pornography. Nassar plans to appeal the federal sentence, which he would be forced to serve after he completed his state sentences.
Nassar was appointed as the national medical coordinator for USA Gymnastics in 1996. He retired from his position as medical coordinator in 2014 but remained on the team as the team doctor for women's gymnastics. Nassar held the position despite repeated claims, by patients, of sexual abuse. In each case, investigations conducted by Michigan State University and USA Gymnastics lead to Nassar being cleared of any misconduct.
In 2016, the Indianapolis Star investigated the claims of sexual abuse made by students and patients and revealed what they referred to as USA Gymnastics "policy of not reporting all sexual abuse allegations against its coaches." The investigation conducted by the Indianapolis Star also led to the discovery of 368 gymnasts who alleged to have been sexually abused by Nassar. Following the sentencing of Larry Nassar, Michigan State University leadership has been called into question, leading Lou Anna Simon, president of Michigan State University, to resign.
Simon stated in her resignation letter, posted to the MSU website, "Throughout my career, I have consistently and persistently spoken and worked on behalf of Team MSU. I have tried to make it not about me, I urge those who have supported my work to understand that I cannot make it about me now. Therefore, I am tendering my resignation as president according to the terms of my employment agreement."
Following her resignation, Simon started a $10 million fund to aid victims of Nassar. MSU is currently under investigation by the NCAA but the university claims to not have had any knowledge of Nassar's actions prior to September 2016, and that at no time did the school engage in covering up information. Despite the claims by the university, many of Nassar's victims tell a very different story.
As reported by Kim Kozlowski of the Detroit News, 14 Michigan State University representatives were given information about Nassar's crimes. MSU President Simon, and key figures in the MSU athletic program were given information about acts of sexual misconduct carried out by Nassar but neglected to act upon the information.
As Kozlowski reports, Rachael Denhollander, the first to step forward and accuse Nassar publicly, stated, "He was stopped by the victims, who had to fight through being silenced, being threatened, being mocked, by the officials at MSU who they appealed to for help. And now the very people who should have been protecting us all along... have thumbed their nose at any semblance of accountability." CNN's Steve Almasy interviewed two women who echoed the statements made by Denhollander. Olivia Cowan criticized MSU saying "a public apology after you've hid behind this monster for over 20 years will never be enough. Where were you when we needed you?"
Larissa Boyce contradicted claims made by MSU leadership, saying "I told Michigan State University back in 1997; instead of being protected, I was humiliated. I was in trouble and brainwashed into believing that I was the problem."
All students at American colleges that receive federal financial aid are supposed to be protected from gender discrimination and sexual misconduct by federal requirements under Title IX.
In 1972, Title IX was enacted by Congress and signed into law by Richard Nixon as part of the Educational Amendments. The law states: "No person in the United States shall, on the basis of sex, be excluded from participation in, be denied the benefits of, or be subjected to discrimination under any education program or activity receiving Federal financial assistance."
Since it has been enacted, Title IX has greatly increased access for women to previously excluded college sports. As Maegan Olmstead of The She Network reported, following the increased funding and opportunities given to women's athletics, the United States has seen a 545 percent increase in women playing college sports.
Last year, Michigan State University conducted a Title IX review. Brian McVicar of MLive reported that the Office for Civil Rights concluded that MSU's failure to investigate two sexual assault claims between 2009 and 2014 violated Title IX. MSU agreed to improve its handling of sexal assult allegations, including training staff to carry out Title IX investigations and insure all complaints are "promptly addressed." The review came two years after the U.S. Department of Education found Michigan State needed to make changes to its Title IX complaint procedures. The department stated that MSU's failure to investigate sexual assault claims "may have contributed to a continuation of a sexually hostile environment for numerous students and staff."
As reported by ESPN's Paula Lavigne and Dan Murphy, MSU failed to follow Title IX regulations while investigating a reported sexual abuse carried out by MSU wide receiver Keith Mumphery. The woman, referred to as Jane Doe in the legal documentation, alleged that over the course of the investigation, MSU did not "offer the woman any options to get a no-contact order, rearrange her housing, seek counseling or academic support or change her class schedule," despite Department of Education guidelines. Though the investigation was closed after not enough evidence was found, it was reopened following an agreement made between the university and the Department of Education. Mumphery was found to have violated Title IX by sexualy assulting the woman. Mumphery was banned from campus following the revision, but was still invited back to campus to for a "university-sponsored football camp." In her lawsuit the plaintiff echoed assessments made by the Department of Education, saying that the university had "engaged in a custom and practice of suppressing sexual assault grievances, of violating their own policies regarding sexual assault investigations, thereby encouraging a culture of sexual violence and creating a hostile educational environment."
At Henry Ford College, all employees are required to complete Title IX training. The training includes completing online learning modules. HFC's Title IX Coordinator is Aura Cazares, who was appointed last September to a statewide Campus Sexual Assault Workgroup by Michigan's First Lady. Cazares explains that the training covers "the behavior you have to avoid, the behavior you have to report, and how to speak up if you are a witness."
Cazares also conducts presentations on Title IX and sexual misconduct with a number of student organizations such as the Student Leaders Organization and student athletes in the CHAMPS program. The goal of these presentations is to inform students on how to avoid actions that infringe on the rights of others, and how to protect themselves from having their rights infringed upon.
Cazares shared information on HFC's use of the Reach Out app, which is not exclusive to HFC, and is used at many colleges. The app provides on campus contacts to support services to handle cases of sexual harassment and abuse. The app also provides information to educate users on what constitutes sexual misconduct, how to protect against it, and allows users to anonymously report incidents.
Cazares believes that it is important for students to know their Title IX rights and understand that HFC will take strong action against sexual harassment of students and employees. It is important for students to know both what to do in case their Title IX rights are infringed upon, and what to do if they are accused of violating another's Title IX rights. Students should also remember that every student has the right to due process and is entitled to provide their side of the story. Policies like the Student Complaint Policy and Procedure exist to help students solve issues with academic and administrative personnel. If students have incidents they wish to report, they can submit a report by using hfcc.edu/incidentreport.