Promoting Racial Equality for over 60 Years: Detroit Repertory Theatre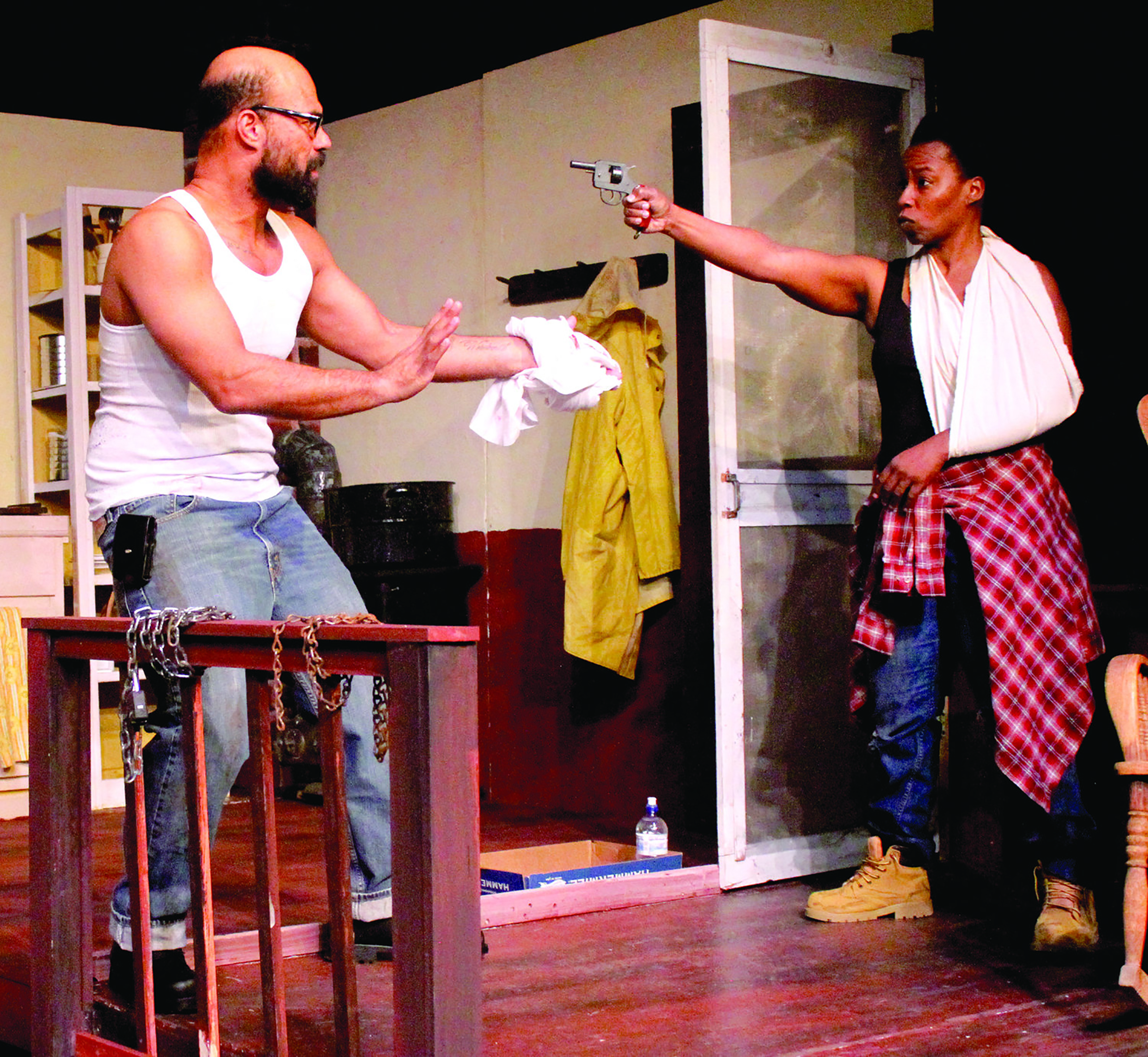 Scene from "Dauphin Island" | Photo courtesy Detroit Repertory Theatre
In the midst of its 61st season, the Detroit Repertory Theatre is Michigan's longest running non-profit professional theater. Situated along the sparsely populated Woodrow Wilson Street on Detroit's west side, this neighborhood anchor has been pioneering racial equality and community unity through the arts long before it was ever trendy to do so. The non-profit originated in 1957 as a touring theater, performing musical plays for children throughout Michigan, Indiana, Ohio and western Pennsylvania. With a commitment to combat racism through example, characters were cast race-neutral, without being limited by color, ethnicity or gender, and storylines were not specific to any one race.
"You can imagine in 1957," says Leah Smith, marketing and developing director for the theater, "the first time these children are seeing black and white people together, performing in a play, and its not even talked about. It doesn't matter."
Since it put down roots in the mid 1960s, on the outskirts of Highland Park, the Repertory Theatre has become a neighborhood advocate, striving to offer its guests smart and meaningful stories within an inclusive community and a delightful ambiance. Akin to going to see a movie at the old Redford or Senate theaters, you know when you first step into "the Rep" that you are in a well-loved space, and about to receive much more than your ticket price suggested.
On show nights, warm candlelight and music fill the intimate lobby gallery, while the smell of fresh baked cookies drifts in from the nearby kitchen. Some evenings there may even be a homemade pot of seafood gumbo available for the taking. While waiting for house doors to open, guests can stroll, grab a seat, or mingle at the 30 ft. handcrafted oak bar running down the length of the room. The iconic bar is original to the building architecture and a source of great pride to the Rep.
The lobby gallery itself holds special meaning, named after the late Gilda Snowden, beloved Detroit artist and educator, as well as long time gallery curator and friend to the Rep. Its walls are hung with original art of emerging and mid-career southeast Michigan artists. During each eight to ten week theater production, the work of a selected individual or group is highlighted in the gallery, celebrated with a champagne reception, and displayed for sale without commission.
Greeting guests in the lobby or from behind the bar, you might find Bruce Millan, artistic managing director and co-founder of the Repertory Theatre, who describes the early days in which he wrote original plays performed by the children's theater. The native Detroiter, sociology major and "closet writer" returned to the city on the GI Bill after serving in the U.S. Army during WWII. Through roommates, he made a late in life connection with theater, and began to share a passion for the children's aspect in particular.
"In 1957 in Detroit, we were all in agreement that there ought to be, in theater, something that's of the highest quality for children," Millan recalls in a video on the Repertory website. "I think there were a total of six people involved. I was the only one who had no direct educational background in theater." He adds, "We all chipped in a huge $100," grinning at the memory of the those humble beginnings.
Millan explains further in person, "We wanted to change what was children's theater, and what children's theater should be about." He says, "Most kids shows, even today, are dressed up dog shows." By this Millan refers to a kind of frivolous theater used purely for entertainment in order to keep children occupied.
"Our shows were educational," he explains. "This was music drama with live musicians. What we were doing was introducing ideas through the arts." Millan says he and others he worked with were influenced by pioneers like Viola Spolin who was nationally known for her theater education, specifically improvisation and theater game techniques. Her techniques influenced the first generation of "improv" actors at Second City in Chicago in the 1950s. "She was talking about what creative drama could mean to the growth and development of children," Millan says.
In 1966, the Rep's children's theater was given the opportunity to tour schools in Detroit and surrounding suburbs where they were met with varying reception. Millan says of plays they performed that were considered controversial, "It wasn't radical, it was real. But because of our mixed cast, suddenly, we were 'persona non grata.' The only thing left to do was to start our own theater, and continue what we believe in," he says.
"I believe that racism has no place in our society," Millan expresses on the video. "And that when you cast your show, it matters not who is playing what—sisters, brothers, uncles, aunts—they can be mixed, because what you're dealing with is human beings. Every time you do a play, if you have different actors, it's a different play. When you bring people of color into a play where usually there is not, still, the black experience, through the actor, is brought to the stage. And that's what makes it so dynamic." Millan and others remember when federal military tanks rolled down Woodrow Wilson Street during the Detroit 1967 uprising and how as a community, both black and white neighbors gathered at the theater to organize and work together, fighting fires and doing what they could to save their neighborhood. Yet, in the aftermath of systematic segregation, white flight, and riots, the struggle continued for this neighborhood as it did for the city, leading to abandonment, disinvestment and polarization.
"Blacks turned us white, and the whites turned us black,"Millan recalls, referring to the theater's refusal to take sides through its interracial casting. "Life in here (the neighborhood) became polarized. People became divided because they were allowed to let their racism surface and become public. As long as you could keep it private, and not allow it to happen publicly, then everything worked," he adds, facetiously. "We stayed. We were one of the strongest advocates of integration and diversity."
As the Rep evolved into an adult theater, its ability to dig into social justice issues strengthened both on and off the stage. Several programs were created to extend the arts further into the community, particularly to those living in poverty, who may otherwise go unreached. "Neighbor nights" are held for each production on the evening of the final dress rehearsal. For these special occasions, residents of the surrounding area pay $2 in advance, or $3 at the door rather than the standard rates of $17 and $20. Often a neighbor leads the charge by going door to door to personally extend invitations and organize ticket sales. "It's one of my favorite nights here," Smith says. "There is such a community and family feel at this theater, but particularly that night."
Other community outreach programs include the Actors Workshop, in its 35th year, which offers professional theater training to adults, four hours a week over a span of 10 weeks at a reasonable $185, yet completely free to low-income individuals. "We get actors who want to brush up their skills," says Smith, "but we also get older people, retirees who always wanted to dabble in it, or people who are lawyers or some other profession and know that the skills you get from learning acting will benefit you in other professions."
Through the Cultural Fellowship Program the Rep partners with 60-80 agencies a year, distributing theater tickets to marginalized and challenged communities for regular attendance. This educational service recognizes that benefits increase when the arts become more than a visit but rather a lifestyle.
Today the goal of the Repertory Theatre continues to be one that produces the best possible professional theater, striving to enrich the lives of all people through the arts, particularly those who may not normally be reached while continuing the fight against racism, which remains prevalent in Metro Detroit. As Michigan's oldest non-profit equity theater, the Rep is also deeply committed to providing a living wage. "There's some irresponsibility in the media as far as theater goes," says Smith, "with theaters that call themselves professional. What is the definition of that? Gas money does not mean that you're professional. We believe in the union and providing an income for professionals. As an equity theater actor myself, I have health insurance, thank goodness!"
In a profession where so many will work for cheap or free just to get a opportunity to be on stage, a modest yet steady income with benefits is an extremely rare thing to find. Smith says that actors who don't start out union often choose to become so over time. "That is our goal. We want to keep the artists in Detroit," she emphasizes. "The majority want to get out and go to Chicago, New York, and L.A. It's hard. That's why, please, certain organizations, stop saying that certain theaters are professional when they're giving gas money. Eventually, if they're good (the actors) they're gonna want to go where they can make money, and have to make money and have health insurance."
Though their equity contract states that a majority will tip toward union actors, open casting auditions are held with every show at the Rep, and any adult can participate. In the long tradition of the theater's definition of open casting, all are considered, regardless of race and gender, unless one is germane to the play and brings intentional meaning. "Just because the script says the role is played by a man doesn't mean that if you're a woman that you can't audition," says Smith. "It's the best actor for the job, regardless of race or gender. We have interracial couples, interracial families. It's not talked about and it doesn't matter."
The Rep puts on four shows a year in its 196-seat theater, each running six shows a week, Thursday - Sunday for 8-10 weeks. The New Playwright Program, established in 1976 encourages playwrights from all over the world to send production ready scripts to be considered for performance. The Rep produces at least one original work per season, bringing the works of new writers to the attention of theatregoers in Southeast Michigan. The theater puts on many local as well as internationally known plays, socially relevant pieces and comedies. Just no "dog shows."
The current production, "Dauphin Island" is written by Detroit playwright and Rep actor, Jeffry Chasting. "It's about how stupid grown ups can act, about all of our baggage and relationships, and how we don't deal with what we need to deal with," says Smith. "It's really witty. It's very real. Watching people fight, watching grown-ups fight, lovers quarrel, when it's done honestly, is hilarious. You recognize yourself in it."
Before each show, the Rep gives a short plug for its "Anna Holley Dollar-A-Week Pledge Program." In 1999, when faced with mounting debt, the theater was seeking ways to stay afloat. Board member Anna Holley had the humble idea to ask patrons if they would consider giving one dollar a week to support the important work being done. The message then and now remains simple.
You wouldn't think much difference could be made by one dollar a week, but to date, the Detroit Repertory Theatre has been the benefactor of almost $1,000,000 through this program.
"On average, we take in about $50,000 a year through this program," says Smith and that's hundreds of pledgers. It's most important to us. Our audience demographics are financially really wide, we're reaching people at the lowest end of the spectrum economically that other theaters aren't reaching. We keep our ticket prices low to be able to do that. All the programs, and that pledge fund speaks to them. Most people can give $13 every couple months, sometimes it's a check with amounts like $9.87 and a note that reads, "I love what you guys do, but this is all I can do right now." This is the kind of meaningful support that can not be downplayed.
Though it does receive and is grateful for support from larger art and community foundations, the "Irma Wertz Diamond Donor Honor Roll Wall" is another source of encouragement to the Rep. Here, in the lobby gallery, every patron who has donated a $1000 or more is honored by a plaque with their name on it. "These are not people with great big bucks," Millan says. "They really dig down to give that, but they believe in what we've done here. The whole wall is a history, it tells a story."
The Repertory Theatre is optimistic about the future as collaborations in the neighborhood increase. Last summer the Rep partnered on a neighborhood street fair with four other entities on Woodrow Wilson: the Muslim Center, the HUDA Free Clinic, its community garden HUG (HUDA Urban Garden) and an organization called Dream of Detroit, dealing with strategic housing and land development for Detroit residents and first time home owners.
The fair shut down blocks on Woodrow Wilson so local residents could enjoy artists, vendors and good food. "We did children's theater for the first time in 50 years," says Smith. "We got to know our neighbors even better. They don't all come to the theater on neighbor night, but we're trying to get to them." Plans are to make this an annual event which is scheduled to take place in August of this year. "So we are going in a forward direction in this neighborhood," Smith says.
The Detroit Repertory Theatre has a unique and meaningful history that has brought them through the past 60 years. Forming a lasting connection with the community they serve by valuing all people, and placing an importance on social justice issues that impact everyday lives has allowed this award winning arts organization to remain an ambassador of hope and a cherished Detroit landmark.