Interview with Trustee Celia Nasser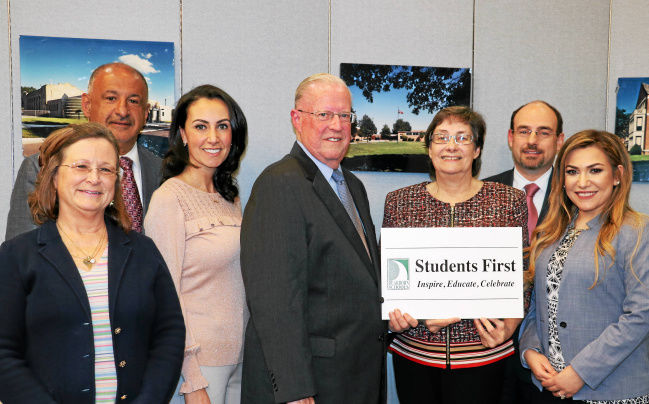 2018 Dearborn Board of Education Trustee Mary Lane (left), Secretary Hussein Berry, Trustee Celia Nasser, President Michael Meade, Vice President Mary Petlichkoff, Trustee James Thorpe and Treasurer Fadwa Hammoud courtesy DPS
Celia Nasser is currently completing her term as trustee for Henry Ford College and the Dearborn Public School Board. Nasser's position as trustee was formerly held by Mariam Bazzi..
After former board president, Bazzi was appointed by Gov. Snyder as a judge to the Wayne County Circuit Court, the board opened up nominations to fulfill the remaining term for the vacant seat. Seven candidates were interviewed by the board in early June. The candidates were Wadeeah Alshawi, Roxanne McDonald, Adel Mozip, Celia Nasser, Alex Shami, Zeinab Sobh and Irene Watts.
Bazzi left the board on May 22. The board was required to select a trustee within 30 days.
Several local news organizations in Dearborn reported on questions that were raised about the vote that was taken to fill the vacant seat on the board that Nasser currently holds. The questions do not have to do with Nasser but about the way in which the vote was taken even before she was appointed. Katie Hetrick of the Dearborn Press and Guide reported that Trustee Hussein Berry filed a lawsuit against the district. Trustee Nasser and Trustee Berry are not permitted to comment on the situation due to the pending lawsuit. According to Hetrick, "Berry refused to participate in the process to appoint a new trustee and has since argued that his refusal was not the same as abstaining."
Despite controversy over the voting process, Ms. Nasser joined the board last June. Her term will end in November, and then she may run in the general election for a two-year term. A successful local businesswoman and active member of the Dearborn community, Nasser remains optimistic about her future with the board.
Johnson: What motivated your interest in becoming a trustee?
Nasser: I love the fact that we are the only K-14 district in the state and that the K-12 and college work very well together. We set our students up for success with the combination of both the district and college with all of our collaborative efforts. Being part of this growing community and being able to make decisions to better them both is why I wanted to become a trustee.
J: Did you always feel confident in pursuing the position for the Dearborn Public School Board or did you have any doubts, and if so, how did you rise above them?
N: As soon as I heard of the vacancy, I knew right away I wanted to apply. I was always interested in education; I worked as a substitute teacher in the Dearborn Public Schools district as well as at HYPE Athletics assisting kids with getting fit. I felt the vacancy came at a good time for my family since my children are a little older and are starting to attend Dearborn Public Schools. J: As a trustee for the Dearborn Public School Board and Henry Ford College, what are the differences in tasks and responsibility?
N: Our purpose on the board for both the DPS and HFC is basically the same. We are there to make sure the superintendent and president follow the strategic plan, we're responsible for the hiring and firing of both positions and making sure both institutions are fiscally sound. However, the issues in each institution differ. For instance, at the DPS we are dealing with the overcrowding at the high school level, while at the college we are working on choosing our next president. Under both the DPS and HFC, we always want to do what is in the best interest of our students.
J: What are your thoughts on having the opportunity to help choose Henry Ford College's next president?
N: When I became trustee, the current president had already put in his resignation so I knew that I would work with my fellow board members to hire a new president for the College. I consider it a privilege to be part of the process and I'm looking forward to meeting the finalists and thoroughly vetting them to choose the best person for the position.
J: What do you like about what's currently going on at Henry Ford College?
N: I like that the college is so inclusive of its students. There are students sitting on the presidential search committee. We have diversity training for our staff to better represent the diverse student population on campus. I am proud of the college for adopting a welcoming resolution and I was part of the committee that included refugees as part of our admissions process. I appreciate how well the union works with the college and everyone is supportive.
J: Is there anything you'd like to see improved at Henry Ford College and if so why?
N: A constant issue on campus is the building renovations. We are currently in the process of renovating our older buildings to make them safer for our students, but we want to reflect the great learning environment and that takes time.
J: Besides your position as a trustee, you also run two small businesses. How do you stay organized between being a businesswoman and a trustee?
N: The most important skill needed when juggling multiple businesses and tasks is being organized. I set specific times during my work days to focus on one issue at a time. When you can give an item your undivided attention, you set yourself up for success. I have also learned how to delegate responsibilities to the employees at my businesses and review their work so I don't get overwhelmed.
J: Do you plan on running for Dearborn Public School Board once your term has ended?
N: I do plan on running this year.