Homeless Community College Students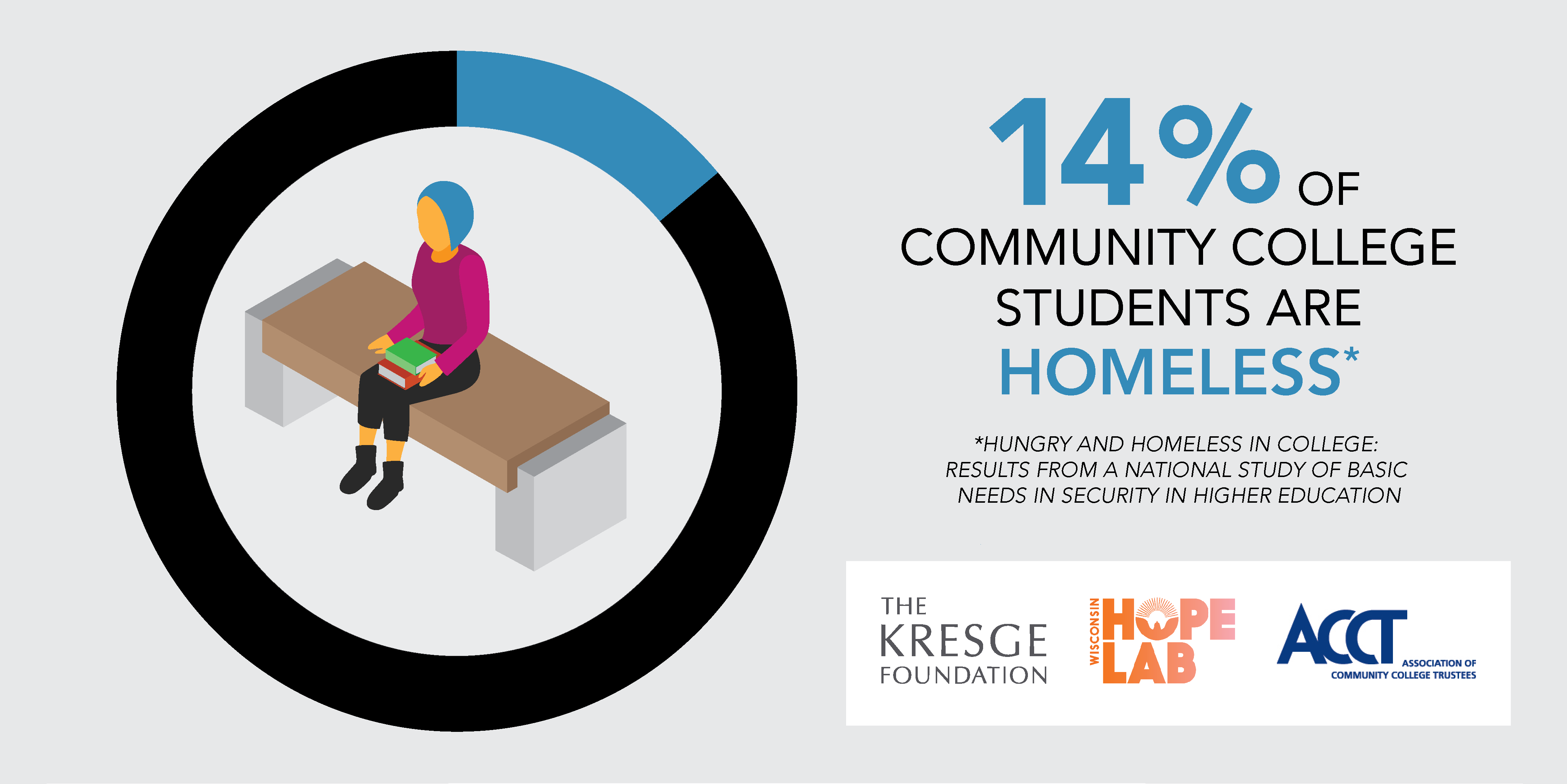 A growing number of college students in Michigan are homeless and struggling to stay afloat. In a recent article titled "Homeless College Students a Growing Concern on Campuses," Chris Ehrmann of the Associated Press describes the reality of many struggling students. "Researchers say they believe that a surprisingly large number of college students are homeless or precariously housed as they try to attend classes, even though there is scant data available," states Ehrmann.
College students face financial challenges on a daily basis, particularly those in lower income communities. Many struggle with housing and food. While not all come from family dynamics that are less than desirable, or lack the means to support their college education, others face daunting realities ahead.
Various reports have found a rise in the number of homeless community college students. In the article titled "A Striking Number of College Students are Hungry and Homeless," Ron French of Bridge Magazine describes heartbreaking struggles many homeless students face and the lack of resources available to them. French reports the results of a survey conducted by Wisconsin Hope Lab, which looked at "33,000 students across 70 community colleges in 24 U.S. states." The study found that "of these students, around two-thirds are 'food insecure,' meaning they have limited or uncertain access to nutritionally adequate and safe foods. Around half of these students are also 'housing insecure,' meaning they are forced to move often or cannot afford rent or utilities."
The report also finds that nearly a third of homeless students at community colleges rely on loans to finance their education.
Due to this challenge, many colleges have set forth to create programs uniquely designed to help students in need. Wayne State University offers a program designed specifically for struggling students. "The Helping Individuals Go Higher program," founded by Jacqueline Wilson, wife of Wayne State president Roy Wilson, provides a one-time award ranging anywhere from $500 to $2,500. The program offers assistance in cases where the student is struggling to afford basic necessities such as clean clothes and food. The program also assists students to pay for tuition and books for classes.
Eastern Michigan University's "The Magic Program," overseen by coordinator Joi Rencher, provides resources to homeless students as well as those from foster care families.
Henry Ford College offers assistance through "The Hawks Nest" food pantry. Coordinator of Student Outreach and Support, Brenda Hildreth, recalls the start of the Hawk's Nest food pantry. "I'm very glad the pantry has been set up." Hildreth along with Student Activities Officer, Cassandra Fluker, and former Vice President of Student Affairs, Dr. Lisa Copprue, "worked very hard to ensure students have the available resources needed to succeed," states Hildreth.
The Hawk's Nest hours of operation are 10:00 A.M. to 1: 00 P.M. and 4:00 P.M. to 7:00 P.M., Monday through Friday, during the fall and winter semesters. Spring and summer hours will be announced soon. The Hawks Nest is located in the Andrew A. Mazzara Administrative Services and Conference Center - Building L.
The Hawk's Nest relies on donations from the Henry Ford College community. For information on how you can donate, contact Mandy Earl, Student Activities Associate, at mlearl@hfcc.edu or 313-317-1756.