Ford's Garage: A Historic Place to Dine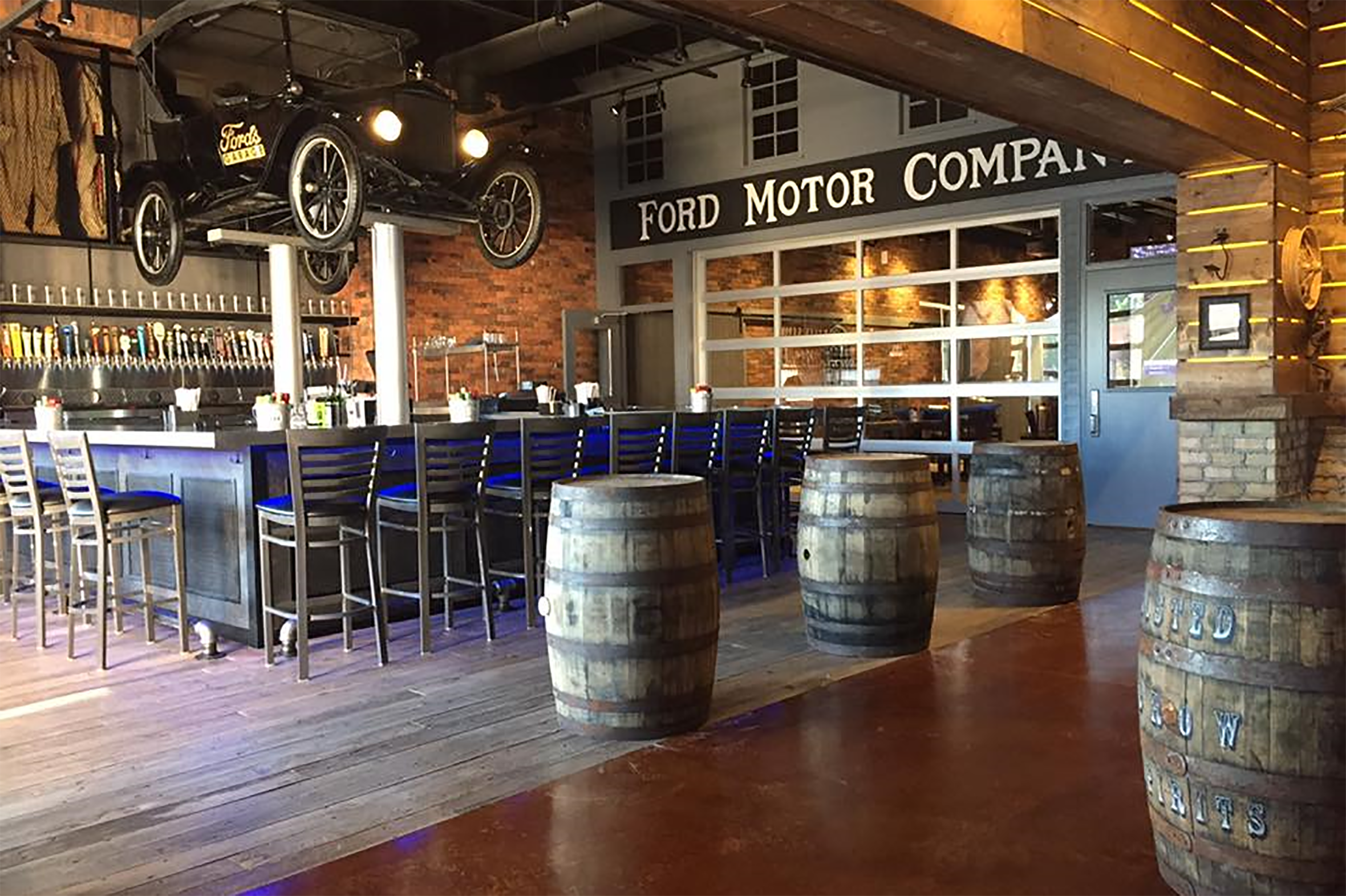 Photo courtesy of Ford's Garage
It is fitting that Henry Ford's hometown of Dearborn would also be the location for Ford's Garage, located on Michigan Ave. Since opening last summer, I'd only heard great things about Ford's Garage, so I decided to see for myself if the restaurant lives up to the hype.
Walking through the doors is like stepping into a time machine. Everything from the ambiance, drinks, food and decor scream vintage Americana. Vehicle parts decorate the walls, and the music is a mix of classic oldies as well as more contemporary tunes. The 1923 Model T and the 1930 Model A hang suspended over the restaurant's two bars.
Ford's Garage provides a menu which complements the theme well. Known for signature burgers, comfort food and an extensive cocktail and craft beer list, the menu is thick and comes in an old-fashioned, leather bound book. Flipping through its pages initially felt overwhelming, but when our server asked if it was our first time here, he took the time to carefully walk us through the menu while highlighting a few of his own favorites along the way.
The most popular appetizers include fried pickles, the onion ring tower – which is stacked high on a giant metal funnel – and soft pretzels. For my entree I wanted to try something different, and the server reinforced my choice of the Jiffy Burger with fries along with an additional side of sweet potato tater tots with a caramel dipping sauce. My burger was cooked to perfection, and came with bacon, American cheese and peanut butter. My server strongly suggested a side of jelly to go with it as well which, to my surprise, only added to the flavor. I never thought a PB&J burger would be something I would try, but after devouring my meal to the point where only a few tater tots remained, it is something I will definitely order again.
The group I was with decided to order the Patty Melt, Ford's Signature, and the Mushroom and Swiss Burger. Everyone seemed to be enjoying their meal just as much I was, which is great considering one of my friends is a vegetarian. When ordering any of their signature burgers, you have a choice of swapping out the Angus beef patty for portobello mushrooms, chicken, or a turkey breast at no additional cost. For a small upcharge, you can also upgrade to American kobe beef, sushi grade ahi tuna steak, or an open-range, bison patty. With so many options available, it is easy for anyone to find something they will enjoy.
When I decided to eat at Ford's Garage I didn't know what to expect, and I was pleasantly surprised. Maybe next time I decide to dine in or take advantage of their carry out option, I will try something new, or I will just have to get a little more jelly with my PB&J burger.
Share it now!