African Bead Museum Connects Cultures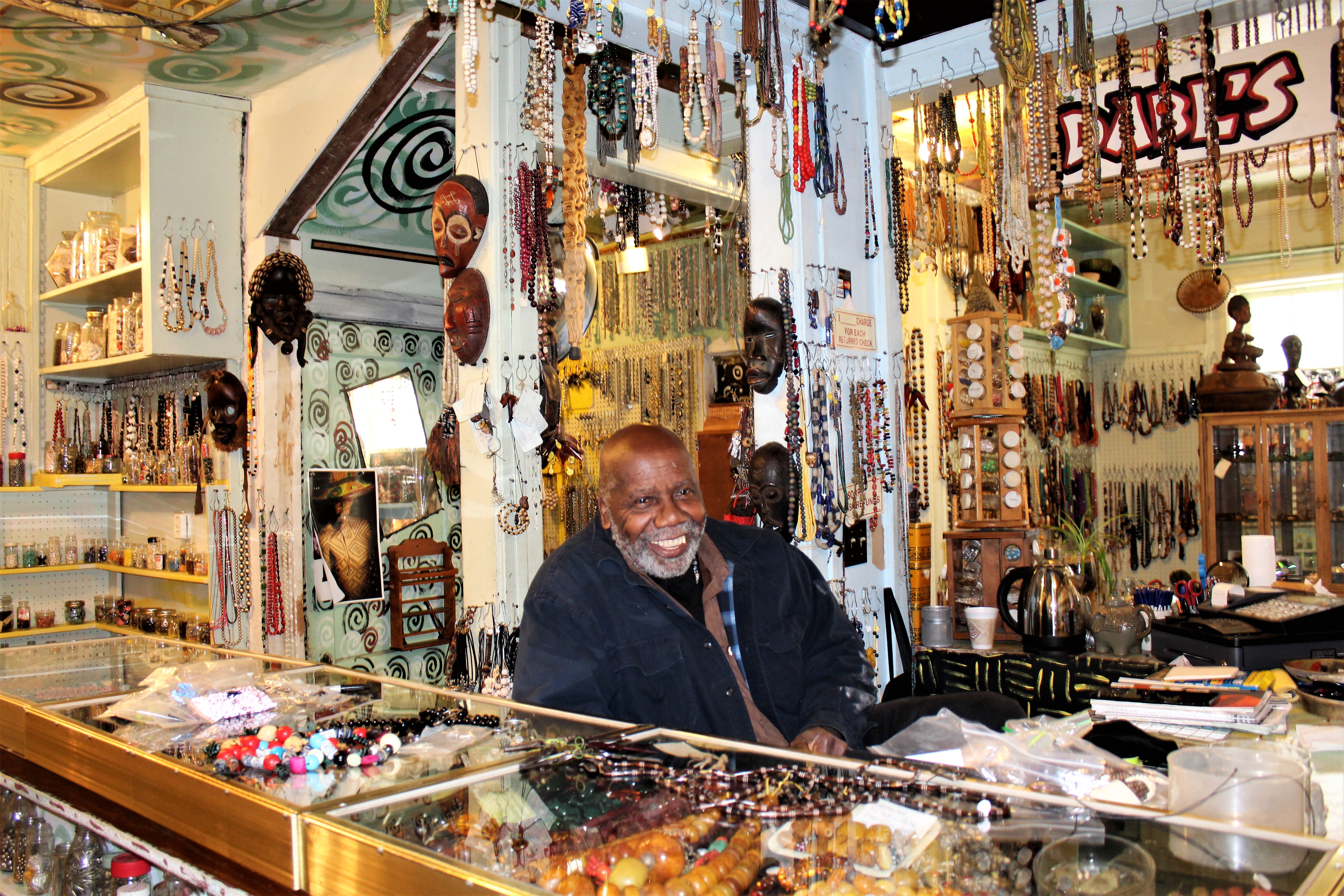 When Olayami Dabls came to the corner of West Grand Blvd. and Grand River with his magic beads, he really had no idea where they might take him. The artist storyteller had a vision in mind to create a public space where he could share not only stories about his African heritage but also help a city he saw in need of connecting to its African roots. For decades, Dabls, as he prefers to be called, had been moved by the energy he felt at work in places like Poletown Hamtramck, Mexicantown in Southwest Detroit, and other ethnic enclaves scattered about the city. Through them he realized individual cultures were best communicated when coming from the people who had personal relationships with that culture. At the same time, he was working at the Charles H. Wright Museum of African American History in Detroit and studying a culture unique to himself and so many around him. Yet there was no "African town" displaying this heritage. "There was good reason for that," Dabls admits, "It's because we didn't come directly from there." Dabls is referring to how slavery had made African culture distant and quiet in America.
At city festivals Dabls began to meet and talk with vendors from many countries which included African vendors who brought with them beads to sell. He had seen many beaded necklaces brought to fashion by flower children returning from Peace Corps trips to Ghana, but it was now explained to Dabls that African beads are meant to reflect great significance, status and cultural value. "Up until then, beads had never crossed my mind," Dabls recalls. "And to be told that they had a history, that they were never used for adornment but rather to communicate specific information about a person—their culture, their people, their rites of passage, well, that sparked my attention." Dabls began to buy and sell the beads himself, studying their value and tucking the most beautiful and unique ones aside for his own collection. It was this assortment of artifacts, centered around beads, some almost as old as 400 years, that would unlock the ancestral connection Dabls had been looking for.
During his time as curator and artist-in residence at the Charles H. Wright Museum of African American History (1971-1985) Dabls said it was difficult to talk to people about the Civil Rights Movement, as it was an emotionally charged and ongoing history shaped by millions of people's particular memories and experiences. At the time, the Wright museum was the only local museum celebrating the African story, the first in Michigan, and second in the country to do so. Yet its focus was primarily on the experience created after Africans were taken from the motherland and brought to America. Dabls wanted to help his community journey further back to explore their unique roots and powerful heritage.
This was a challenge, he says, as he humbly considered how to approach doing so. Raised in the South and having moved to Detroit in the 1960s, he had no personal experience with Africa. Yet, he continued to grow in his intense studies of it, mainly the material cultures— beads, sculptures, textiles, and the significance and history of how they were used. He had also learned a great deal in his interactions with the African vendors he had met and the precious items he had purchased from them. A permanent home was found for the bead gallery and museum in 1996 on Detroit's northwest side when Dabls asked the owner of a rundown century-old row house if she would donate it to him for that purpose. With no monetary profit, she agreed. Though the neighborhood was sadly neglected, Dabls and his friends saw possibility where others had seen a dumping ground and his vision was contagious. He recalls how having been focused on being a curator and artist-in-residence, he didn't really know what it would take to own and operate a space that people would visit and experience. The buildings were in great disrepair and he had no money for renovations or marketing. Instead, he and his group began to breathe life into the wasteland, cleaning up trash from the surrounding field, cutting the lawn, letting people know it was now a place that someone cared about.
One afternoon, Dabls painted a picture on the corner building using bright color and African symbolism. It wasn't long before people began to stop by to ask questions about it. Spurred on by their interest, he continued to paint further down the building covering all the outdoor walls. When he ran out of space, he decided to install art structures in the surrounding vacant field, structures that would begin to tell a story. "We didn't have money to open the bead museum, but we did have the desire to make this area appeal to people coming through," he says. "I've always thought art works best when it's in the community."
At the time, the city was full of "artist materials" dumped from houses left to blight, abandoned and stripped of their value. "I began to use those materials I found lying around and then people began to bring by the materials they saw that I was using. That's how the early stages developed."
Four materials stood out to Dabls: iron, rock, wood and mirror. They were used in folklore around the world by people speaking many different languages. In Africa, these ingredients were found in beads and sculptures and in stories passed down from generations about how the people there came to be. Ironically, these low-cost materials were scattered about Detroit from vandalized and bulldozed houses as well. Dabls started to hone in on their meaning and consider how to speak through them. "In my study of ancient people, their art becomes significant because of their storyline," he says. "Even if no one knows the storyline, it's still there."
After 15 years of intense studying, I knew a lot of things about the relationship between Africans and Europeans in this country." Dabls says. "But I didn't want this installation to be inflaming or blaming. I wanted to talk about the history and what can we learn from those stories—that was the goal. I had also learned that in Africa, the best way to get information across is either in a metaphor, a story, or a proverb. Never head on."
"I decided to create the longest metaphor in the history of man and that I was gonna deal with the most sensitive and the most charged relationship on the planet, and that's what occured between Africans and Europeans. It's a unique experience because we have to live together. The oppressed and the oppressor."
Dabls metaphor, "Iron Teaching Rocks How to Rust," became the art installation that would cover most of a city block. Maybe you've seen the flash of color and mirrors as you're heading west on I-96 on your way downtown. Perhaps you've walked beside the 150 ft. wall covered in 28 different African languages. Highlights in the sprawling exhibit like "Iron Teaching Rock Table Manners" and the Language Wall signify Dabls belief that if you lose contact with your language, you've pretty much lost contact with your lineage. "Language is far more important than a means of communication," he emphasizes. "What's tied up in language is your confidence, it's what mother has taught you," he emphasizes. To this end, Olayami Dabls discarded his old name years ago. "Names hold tradition, identification, it's very important to one's mental health. For many of us, we've carried the name of our former slave master or we've named ourselves."
The table manners exhibit centered around a large cake on a table also touches on the loss of one's culture. "If I'm teaching you table manners and my language then I've already taught you what art is. And what fine art is, and what dance is, and what theater is. You get the full indoctrination into someone else's culture just by sitting down to learn table manners," Dabls explains.
Behind the museum and field installations stands the N'kisi house. Once a squatter's residence, the house was abandoned and then stripped for value. Fearing arson, Dabls boarded up the building by covering it with his favorite four materials. The house's name comes from a believed spirit or vessel which contained a spirit Africans might ask to protect their crops and themselves. Dabls asked the house to protect the area from arson, vandal and city inspectors. "I didn't have money to put cameras out there or any security or even enclose the field. So I decided that I'm gonna go with this idea that this magic stuff works." In 18 years the MBAD Museum and African Bead Gallery has never been vandalized or torn down.
Dabls says it's incredible to see how people come from all over to see what's happening on this corner and he credits the smartphone camera for launching that success. In the early to mid-2000s, tourists began taking pictures of Dabls curious place and sent it to friends all over the world. Before he knew it, he had guests from places like China, Japan, Europe and the Philippines, not to mention many tourists from all over Michigan.
Dabls reflects, "At first I was surprised by that. But when I realized the materials I am using are connecting all of us through our ancestor memory—those terms were not really available when I first started, but as I would go on, I would learn that there are lots of things that modern science has discovered that our ancestors already knew. They just didn't know how to deal with them technically, but they knew they held power."
You certainly don't have to be African to appreciate and learn from Dabls art and stories: "I've discovered that if you keep what you are doing kind of semi abstract, the viewer can take whatever experiences they have and incorporate it. Then their life experiences become a part of my metaphor."
Tyree Guyton's Heidelberg Project had a deeply positive influence on Dabls. "Tyree broke the mold because he said that he was gonna take his art and change the people in the community. That was a revolutionary idea because the schools were teaching you to become famous, make a lot of money off your art. They were not teaching take your art and share it with the community for free. That was a no no. In fact, that was one of the things that I had to break away from." Dabls recalls being told, "that you don't do your art for free. When I started doing it for free, the reward came in other ways. When a stranger walks up to you and says they enjoy what they're doing," he laughs, "and then asks you if you have something to match their couch, you know you've made it."
Dabls wants people to come even if they are just curious. "Over the course of the 18 years that I've been here, it's occured to me that people like for outsiders to visit where they live. You can feel rejected, not a part of things if people don't stop, and get out, and act like they are comfortable. Normally people would come through this area and roll up their windows and lock their doors, just do a tunnel vision to get through. Now people in the community are noticing others getting out of their cars and come over to look." Dabls continues, "That told me that art can act as an ambassador when people have issues that can not be resolved through traditional means," He shrugs and says that regardless of the name of the installation and the large sign reading African Bead Museum, people still come. "I give the tour the way I have discussed it with you here," he says, "and nobody runs, nobody sends hate mail back, because I've taken out the persons that were actually involved and it becomes a metaphor."
Dabls uses the word culturalism because he believes that people are just reacting to their culture. He says if you change a few words, then people can talk. But if we use the same language, words like racism, we can't talk. "People do not like to be called negative things. That's why Africa came up with proverbs. The African never threw the person away with his evil deeds. It would never just go and attack someone as an evil person."
Dabls explains, "The more people get to know one another the more they realize that they are more alike. The language is just not there. That's why people are uncomfortable trying to talk to one another because the language is charged. It's very difficult for Africans and Europeans to talk because we're using these words that are loaded. They're set up to make you resent and not accept the other person's view on things."
The MBAD African Bead Museum is definitely a place for intercultural communication. "That's why we did the bead museum just to be another vehicle to expose people to things out of the African consciousness mind and I think we've done quite well because through other people's voices, our story gets out," Dabls observes.
Thanks to grants from the Knight Foundation and the support of Lorcan O'Herlihy Architects [LOHA], a Los Angeles/Detroit based architectural design firm, a new roof has been put on the houses and much needed repairs and structural improvement has been made. Further support is being raised to renovate the interior of the three row houses, which the organization says will open up exhibition space, multi-use community space, an artist-in-residence and a remodeled bead store.
You can visit the current bead shop and receive a personal tour from Dabls by stopping by the gallery 12:00 P.M. - 7:00 P.M, Monday through Saturday. You can also donate to the remodel Patronicity campaign at www.patronicity.com/mbad.
Share it now!