Stand Up and Be Heard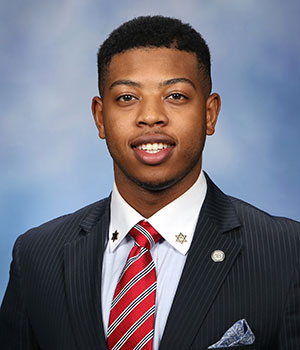 Photo courtesy of Michigan House Democrats
As a student, when you hear mention of a political figure, it's possible you envision someone much older than yourself, someone you cannot relate to. That is how I felt before I attended the Henry Ford College Voter Education Workshop on Oct. 23 with State Representative Jewell Jones. I was expecting a presentation from a monotonous speaker. What I was not expecting was a state representative my age, curious about what students are concerned with. Jones, unfazed by the small group turnout that day, sat at a round table with guests, engaging the group in discussion. He was genuinely interested in knowing what students had to say, and what they thought were important issues in their communities. It was exciting to have someone relate with the college community and desire to help get out our voice. Jones described his goal as a gatekeeper, ushering young people into a political world that hasn't yet seen them participate.
Jewell Jones represents Michigan's 11th District, which includes the cities of Inkster, Dearborn Heights, Livonia, Westland and Garden City. According to an interview with the Detroit News, as a state representative, Jones's goals included improving public safety, economic development and income equality. "A lot of people don't work so they're struggling," he told reporters. "That's something I want to focus on: strengthening families and empowering individuals – how we can get them resources that can get them on their feet and sustain them."
Jones served on the city council of Inkster before he assumed office in January 2017 at the age of 22 to Michigan's House of Representatives. His election was historic for Michigan, as he is the youngest to have ever served in the state's legislature as well as the city council of Inkster. The recent University of Michigan—Dearborn graduate uses his platform to encourage young people to become involved in their communities. As a member of the Black Student Union, the Student Veterans Association, and the Army Reserve Officer Training Corps (ROTC), Jones is an example of community involvement. Jones spoke about ways young people can participate in the political process by becoming involved in their local governments, even if they are not yet old enough to vote. "I use social media to build up the electorate in general and get people more engaged across the board," he told the Detroit News. When Jones asked what issues HFC students were concerned about, a listener spoke out and said she wanted to address world peace. He then asked her how she could achieve world peace before she tackled peace in Dearborn? It is all about starting to address issues we deem as important in our communities before we can address them at a national level, much less internationally. One way that Jones suggested to get involved in our communities was to attend city council meetings and just listen to what the people have to say. He brought to our attention that we can use those meetings as a platform to learn and bring awareness to the issues we think are important in our city. It's encouraging to see that we have tools available to have our voice heard, and begin to help improve our communities.
For young people to gain a stronger voice in government, they will need to be present when elections are held and when issues are discussed in council meetings. The Voter Education Workshop stressed the importance of action. If you're unhappy about the way issues are approached in your community, then do something about it. Attend city council meetings, talk to your representatives, read the local news, VOTE! Tomorrow, Nov. 7, the cities of Dearborn and Detroit are among many who will vote for a mayor and city council members. Check out the candidates and see whose views you agree with. If you don't live in Dearborn or Detroit, find out what is on the ballot in your own community. Information on upcoming elections and ballot proposals in communities across the state is provided at www.michigan.gov. Enter your address at www.VOTE411.org to get a free detailed and balanced Voter Guide for what will be on your ballot.