Only Lovers Will Survive in St. Vincent's Glamorous, Miserable "MASSEDUCTION"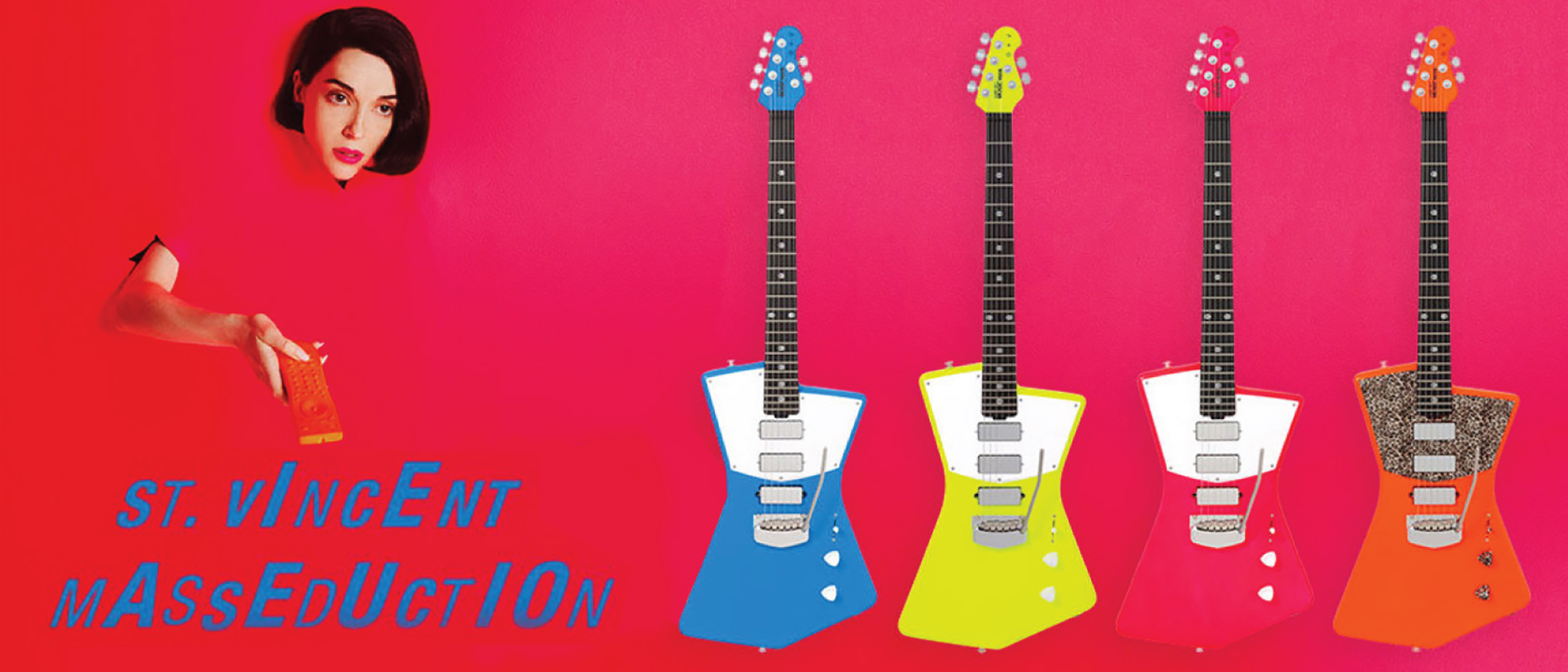 Though Annie Clark released her first album, "Marry Me," under the moniker St. Vincent ten years ago, it wasn't until her fourth album that she started receiving national attention. The self-titled, "St. Vincent," was critically acclaimed and netted her a Grammy for Best Alternative Album in 2015 against artists like Jack White and Arcade Fire. The expectations were high for her follow-up, and "MASSEDUCTION" does not disappoint. Possibly her most personally revealing album yet, the usually unforthcoming Clark stated in a press release, "You can't fact-check it, but if you want to know about my life, listen to this record."
The first track, "Hang on Me," initially sounds romantic with the lyrics, "Hang on me / 'cause you and me, we're not meant for this world." Upon closer listen, however, the track seems to have a slightly more twisted meaning, setting the tone for the rest of the album. Clark muses on the track that she "cannot stop the taxi cab from crashing, and only lovers will survive."
The majority of "MASSEDUCTION" seems to be inspired by Clark's relationship and subsequent break-up with British model and actress Cara Delevingne. The song "Young Lover" describes caring for a lover – likely Delevingne – who seems to have overdosed: "Wake up, young lover, I thought you were dying." The subject of the song bites back, however, accusing Clark of being an alcoholic and criticizing her difficult-to-pronounce medication. This is a jarring difference from Clark's previous albums, which have had more ambiguous lyrics and little-to-no obvious mention of her personal life.
Delevingne's vocals are actually featured on the second track "Pills," in which she sings the refrain, which could be a catchy advertising jingle: "Pills to wake, pills to sleep..." Though this could be construed as a criticism of the pharmaceutical industry, Clark clarifies in an interview with Pitchfork that this not the case. The song, which came about as she was taking a sleeping pill, is "a little snapshot" of a period of her life. The track is upbeat both lyrically and musically, but slows down dramatically during the outro, during which Clark croons, "Everyone you love will all go away."
"Happy Birthday, Johnny" may be one of the most deeply emotional tracks on the album. Clark directs the song at "Johnny," – possibly an old friend – who seems to struggle with addiction and hits up the singer for money. The track opens with, "Remember one Christmas I gave you Jim Carroll?" This is likely a reference to Carroll's memoir "The Basketball Diaries," in which he outlines his own addiction with heroin. Clark clarifies that she gifted the book with the intention that Johnny would view it as a deterrent; instead, he "dog-eared it like a how-to manual." The song devastatingly ends with Johnny accusing Clark of acting like royalty, lamenting, "Annie, how could you do this to me?" and Annie responding with, "Of course, I blame me."
This is not the first time Clark has mentioned Johnny – on her debut album "Marry Me," and again in "Prince Johnny" on her self-titled album. There she mentions his substance abuse and insecurity over his identity: "You wanna be a son of someone." In an interview with the New Yorker, when asked who Johnny is, Clark leaves the interpretation open with, "Johnny's just Johnny. Doesn't everyone know a Johnny?"
The final track "Smoking Section," though initially detailing a destructive relationship in which Clark contemplates jumping off a roof to punish her lover, ends the album with a glimmer of hope when she repeats the line, "It's not the end."
Lively, synth- and guitar-heavy sound contrasts deeply with the often-unsettling lyrics making "MASSEDUCTION" as glamorous as it is uncomfortable, as upbeat as it is miserable. Annie Clark's St. Vincent paints a sorrowful portrait of self-destruction, loss of love, and drug addiction. Though not new themes for St. Vincent, this album is possibly her most emotional yet.
St. Vincent is currently on tour and will be playing at The Fillmore Detroit on Nov. 14.
Share it now!