Kid Rock's "R-rated" Concert of Politics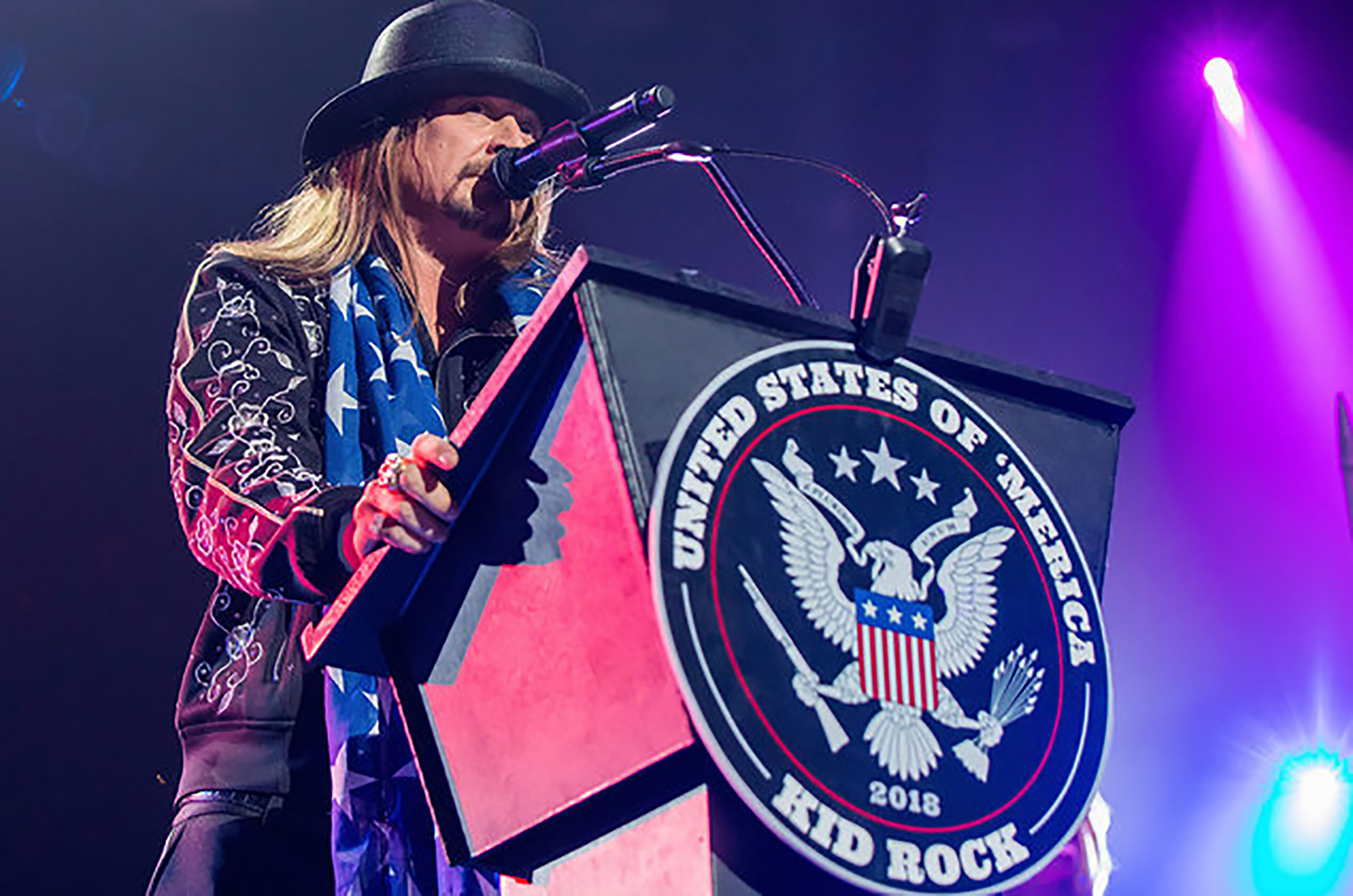 Photo courtesy of Billboard
Sept. 12, 2017, the grand opening of the newly-constructed Little Caesars Arena was met with mixed feelings and controversy. Scheduled to perform six shows, Kid Rock was the arena's first artist.
Two hours before the first show, protesters gathered holding signs with quotes such as: "Schools not stadiums," "No Trump, No KKK, No Fascist USA"; and "Education not gentrification," (referencing the public funding which paid for a much of the arena.) The Detroit Free Press interviewed Sam Riddle, a well-known activist, who "...called Detroit a 'bastion of white supremacy' and said the choice of Kid Rock to open the arena was an insult to Detroiters." Although there was an exchange of profanity between protesters and counter-protesters, overall it remained non-violent. As the protests died down, Kid Rock did not waste any time inciting his audience.
Rock gave what some consider a "mock" political speech to the packed arena. Kid Rock, whose birth name is Robert Ritchie, is a known supporter of Donald Trump. Rachel Lewis of Time Magazine provides a full transcript of the speech online. According to Lewis, the performer headed off stage after his first song, leaving his fans in suspense. A moment later, a voice came over the sound system saying: "Ladies and Gentlemen. Will you please welcome, the next Senator of the great state of Michigan, Kid Rock."
As "Hail to the Chief" began to play, Kid Rock emerged back on stage, stepped onto a podium, and began his vulgar five-minute speech. His opening comment set the tone. Rock began by asking, "What's going on in the world today? It seems the government wants to give everyone health insurance, but wants us all to pay." Rock then proceeded to comment on those who use the welfare system, calling them "deadbeats" and "lazy," stating, "Now the issue of struggling single parent is an issue close to my heart. But read my lips: we should not reward those who can't even take care of themselves but keep having kid after f----ing kid."
With every step forward, Rock took two steps back. He disapproved of the Nazi protest in Charlottesville, but then put down those who have been taking a knee during the National Anthem. Rock asked rhetorically, "And why these days is everything so gay? Gay rights, transgender this and that. I say let gay folks get married if they want to and I'm not even close to a Democrat. But things shouldn't be this complicated, and no you don't get to choose because whatever you have between your legs should determine the bathroom that you use."
While these are only a few examples from his full speech, the crowd seemed to love every word that came out of Kid Rock's mouth, and by the end there was a thunderous applause.This continued for the next five consecutive nights. After his opening song, he would walk off, until the queue of the announcer's voice welcomed him back onto the stage to deliver the same exact speech he gave the first night. The only notable difference in the performer's concert was actually at the end when everyone was leaving the arena. On the first night, as guests exited Little Caesars Arena they witnessed the "Trump Unity Bridge" float slowly driving by.
A bartender, who wished to remain anonymous, said, "I couldn't really hear any of it since I wasn't really close to the bowl, and was working...but the whole situation made me very uncomfortable being that I couldn't really have a legit reaction. I wasn't expecting a concert to become a political platform. I don't think any of us were."
Kid Rock has yet to make an official announcement on whether or not he will actually be running for the Michigan Senate in 2018. If he does, he will potentially be the Republican front-runner against Democrat Debbie Stabenow, who is currently in the middle of her third term. According to Lauren Gibbons of Mlive, "The D.C. based organization Common Cause has accused Rock of violating finance rules." Gibbons goes on to report, "The complaint argues that despite Rock's statements to the contrary, he should be considered an official candidate based on the merchandise sold and the continued existence of the Kid Rock for Senate website." Rock is expected in the next few weeks to announce if he has decided to launch an official campaign.