Editorial: America, Land of the Free?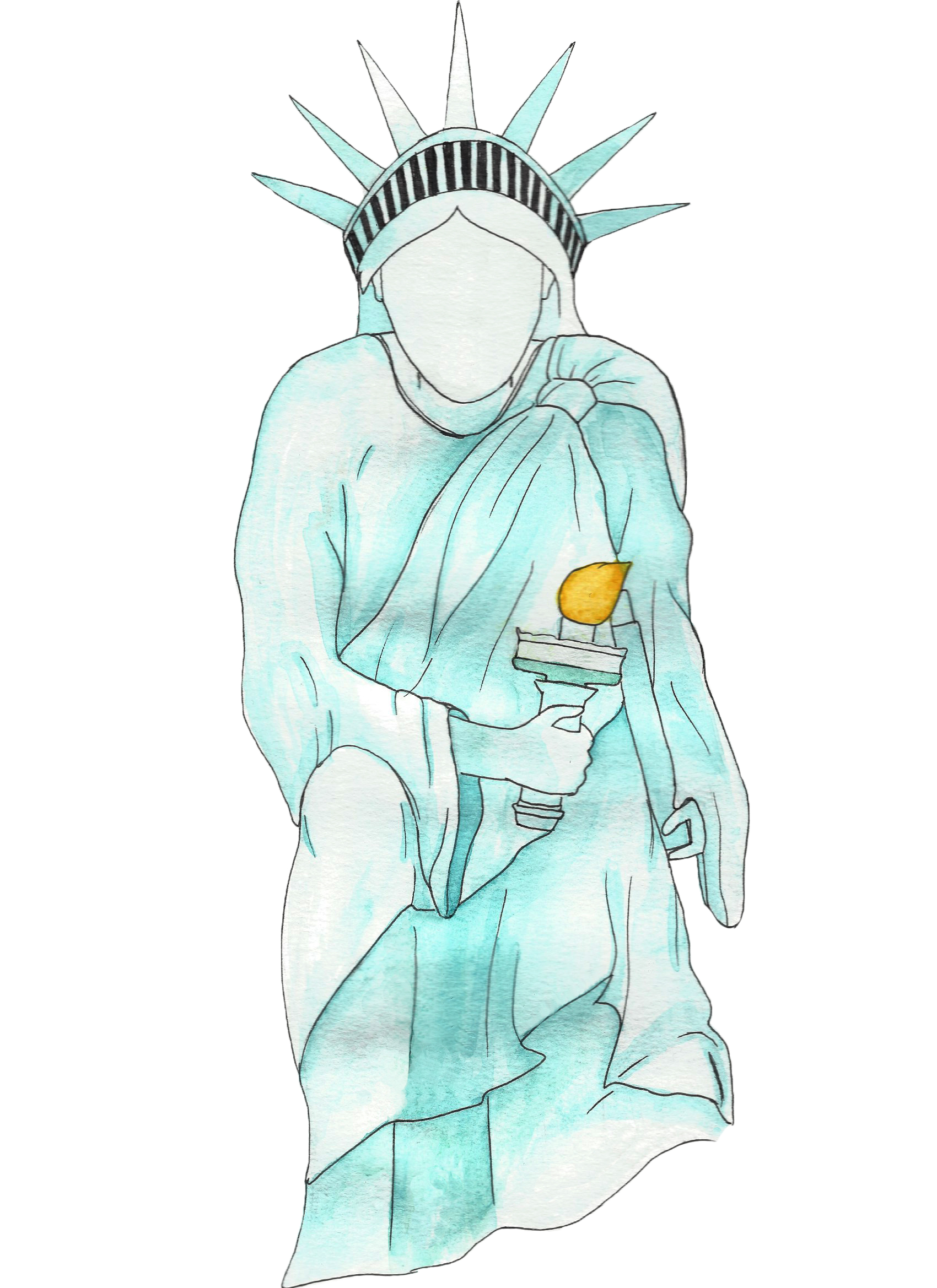 "Liberty Taking a Knee" | Illustration by Zainab Saleh
The NFL is in a tough place right now. Many reports say the league is losing viewers, and there are a variety of possible reasons for this. President Trump will say it's because the game has gone soft, it's no longer the game it once was, and because the American people would rather be watching what is happening with him. Although the topmost reason our president urges us to turn off our TV sets, and walk out of stadium doors is because our fellow countrymen have dared to exercise their Constitutional, First Amendment rights in a silent and peaceful manner.
The "taking a knee" protest began last season with then San Francisco '49ers quarterback Colin Kaepernick quietly sitting during the pre-game National Anthem. In a NFL Media exclusive interview afterward he said, "I am not going to stand up to show pride in a flag for a country that oppresses black people and people of color. To me, this is bigger than football and it would be selfish on my part to look the other way. There are bodies in the street and people getting paid leave and getting away with murder." Kaepernick's protest of police brutality against people of color made many uncomfortable, including former NFL player – and Green Beret – Nate Boyer, who strove to overcome initial feelings of anger by reaching out respectfully to Kaepernick instead. The athletes met and listened to one another. Kaepernick recognized Boyer by altering his protest from a seat, to a knee beside his teammates. Boyer had shared that, "Soldiers take a knee in front of a fallen brother's grave, you know, to show respect." Like many servicemen, Boyer is still challenged by how Kaepernick speaks for those who have no voice, but he has greater understanding of why.
If only our president had such self-restraint and respect for his fellow Americans. After a year of silent, kneeling protests, Trump demands NFL owners, "Get that son of a bitch off the field right now, out, he's fired. He's fired!" We all know showmanship runs deep with Trump but is he really harkening back to "The Apprentice," his own reality TV show in the face of serious, but peaceful protest from his countrymen?
The problem is, Trump doesn't see Colin Kaepernick, and those who kneel beside him, as his fellow countrymen. We've witnessed the President's issues with race. We saw him lead the "birther movement" against President Obama, questioning the authenticity of birth certificates and college records. In his speech at a recent Republican campaign rally, Trump told the American people that the silent protest is "a total disrespect to our heritage, a total disrespect for everything we stand for." Whose heritage is Trump speaking of? We, as Americans, don't all have the same story or heritage. Trump continues, glossing over freedoms of this and that as if they hold no weight. "And I know….we have freedoms, and we have freedom of choice, and many, many different freedoms but, you know what, it is still disrespectful." Trump told the crowd that they should "pick up and leave" over "those people who take a knee when they are playing our great national anthem." Those people, Mr. President?
As Trevor Noah, host of The Daily Show, asks, "When is the right time for black people to protest?" Certainly not when players are on the field. Certainly not when all eyes are on them and they have opportunity to silently speak for those who will themselves never be heard.
On July 5, 2016, thirty-seven-year-old Alton Sterling was killed outside of a convenience store in Baton Rouge, Louisiana. Sterling was shot multiple times in the chest and back while being held to the ground by officers Howie Lake II and Blane Salamoni of the Baton Rouge Police Department. Video footage of the incident was captured by bystanders. The officers were placed on administrative leave and a federal investigation into the shooting ensued. After months of investigation, federal prosecutors decided that there was insufficient evidence to place charges against Lake and Salamoni.
A day after the death of Sterling, in Falcon Heights, Minnesota, officer Jeronimo Yanez of the St. Anthony, Minnesota Police Department killed 32-year-old Philando Castile. Castile was shot multiple times after being pulled over for a busted taillight. Castile's girlfriend who was in the car with him at the time alongside her young daughter live-streamed on social media the moments following the shooting. Yanez was charged but found not guilty of second-degree manslaughter.
This narrative is nothing new for the African American community. A study published in the American Journal of Public Health highlights that black people are three times more likely to be killed in police-related fatal force incidents than white people. The Counted, a database by the Guardian which tracks the number of people killed in police-related fatal force incidents indicates that in 2016 alone, police killed 266 black people, and 249 of them died from gunshot wounds while 42 of them were unarmed. Kaepernick is not the first athlete in history to use his rightfully earned platform to protest racial injustices or suffer adverse repercussions for his stance.
In 1968, demonstrating against the oppression of black people in America, in a gesture evocative of the Black Power salute, the gold and bronze medalists of the 200-meter sprint, Tommie Smith and John Carlos, raised black-gloved clenched fists at the Olympic medal ceremony in Mexico City as the American national anthem played. Smith and Carlos were expelled from the games. The U.S. Olympic Committee had initially refused to remove the star athletes from the U.S. Team. However, they relented after Avery Brundage, president of the International Olympics Committee threatened to expel the entire team if the two were not expelled.
They did not have much of a career in sports after their expulsion from the Olympic games. Their demonstration, however, remains to this day one of the most iconic moments in the fight against racial oppression as well as the intersection between sports and politics.
In 1972, gold and silver medalists Vince Matthews and Wayne Collett turned away from the American flag and casually talked to one another while fidgeting around as the American national anthem was played at the Olympic medal ceremony for the 400-meter sprint in Munich, Germany. Though their protest was not as iconic as that of the 1968 Olympics, their message was the same and the repercussions thereof were as serious. They were both barred from the Olympics.
Bill Bowerman, the track coach for the USA team at the 1972 Olympics, points out in his biography that he had convinced Brundage, who was still serving as president of the International Olympics Committee, to reverse his decision. The reversal of the decision was on condition that the U.S. Olympic Committee agreed that the two athletes should not be expelled. The U.S. Olympic Committee voted to expel Mathews and Collet, citing that their actions were an insult to the American flag.
An open letter signed by 35 veterans, released on Medium in September 2016, following public reaction in the early days of Kaepernick's protest states: "Far from disrespecting our troops, there is no finer form of appreciation for our sacrifice than for Americans to enthusiastically exercise their freedom of speech. While we would not all personally choose to protest in a manner identical to Kaepernick, we respect and honor his choice, and wholeheartedly join him in stating unequivocally that BLACK LIVES MATTER. The current state of affairs for people of color in America is unsustainable and unacceptable."
As the protest spreads from the NFL field to other sports leagues and beyond, the focus of attention has certainly shifted from the fundamental issues that inspired it to begin with. Since Trump's rant, hundreds of NFL players across the nation and in London, along with team owners, many who have formerly supported Trump, have taken a knee or locked arms in solidarity during the pre-game national anthem. Some teams have decided not to take the field until the Anthem is finished. Though support deepens, there are concerns that the focus of movement will shift to an anti-Trump sentiment, and the focus that black lives are under attack by the criminal justice system in America may be lost in theatrics.
In a recent poll done by ESPN 51 percent of people disapproved of the protests, 39 percent approve, 54 percent of African Americans strongly approve compared to 17 percent of whites, and 48 percent of whites disapprove compared to 9 percent of African Americans. For as many people that would support this demonstration against police brutality, you have just as many hurt, and angry, by the method.
According to a current Marine who wishes to remain unnamed, "My service doesn't revolve around the national anthem. It revolves around the laws and officials that govern this country." He also says, "However, the anthem is important in my eyes. To me, it represents all our country's struggles and all the sacrifices the service members made before me."
Have we lost sight of what our armed forces fight for? Is it really a flag or a song? No, it is what those symbols represent. There is no doubt that great sacrifices have been made by our men and women in uniform to allow us to live in freedom. That is what the flag and Anthem mean to them, but what if freedom isn't as blanketed as those who enjoy it might think? What if all Americans aren't being treated as "equal, endowed by their Creator, with certain unalienable Rights, that among these are Life, Liberty and the Pursuit of Happiness" as our Declaration of Independence promises? Have they no right to say so? Does it make them unpatriotic and unAmerican to demand the freedom that this country boasts of and fights for? Protection under the law. A broken promise. Is that what the flag and Anthem mean?