Longterm HFC Administrator Resigning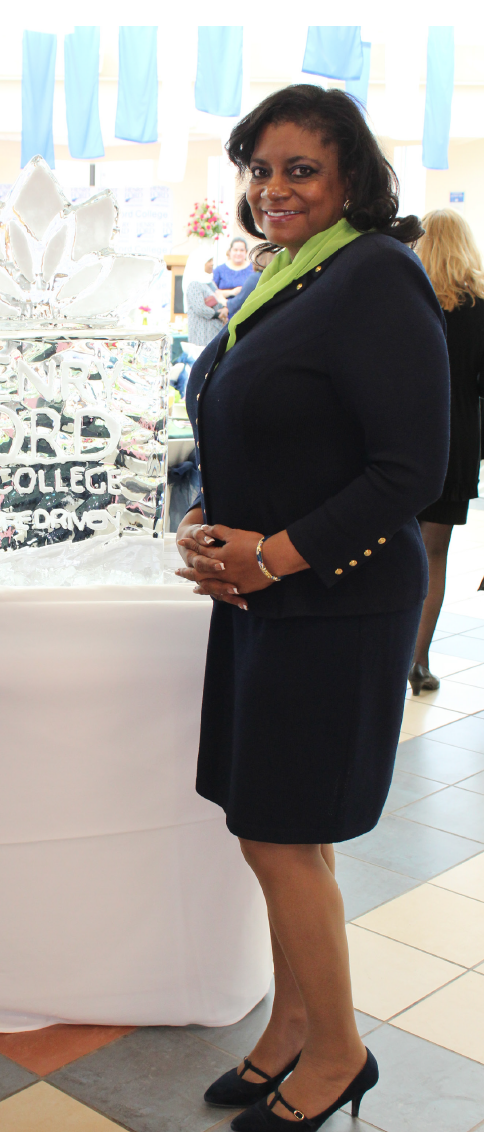 Dr. Lisa Copprue, one of Henry Ford College's finest is resigning. With an educational background in Management Development, a Master's in Arts, a Bachelor of Science and an Associate of Arts, there is little to nothing she cannot do. Dr. Copprue has served in the field of education extensively with over 28 years of experience in higher education serving in both the student and academic affairs divisions. Before her tenure at HFC, Dr.Copprue served as the Vice President of Student Affairs and the Director/Dean of Education at Kaplan University, and the Dean of Students, Vice President and Associate Provost at Marygrove College in Detroit, MI. As the list goes on, it is evident that Dr. Copprue is a woman of many talents.
Currently Vice President of Student Affairs, she is a prominent and well-respected member of the HFC community and will certainly be missed.
The Mirror News had the honor of speaking with Dr. Copprue to discuss her plans after HFC as well as some of the many memorable experiences she has had while at HFC.
MN: What do you like to do outside of work?
LC: I like to read, watch old movies and lately, travel with my husband.
MN: What are some of your favorite places to visit in Dearborn?
LC: I have many. I love the Arab American Museum, Greenfield Village (especially during Thanksgiving and Christmas), Beirut By Night restaurant and the Dearborn Inn for fundraising and other events. It is such a Charming hotel and captures the essence of the history of the city.
MN: What will be your best memory of HFC?
LC: I have many here as well but the one most recent memory came from a recent event held on campus in April 2016. The Admissions and Recruitment Division coordinated an event where over 100 community partners attended (colleges, universities, social agencies and community organizations and P-12 schools). The focus of the activity was to highlight HFC's academic programs, support and other services that prepare students to transfer successfully. We asked successful alumni from the college to speak about the education they received at HFC and how it prepared them for transfer and their future in their chosen profession. I typically offer remarks at this annual event and of course, tailor my remarks to the featured topic. One of the alumnus invited in 2016 was my daughter Jasmine. She graduated from HFC with honors in 2012. She transferred to U of M-Ann Arbor and completed her degree in Athletic Training. She works for U of M hospital and is assigned to work with one of the Ann Arbor High Schools during the school year and in the clinic otherwise. I too am an alumnus of HFC and successfully transferred to Michigan State University and completed both my B.S. and M.A. from there ( My PhD was earned at Marquette University). My daughter and I spoke with pride about our experience in the classroom at Henry Ford College and our experiences outside as well. She served on the softball team and I was the secretary of the Student Council. We both spoke about how HFC transformed our lives and perceptions. Watching her confidence, poised, accomplished and articulate… it was my proudest moment. My other two children, both sons are also HFC alumnus and transferred on. My second child, graduated from MSU in 2016. I think this one moment was so special because it brought back the many special moments that I have had as a student, then as an administrator.
MN: What was the biggest challenge you faced and how did you navigate through it?
LC: If we are talking about a challenge at HFC, I would say balancing work and family life at the level that I expect for myself. I was a single mother of a teenage daughter and two tween sons. All three were very active outside of school and my job pulled me in many directions as well as serving as a Vice president requires much in terms of dedication and time. It was rare to work less than 50 hours a week. I had to rely on my children's grace and understanding when dinner turned out to be take out or when I ran in 30 minutes after the football game started. I tried making things up to them by creating special memories during the holidays or milestone birthdays… and by telling them often how much I loved them. At work, I said "yes" most of the time instead of "no" but I bowed out of some professional conferences and community board appointments that would have been great for my career… until my last child graduated high school. I had to realize that no one can be perfect. You can make the right decisions at the time with the resources and opportunities that you have. You will look back and still regret some things but the way I look at it is if you can check off more items on the positive side than the negative in terms of the job you did at work and at home, you have done great.
MN: What are your plans after resigning?
LC: I plan to work for at least another ten years. I will serve as the Vice President for Student Services and Enrollment Management at Cedar Valley College in Lancaster Texas (outside of Dallas). I accepted this position to be with my husband, Stephen as he accepted a job at American Airlines in Fort Worth Texas.
MN: How would you like the people to remember your time at HFC?
LC: I hope they remember me as being a strong student advocate, a committed Student Affairs Professional and a life time member of Henry Ford College. This College is very special to me and the people here are the most committed and talented that I have ever known.
MN: What words of wisdom would you like to share with the campus community before you resign?
LC: Realize that HFC is a unique and wonderful place because of its commitment to diversity and its high standards for excellence. Keep embracing and defending both while listening. Understanding, Respecting and being good to each other.
Share it now!