Diversity Celebrated By An Opportunity
Gallery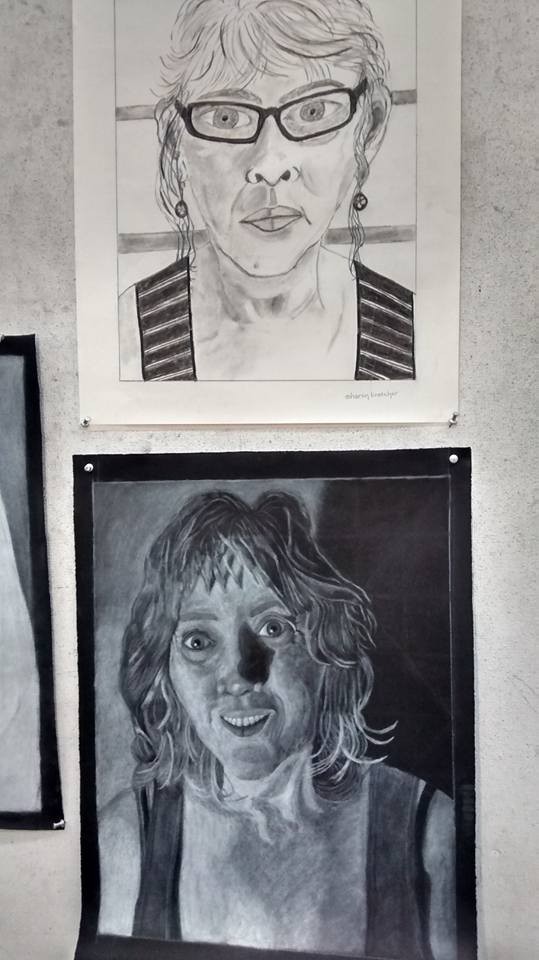 Self-portrait drawings by Sharon L. Bratcher
Learning to draw the nude model has been an essential part of an artist's training process dating back to the Italian Renaissance. Though I clearly understand the importance and history of drawing a nude figure in arts education, I, as well as a number of other students with religious beliefs am unable to enroll ourselves into a class with that methodology. This has presented a bit of a problem for us because a figure drawing class is required to complete a Graphic Design: Illustration Certificate.
I longed to learn how to draw people, and it made sense to me that since my goal was to draw clothed people and illustrate children's books someday, a course dedicated to that would fulfill both my educational and professional goals. And so, I requested that the faculty provide an alternative class that would count for the Illustration degree. Professor Vickie Shepherd designed the alternative class and thus "Topics in Art 234-01" was created.
This all happened rather quickly, so there was not a lot of time to market the class to other students. Students learned about the class through flyers that were hung around campus, and announcements that were made in some classes. A small class was assembled in the Fall 2016 semester.
Professor Grace Serra developed a curriculum that modeled the Life Drawing class. We learned about how to draw the portraits, hands, feet, and gestures to understand proportions and movement of the human figure, and we learned to represent the folds in the clothing as well.
The class met weekly for three hours and we were required to invest 3 hours of homework time each week as well. There were four modeling sessions, each lasting for three consecutive classes, so 12 of the 16 weeks we drew directly from a live model. The other classes focused on learning to draw drapery, so as to better understand how to draw clothing on a figure.
Professor Serra provided extremely helpful one-on-one assistance, and adjusted the curriculum to include more time to a better understanding of how to tonally develop the figure. Learning new subject matter can be frustrating, and tears often flowed as we continued to work and rework entire sections of our drawings. Prof. Serra patiently taught us how to solve our problems, and we all made immense progress, as seen in the accompanying photos.
Diversity is not just about paying lip service to embracing different cultures and different points of view. It is also about understanding and respecting individual needs. Rather than coercing those of us with different convictions to adapt to a curriculum that we simply could not participate in, Henry Ford College provided us with a choice. We are all very glad that we were allowed access to the same educational opportunities that other art students are provided.
For myself, it is my love of, and dedication to Jesus Christ, and my desire to keep my mind pure that led me to this point. Read here the testimonials from some of the other members of the class:
"This class has been one of the best classes I've taken. I'm confident that I learned figure drawing even though the models were clothed. I truly am thankful to the school for offering this course, and being considerate. I know many people who didn't go for art majors because of Life Drawing and not being able to take such a class." Batoul Ballout
"Having the opportunity to take a life drawing class with a clothed model was very helpful and important to me. I needed to take Life Drawing class in order to graduate from college with an Art degree, but I was not able to take it because seeing naked people is forbidden in my religion. This class solved my problem. I am able to graduate now. The Topics In Art 234-01 (alternative Life Drawing) class with clothed models should continue to be offered because there are many students who can't take a normal Life Drawing class either because of their religion, or their high moral standards. Please keep this class so that those students can graduate without breaking their beliefs." Fatima Moshaymesh "The class was really beneficial to me. The teacher really took time figuring out why we were struggling at one point. Drawing clothed figures helped me with drawings I do in my free time. Understanding the movement in clothing and fabric itself made sense after the class. I would recommend this class." Cheyenne Horton
"For me, this class presented the opportunity to finish my Graphic Design degree, because the Life Drawing class, for the second time, conflicted with the other class I needed to take! I learned about tone, drawing people, and drawing fabric folds. This will greatly help in my career in Animation." Lydia Sexton
There is always more than one way to teach a subject. Henry Ford College did a great thing for us by teaching us how to draw people without disturbing our consciences or beliefs. If the College decides to make this a regular opportunity, I am sure that other people will benefit from it. Since it will bring more students into the Graphic Arts program, it will also be a win-win for Henry Ford College.
Share it now!