WiFi and HFC's Technology Needs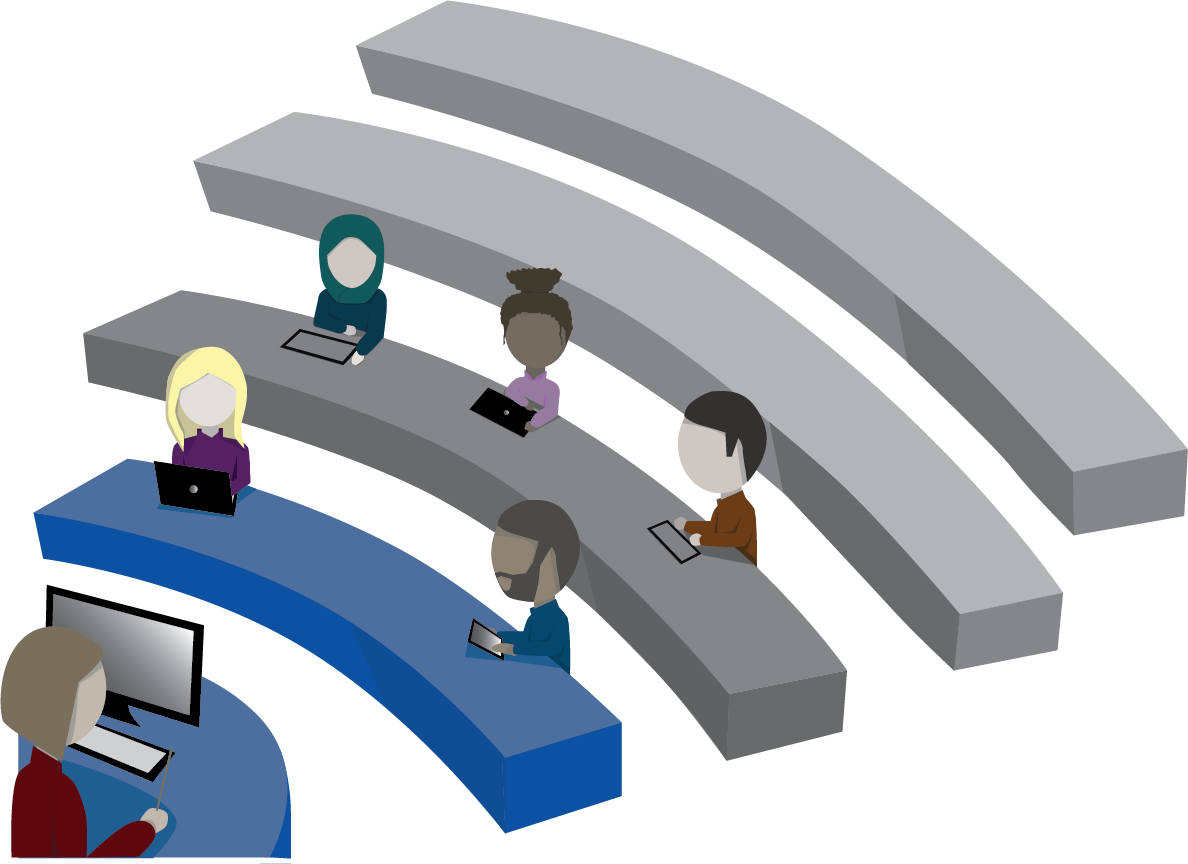 Illustration by Zainab Saleh
How many times have you connected and reconnected to the WiFi at Henry Ford College today? How satisfied are you with your technology experience during your stay at the college? These are some of the questions asked of several HFC students, and the answers received did not vary by much. There are a lot of the same recurring problems: having to reconnect to the WiFi every time you leave or enter a building, sometimes even while sitting in the same place, or having WiFi so slow you can't really load anything — even a simple HTML webpage or messages from applications that use the internet, such as WhatsApp or iMessage. Perhaps you've experienced something similar.
According to HFC's Financial Services vice president, John Satkwoski, the college spends easily $2-3 million a year on technology upgrades and maintenance. This doesn't just mean the physical technology, such as projectors and computers, it also includes software, cabling, network switches and also funnels into a number of other projects many students might not be aware of, such as technical mannequins that connect to the internet for the health sciences programs. Funding for the tech on campus comes from several places, including the student fees for technology investment and infrastructure, the Perkins federal grant and part of the college's main operational budget.
One of the central issues of technology upkeep is how quickly things change, Sandro Silvestri, newly appointed executive director of facilities, adds. "To give you an example," he says, "10 years ago our total internet bandwidth, including WiFi, was approximately less than 40 mbps (megabits per second). This past year, we went through 700 mbps, with burst rates of an additional 400." Put simply, internet bandwidth refers to the amount of data that is transmitted in a second. This means the college is allowed to go above the allotted 700 mbps by 400 mbps for no additional cost. Silvestri says the college hits that peak quite often. So what has caused this quick growth in a relatively short space of time? Silvestri says a big change is the number of devices per student. Students can bring any number of devices with them on campus, whether it be a phone, a tablet or a laptop — all connected to the WiFi, using a separate connection.
"Even if you're not doing anything on the device, it's still using bandwidth," says Silvestri. "The amount of bandwidth we use is astounding, and we increase it every year." There are certain times during the day, and during the year, when the WiFi usage tends to increase. This happens from 8 a.m. - 1 p.m., and 4 p.m. - 9 p.m. Higher usage is usually seen around registration and finals times. In recent years the college has added more access points, and upgraded older access points, and in addition to increasing the internet bandwidth, there is also increased bandwidth between buildings. Last winter break, the college installed new firewalls to give students better protection. "To get the best technology experience on campus, I would recommend students keep their firmware and their applications up to date. That's the biggest thing they could do. The second thing is to practice safe computing, which can not only affect WiFi performance, but overall device performance."
Despite the amount of money put into the technology at the school, a lot of the effort doesn't translate into satisfied students. HFC student Khadiga said in an interview that she no longer attempts to try to connect to the college WiFi at all anymore, preferring to stick to using her data plan on her phone. "There are just too many problems with it. I have to reconnect so often, and a lot of times I'll stay in the same place, and it still disconnects, forcing me to log back on." When asked if she would appreciate a channel for the student voice and feedback on technology at the college, she seems to have the reaction a lot of interviewed students did: doubt. "I would love to have a place to give my feedback, but am I going to be giving feedback that's heard, or is someone just going to say 'thank you for reaching out,' and nothing will change? I'm interested in an interaction that I am sure will have a positive effect." Adam Cloutier, director of Teaching and Learning Support, addresses this need for a student voice in issues like this on campus. "We do have a help desk for students, where 'trouble tickets' can be submitted through IT services. The issue or feedback is then prioritized and acted upon as necessary." How often students utilize this service is unclear, but based on anecdotal evidence, it seems not many students know the service exists. Other than the IT helpdesk, students can always reach out personally to their instructors, or look to a higher level and reach out to administrators to give their feedback. "I would encourage all students to reach out, we're here to make the student experience a wonderful one. Whether that means talking to me, or any staff member in the library, the learning lab, the associate deans. Let us know. If a student feels their voice isn't heard, take it to the next level. Personally, the more I hear back from students, the more rewarding and the better it is. I want to take that information and truly act on it to the benefit of our students."
Share it now!