Dearborn Activist Helps Syrian Refugees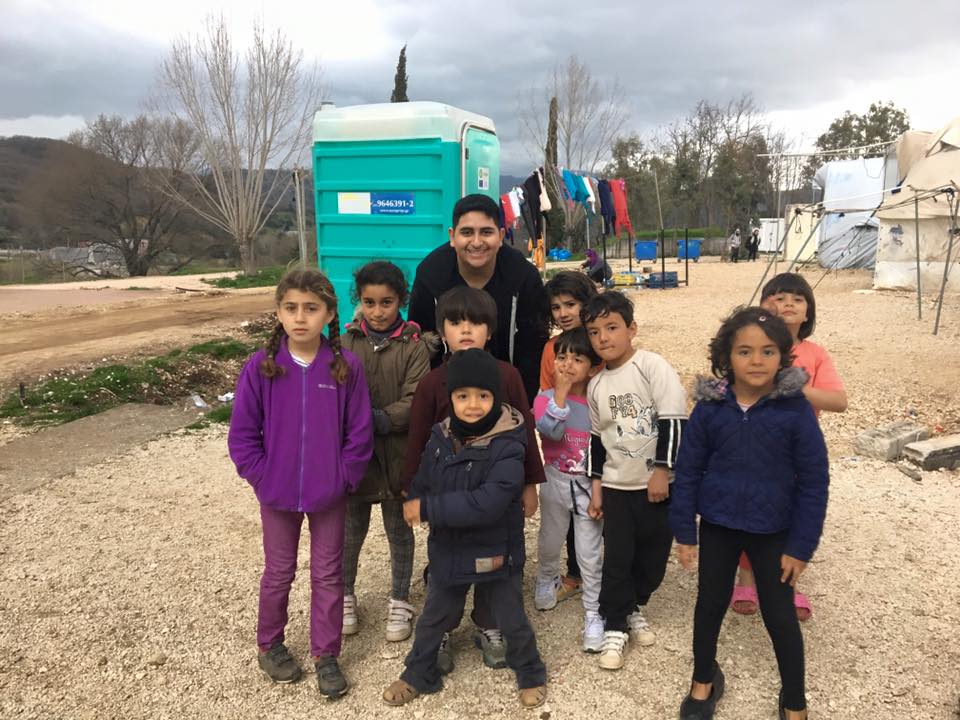 Photos courtesy of Adam Abusalah
His name is Adam Abusalah and he is currently completing his first year at Henry Ford College. He started off as a dual enrolled student in the fall, but became a full-time student later in the semester when he decided to transfer from Fordson High School to an online school. There were many reasons behind this decision, one being the large classroom sizes and the level of immaturity in some of his classmates. "I had gone to private schools my whole life where there were only around eight students in a class, and going to Fordson where one teacher was in charge of teaching about 30 kids wasn't that great of an experience," Abusalah said. Another reason was that he had just come back from a humanitarian trip to a Syrian refugee camp in Greece in the summer of 2016, where he learned that he wanted to make more of a difference in other people's lives. That was when he decided to skip the "high school experience" and advance to obtain a higher education more quickly. Abusalah was determined and he ended up graduating from the online school, Penn Foster High, just one week before his 16th birthday in October 2016.
Since that summer, Abusalah has worked on various projects with several different organizations to raise money for the three different camps that are located in Athens, Greece. He traveled back in March 2017 to distribute food, clothes and medicine. The trips to Greece are medical missions where doctors and medical professionals frequently visit to care for the refugee families. Abusalah joins them on these trips to help with the supply distributions, spending time with the children, and also collecting donations and raising funds in Michigan for the camps. He also helped furnish the school that he had a primary role in building with the $20,000 he helped raise during a fundraising dinner in early December 2016 that he organized.
Before the Greece medical mission, Abusalah helped out with local organizations and projects in the Metro Detroit area to help provide supplies and transportation to new refugees settling in the area. Coming from a Palestinian background, Abusalah grew up raising awareness of those affected by the conflict in Palestine and didn't really know much about the Syrian Civil War and the casualties. It wasn't until two of his relatives were displaced from Syria, and one of his aunts visited his family in Michigan and told him of the horrors and crimes happening against the Syrian people and children, that he realized it could be him suffering in Syria. He now has doubled his efforts in helping any person who is affected by the war and has directly impacted lives in Michigan, Greece and Jordan.
Abusalah also volunteers with the Palestine Children's Relief Fund. This organization sends people on humanitarian trips to deliver medical assistance to injured Palestinians and sends some of those children to different hospitals worldwide for treatments and care. Abusalah spent time with three different patients who were brought to Michigan for treatments and has helped raise funds to cover the medical and travel costs.
He also volunteers with the Muslim Youth of the Islamic Center of Detroit. He is at almost every event and helps organize some of the community service events made to better Detroit and Dearborn. Abusalah will be transferring to a university when he completes his prerequisites at HFC in about a year. He is looking to become a dentist, doctor or nurse practitioner to dedicate more time, effort and financial aid to Syrian refugees around the world in need of assistance.
Abusalah expressed gratitude towards his friends and family members for supporting him with all of his projects and missions, but thanks his parents for being there since the start of it all and their unwavering support despite his young age. "Without my parents continued support and help, I wouldn't have been able to help so many people and travel to Greece to see the people we are helping," Abusalah said.
Share it now!