"Indo-Pak" Just Around the Corner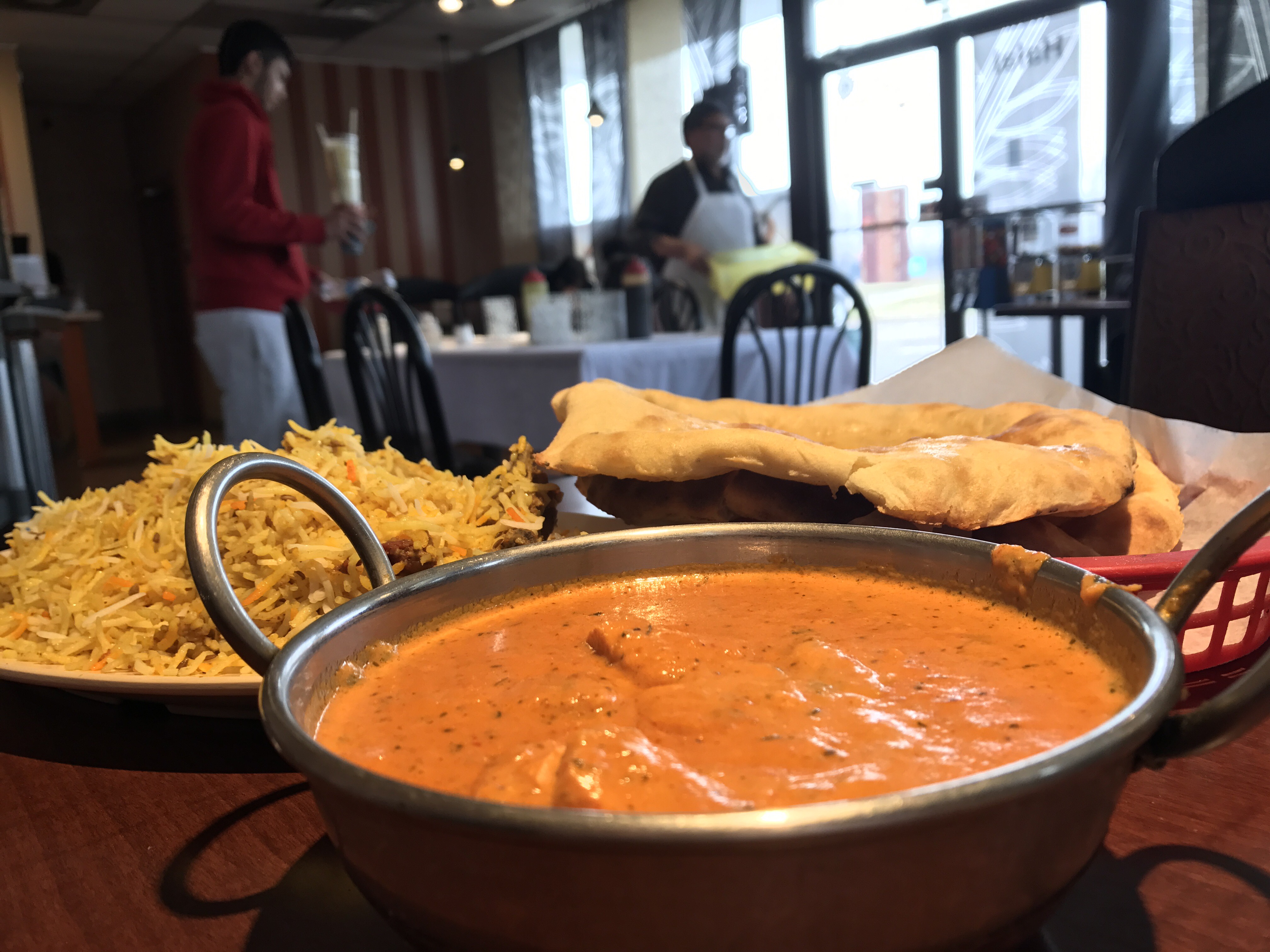 Tandoori Corner, located in Canton, boasts a variety of homemade fusion Indian-Pakistani cuisine. The small hole in the wall was opened two years ago by owner, Aisha, and her husband. After spending years as an event planner, Aisha opened the restaurant to follow her passion for cooking. I visited the restaurant around lunch time on a weekend with a friend, and I was caught off guard at how small the place is. Though it houses just a handful of booths and a single dining table comfortably, the cozy restaurant has a lot of foot traffic. A lot of it is from customers coming in to pick up their food. My friend and I weren't sure what to order, so I asked for the waitress's recommendations. We ended up with two dishes you've likely encountered if you've dined at an "Indo-Pak" restaurant before: the reliable butter chicken, and chicken biryani. The butter chicken comes with two large pieces of traditional buttered naan bread, and the biryani is served with the green yogurt sauce, raita, used to cool the palate. The butter chicken is served in a metal bowl with handles, filled with bright orange curry sauce. In it, the pieces of chicken are incredibly tender and well seasoned, and the curry has a great consistency, just thick enough to make it perfect for dipping into with the hot naan. The dish makes for a great meal on its own, and could be ordered as a light lunch for two. It's worth noting that the menu includes several flavors of naan bread, including garlic, onion, and cheese naan. The naan is light and airy, and made freshly throughout the day in a traditional tandoori oven. The biryani is more substantial: a generously heaping plate of spiced basmati rice with chunks of chicken mixed in. The raita on the side goes well with the dish, providing a break in between spicy bites.
For dessert, the restaurant serves several traditional dishes, including rasmalai, a cheesecake-like dish, and kulfi, traditional Indian ice cream. Their most popular desserts, however, are the gulab jamun and the kheer. The heavier of the two, the gulab jamun consists of fried dough balls soaked in a sweet syrup. The fried dough has a thick consistency with a sweet milky taste, making it a great pick for someone with a sweet tooth. The kheer, a lighter dessert, and my own personal favorite, is an Indian rice pudding. Served chilled, the creamy rice pudding is garnished with crushed almonds and cinnamon, and packs a lot of flavor.
My friend and I each ordered a mango lassi. The lassi, a traditionally savoury yogurt drink, has been modernized into a sweet drink, sometimes incorporating fruit. Tandoori Corner serves both traditaional salty and the more modern sweet lassi, such as the mango flavor we had. The mango flavor comes from mango pulp blended in with the yogurt, giving it a pretty soft, pastel orange color, and a lightly sweet taste. After our filling meal, my friend and I happily took our drinks to go.
Just one of the many "Indo-Pak" establishments in the Canton area, Tandoori Corner stands out in one simple aspect: the care clearly put into making the food. The restaurant has an undeniable homey feeling, something that really brings together the overall ambience of the restaurant. "Each dish," Aisha tells me, "is prepared to order. This can take some time, but I'm really passionate about fresh, healthy, and halal food." If you'd rather not wait at all, she recommends calling twenty minutes in advance to place your order, whether you're eating in or ordering out.
The restaurant is a staple in its area, as is seen most clearly during Ramadan, the Muslim month of fasting. During that month, the restaurant hosts a Ramadan buffet, and passes out traditional foods used to break the fast, including complimentary dates, samosas, and pakora, a fried snack, for diners to break their fast. A long line going outside the front of the store can be seen during this time. With such authentic, fresh food, Tandoori Corner is definitely a restaurant worth visiting.
Share it now!