44th Annual Women's Recognition Luncheon
Gallery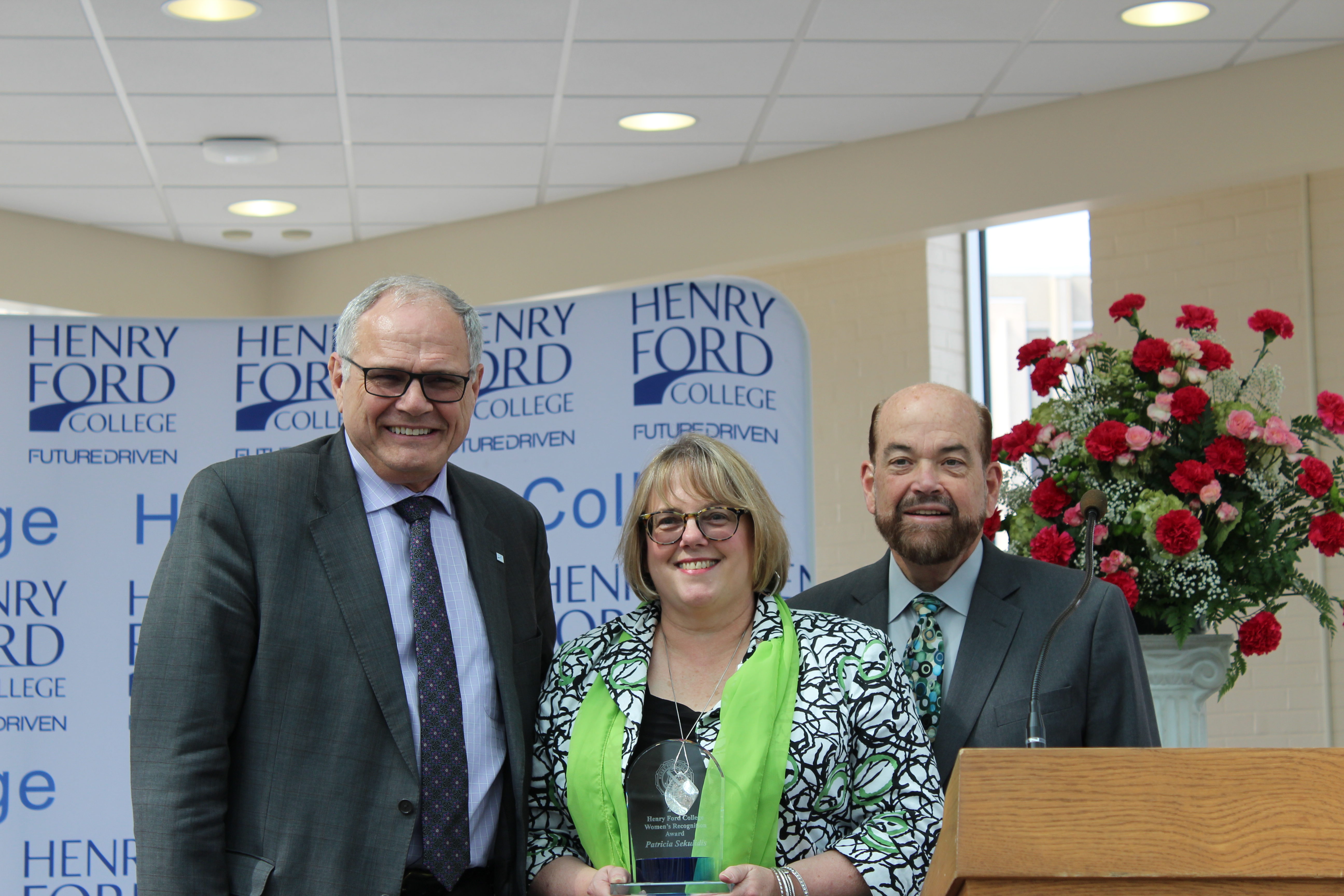 Henry Ford College President, Dr. Stan Jensen, and Dearborn Mayor John B. O'Reilly, Jr., presenting the support staff person award to Patti Sekulidis. For more pictures of the event, please visit the Mirror News website.
This March, Henry Ford College hosted its 44th Women's Recognition Luncheon. All donations benefit the Student Outreach and Support Program, or SOS, and the Student Emergency Fund. The purpose of the program is to "aid HFC students who are experiencing emergency financial situations, so that they can continue their education."
At the event, four awards are given to exceptional women connected to HFC. This year, Susan Shunkwiler, associate dean of health sciences, won the administrator award. Geraldine Grunow, English faculty member and advisor to the HFC student organization Amnesty International, won the faculty award. Patti Sekulidis from the HFC Graphics Center won the support staff person award. The recognition award has been conferred annually since 1983, given to women who have been nominated by HFC staff and students.
"I'm surprised and honored to be recognized with this award, and especially to be in the company of the amazing women who have been given the award this year," said Grunow. "I'm grateful to all members of the college community for making my years here so happy and fulfilling, and I'm particularly grateful to my colleagues in the Communications Division for their beautiful, generous nomination letter, which I'll keep with my most treasured possessions."
The fourth and final award, the Gene L. Brazell Community Role Model Award, was given to the well deserving former HFC Student, Najah Bazzy, founder and CEO of Zaman International, a Metro Detroit based non-profit that provides essential needs, crisis assistance and training to women and children living in poverty. Bazzy gave a moving acceptance speech, remembering her time as a nursing student at the college fondly. Bazzy sat down for an informal talk show style interview with Roxanne McDonald, a community leader and part of the planning committee. Bazzy spoke in depth about the type of help Zaman International provided for the Detroit community, and its importance especially in many women's lives. Dr. Lisa Copprue, Vice President of Student Affairs, who was also on the planning committee, said that the event is an important part of the college's history. "Najah Bazzy has been an invaluable asset in her work helping many households break the cycle of poverty. I cannot think of a candidate who's more deserving to be this year's Community Role Model than her," said Copprue.
Dr. Brenda Hildreth, the coordinator of the SOS program, says that the assistance of the fund "has helped students overcome unforeseen financial emergencies and remain focused on what matters most — their education. Each source of funding addresses different types of emergencies and hundreds have been helped in the past year."
A moving account of a personal student experience with the SOS program came from HFC student speaker, Ethel Rucker, who spoke about how she was worried she would be unable to continue her education due to her need of new glasses. As a single mom of several children, Rucker had a hard time continuing her education without a pair of glasses. The SOS program was able to provide funding for glasses, allowing her to stay in school.
Though many community colleges have something similar to the SOS program, many of these colleges simply provide referral services. HFC is unique in that it is able to provide more personalized and immediate assistance from the college itself. "We provide money, over and above what students receive from financial aid if they qualify," says Dr. Hildreth. Each year, more and more students utilize the SOS fund. It addresses minor academic and non-academic financial emergencies that could otherwise hinder a student's ability to continue schooling."
Share it now!