Eastern Market Brings Art to Detroit
Gallery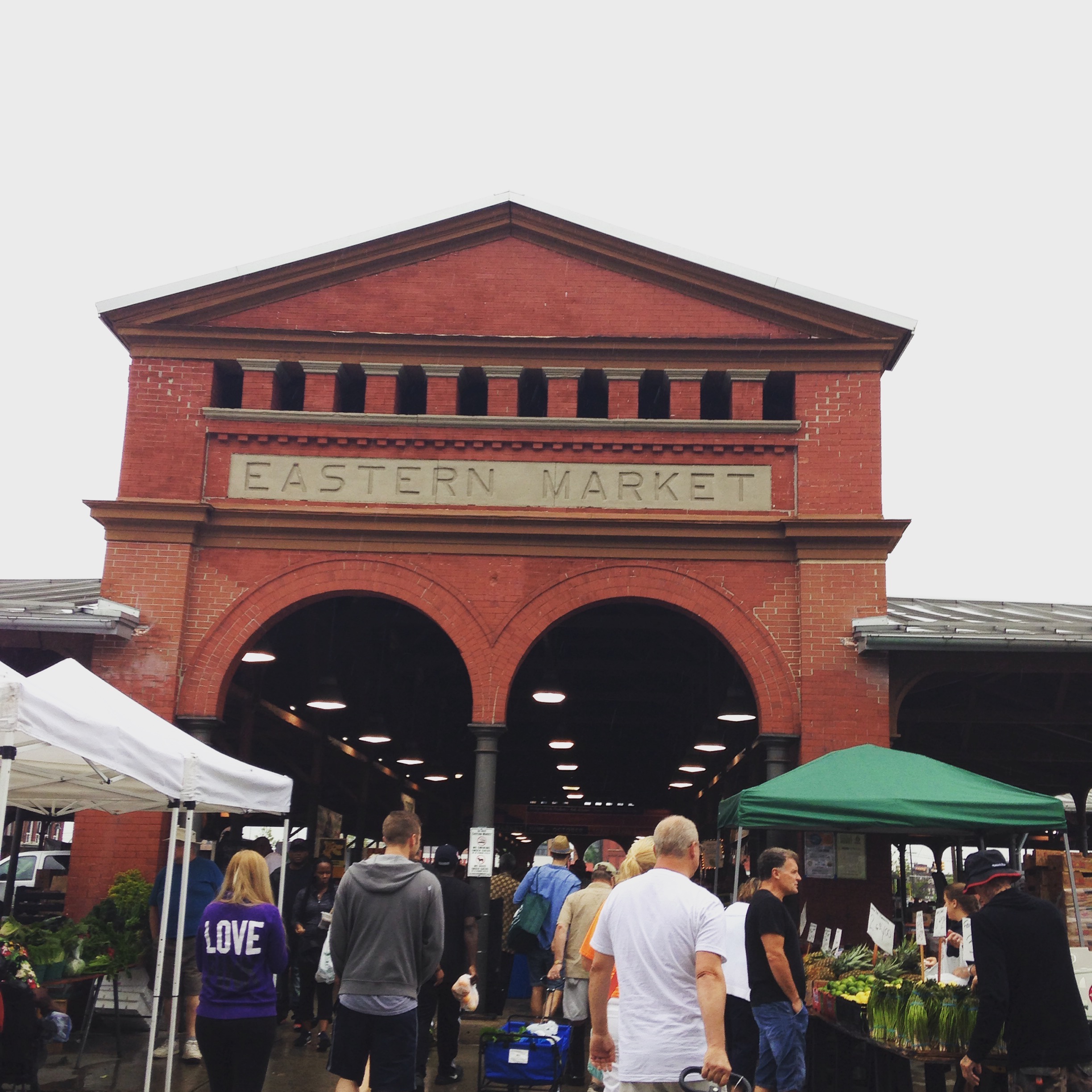 Photo courtesy of Peter Kim
Since its opening in 1891, Eastern Market has served as a place for citizens all around Michigan to buy locally grown food products. Their mission, to nourish a healthier, wealthier and happier Detroit, has extended beyond food, though. In addition to being America's oldest continuous street market, Eastern Market has attracted local and international artists to showcase their work. Jela Ellefson, Community Development Director of Eastern Market, says, "We used to have a subset of vendors called The Artisan Village. They were non-food, non-produce vendors. Some of them had organic soaps, clothing, or hats, things that were not grown in the ground. The Artisan Village continued growing, and the demand for the space exceeded what we had. This is when we began the Sunday Street Market." Ellefson mentions that some inspiration for the Sunday Street Market came from European countries, such as Italy, where farmers markets are not limited to only produce. "You can buy most of your household products at these markets. While we are not quite there yet in Detroit, where you can buy tube socks, or pots and pans, we want to use the fact that Eastern Market is already a place of commerce. We came up with a unique flavor and a unique brand for the Sunday Street Market."
Part of the reason the Sunday Market is so successful has to do with the artists themselves. "The ingenuity already exists in Detroit. In this region, I think people are naturally creative and inventive," Ellefson says. "I mean, there's a reason why Detroit is known for a number of musical styles, like hip-hop, Motown and techno. All of these things speak to the creativity of the people here, and that's what we focused on when we created the Sunday Street Market." That creativity is apparent when one surveys the wide range of products offered. No other place in the world is able to sell Michigan themed clothing sold by Detroit Manufacturing, hand-made goats milk soap from Girls Soap, a clothing and vintage homegoods resale boutique from Goodwill Industries of Greater Detroit, and Rebel Nell's jewelry made from graffiti, all local businesses that have thrived in the Sunday Market.
Along with bringing local vendors to sell their products, Eastern Market also commissions artists. The Murals in the Market festival features more than 50 murals on buildings done by local, nationally renown, and international artists from as far as Paris, Singapore and Australia. Eastern Market Corporation joined forces this year with the John S. and James L. Knight Foundation to sponsor the event that ran from Sept. 15-24. The ten-day festival included the artists working on the murals, art exhibitions and installations, live musical performances, children's workshops, and artists talks, featuring creator of The Heidelberg Project, Tyree Guyton. While all of the artists' profiles, links to their shops and murals are featured on the Murals in the Market website, the works of art are worth seeing in person. The artists were able to work freely, without restrictions on their content, and that allowed for true expression.
Eastern Market Corporation understands the importance of artists in Detroit. Ellefson says, "Our thinking about the art scene in Eastern Market has changed a lot in the past two years. Traditionally, art and artists are the beacons of gentrification – there are a lot of areas around the country where it may not have been safe or [given much] attention, and artists came and made the area their home. But this comes with a price, because these areas may have become popular, and featured high-end housing that displaced the existing citizens." Gentrification can mean those who can afford to often leave for the suburbs; that coupled with the rise of expensive apartments can limit who can live in certain areas of the city. "Our main concern with Eastern Market Corporation is to not displace certain groups of people. We want to make sure that we preserve the wholesale identity of the market, and make sure that we are the guardians of the concept of economic democracy. We want to participate in real estate development, to make sure that there are affordable housing options for everyone, especially people who work here. If you are a small food business and you are competing with the rent of a high-end sneaker shop, then you are at [a] disadvantage." By bringing in artists, Ellefson has noticed that people come to visit the murals, and stay to shop at the markets. This brings business to the local vendors that Eastern Market Corporation is trying to protect.
Since its opening 126 years ago, Eastern Market has continued to grow and shape Detroit while retaining community traditions like Flower Day, which takes place every Sunday after Mother's Day. This annual event marks the beginning of the garden season, and brings about 120,000 people every year who buy approximately a total of 15 acres of flowers. Eastern Market is open year-round, but it is especially busy during the spring planting season and the fall harvest.
As Detroit continues to be a haven for creativity, Eastern Market will continue to feature local artists and vendors and truly create a healthier, wealthier and happier Detroit.
Share it now!