Refugee Crises
Gallery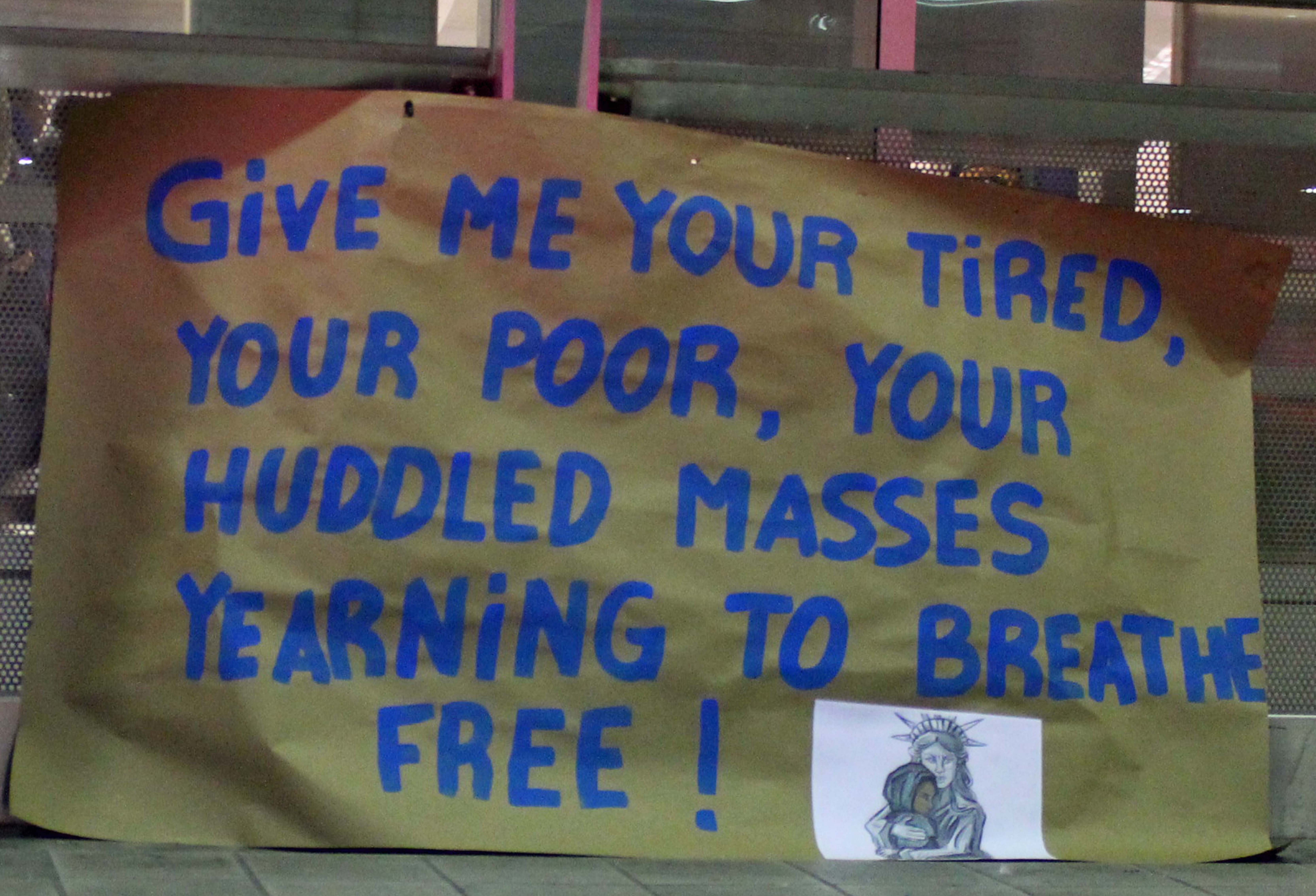 In 2013, the United Nations High Commissioner for Refugees at the time, Antonio Guterres, stated that the United Nations "had not seen a refugee outflow escalate at such a frightening rate since the Rwandan genocide." In March of that year, the number of Syrians that were receiving aid, or were registered as refugees, had reached one million. Now, a little over three years after that statement was made, the refugee crisis is still a continually growing and incredibly pressing humanitarian issue worldwide. As estimated by the United Nations' latest statistics, by the end of 2015 there were 65.3 million forcibly displaced people worldwide, 21.3 million of which are refugees. Of this number, 107,100 refugees were resettled. The fleeing of Syrian refugees to other countries first began in April of 2011, with Syrians crossing into Lebanon to escape the armed conflict in the town of Talkalakh. Over the ensuing years, the fighting within Syria escalated, and the political conditions worsened. Month after month, refugees have been flowing into a growing number of surrounding areas, including Lebanon, Turkey, Jordan, Iraq and Egypt.
The refugee crisis has far reaching implications, and is certainly a national issue. In the U.S., the second highest number of refugees have resettled in Michigan, second only to California. According to the U.S. Department of State, last year, 5,039 refugees resettled in Michigan, primarily in Metro Detroit.
On Jan. 20, the Henry Ford College chapter of Phi Theta Kappa held a Refugee Awareness Dinner, inviting several prominent community figures to speak about their experiences in dealing with the refugee crisis. Attending the event were students, faculty and interested community members. One speaker was Reverend Kenneth Fouty, the Director of Public Outreach at Samaritas. Founded in 1959 as Lutheran Social Services of Michigan, Samaritas is the largest faith-based non-profit human service organization in Michigan. The organization is affiliated with the Evangelical Lutheran Church, and works to assist refugees in resettling. Another attendee and speaker at the dinner was a young woman, Zain Al-Sham, who shared a powerful narrative with those in attendance. Only a couple days earlier, she had arrived from Aleppo, Syria, where she had been serving as an aid worker in partnership with Mercy-USA for Aid and Development. She spoke about the situation refugees have found themselves in: forced out of their homes against their will and made to beg for shelter in foreign countries. She emphasized that refugees did not choose this life, and that they would return to their country if they could. Another important speaker at the dinner was Rouba Samman, representing the American Syrian Arab Cultural Association. She spoke about the organization's work in providing the Metro Detroit population of resettled refugees with the necessary supplies to start new lives, including donating over a dozen cars to families in need of transportation.
In September 2016, Oakland County Executive L. Brooks Patterson stated that he would work to stop the resettlement of refugees in his county. Patterson stated his county leads the state in refugee resettlement and he doesn't trust the current vetting process. In a statement made to WJBK, a Detroit TV station, Patterson said, "You've got to vet 'em. What do you know about them? Do they have any criminal records? What about public health? Do they have [tuberculosis]? Do they have any other kind of communicable disease?" The current refugee vetting process can take upwards of two years and includes numerous rounds of comprehensive security checks.
Since taking office as the U.S. president, Donald Trump's actions blocking refugee resettlement has had huge implications for the current situation at Detroit's Freedom House. The organization first started in 1983 when a group of Detroiters came together to provide refuge to those fleeing El Salvador. Since then, Freedom House has become a unique institution working to advocate for and assist refugees. Residents enter the U.S. with valid visas, then work with the services provided by Freedom House to secure protected legal status. Located in southwest Detroit in Ste. Anne's convent, Freedom House is currently at its full capacity, housing forty men, women and children. It is the only institution in the nation that works exclusively with asylum seekers and provides comprehensive services in one building. The organization provides asylum seekers shelter, legal aid, education and employment readiness, English instruction, medical and behavioral health, and basic services such as food, clothing, health and beauty products, as well as help with acculturation and socialization. All of these services are free of charge, paid for by donations and grants.
However, Freedom House's financial situation is changing drastically. In December of last year, the organization was informed that over half of its funding, provided through a grant for twenty years by the federal Department of Housing and Urban Development, would not be renewed for the next year. "Working with other human rights and legal entities, Freedom House will continue to voice our support for the administration to uphold federal law in allowing asylum seekers full access to the law and services allowed under immigration law," says Program Manager Thomas "TJ" Rogers.
The current grant will fund Freedom House until the end of March. The organization is currently filing an appeal of the decision, and State Representative Stephanie Chang (D-Detroit) has written a letter to HUD, urging officials to restore funding to Detroit's Freedom House. "Freedom House has been in operation in Detroit for more than 30 years and they are well known and well respected for the work they do," said Chang. "The people they help left their home countries because they have been the victims of torture or violence simply because they chose to express their opinion about the government, they support Democratic principles, or they've worked to ensure social justice for their fellow citizens. They would be at extreme risk if they went back to their home country. This is not the time to cut services to these people who have found their way to America because they believe that we do stand for freedom and democracy and they can be safe and build a life here. I urge HUD to restore funding to Freedom House, and I urge all concerned Michiganders to let HUD officials know that we still want to be a welcoming state and provide a safe place for people fleeing oppression." In the meantime, the organization must now find alternative sources of revenue, and also plan for the possibility of rejection of the appeal.
The HFC chapter of Amnesty International has supported Freedom House's efforts through various activities on campus. In the fall semester, the club raised over $260 in donations, and partnered with the HFC chapter of PTK to host a clothing drive, collecting winter essentials for the non-profit. This semester, Amnesty International plans to hold another bake sale to raise funds for donation. The club will also be having another drive this semester, collecting food items like rice, oil, sugar, large cans of beans, salmon, soups; household goods like detergent, dish soap, paper products and toiletries. "As they stand at a risk of losing federal support, it is important for the community to step up to ensure that this essential organization remains able to serve its residents and help them start new lives," said Ayah Habhab, president of the HFC chapter of Amnesty International.
On Jan. 27, President Trump signed an executive order banning the entry of all persons from seven Muslim-majority countries, indefinitely suspending the entry of Syrian refugees, and limiting the number of other refugees for the fiscal year of 2017 to only 50,000, less than half of the 110,000 proposed by the Obama administration. The tense political situation created by these policies directly affects the residents of Freedom House. Ninety-five percent of the residents are victims of torture, and Rogers says the executive orders signed by Trump have increased the concern for the safety of the residents, who are now prone to disruptive sleeping patterns, flashbacks and other PTSD episodes. Freedom House has increased services with mental health providers to aid residents through this difficult time. In addition, the organization has temporarily suspended all off-site trips, such as visiting the Detroit Institute of Arts, or visiting a coffee shop with a volunteer language partner, until further notice.
Though Trump gave no criticism of the execution of the plan, he said on Feb. 8 that he argued for the issuing of a month-long notice before putting the travel ban in effect, and added that he was overruled by law enforcement officials in the decision, though it was not made clear who those officials could have been. The president then tweeted on Jan. 30, "If the ban were announced with a one week notice, the "bad" would rush into our country during that week. A lot of bad "dudes" out there!" This reasoning, allegedly given by the law enforcement officials, doesn't address the lengthy process of obtaining a U.S. visa, and the much lengthier process of applying for refugee status. The president has made no comment on the ban's effect. The ban has sparked protests across the world in solidarity with refugees, immigrants and their families.
Countries' stances differ starkly on the refugee crisis, though the most solid plans that have proven to work are countries working together to provide a clear and stable path for getting displaced people to safety. Over time, policies change with the political landscape, most notably in America, whose policies have shifted drastically since the issue first began in 2011. Canada, whose political climate has been generally welcoming, has allowed 40,081 refugees since November of 2015. About 14,000 of these refugees are privately sponsored, and the majority of the rest are sponsored by the Canadian government.
Last November, the Obama administration announced that the U.S. agreed to accept 1,250 asylum seekers from Australia. The majority of these individuals are from Iran, and have been held in offshore detention camps by the Australian government for an average of 469 days, a number that continues to steadily increase. The deal, labelled on Twitter by Trump as a "dumb deal" that needs to be investigated, would move the refugees from camps on the Pacific islands of Papua New Guinea and Nauru and relocate them in America. Numerous horrific claims of abuse in the camps have been made and verified by human rights organizations, including reports of sexual assault involving children and other detainees, as well as staff members of the centers. In 2014, the Australian government's human rights commission recommended all children and their families be removed from the camp and resettled in Australia within four weeks, citing "extreme levels of emotional, psychological, and developmental stress." Both Australian Prime Minister Malcolm Bligh Turnbull and Press Secretary Sean Spicer have said the deal is intended to be upheld.
Turkey, for the second year in a row, hosts the highest number of Syrian refugees, totaling 2.5 million people. Lebanon, with a population of over 4 million, is hosting around 1.1 million refugees, which equals roughly one refugee to every four Lebanese residents. Pakistan hosts the second highest number of refugees, the majority of which are from Afghanistan, totaling 1.6 million as of the end of 2015 as reported by the UNHCR. Despite some European countries proposing policies to block refugees from entering Europe, Germany has welcomed over 1.1 million refugees.
In Michigan, U.S. Rep. Bill Huizenga, R-Zeeland, in West Michigan, was compelled by residents in his district to hold two phone-in "town halls" in early February, as they expressed concerns about his support of Trump's ban on refugees. Hundreds in his district requested he hold an in-person town hall to hear their concerns about the travel ban.
The refugee crisis may be a defining legacy of this generation. As thousands of refugees seek asylum in the U.S., historians will record what the American people, including those of us in Michigan, did in response.
Share it now!