Inclusive Bathrooms at HFC
Gallery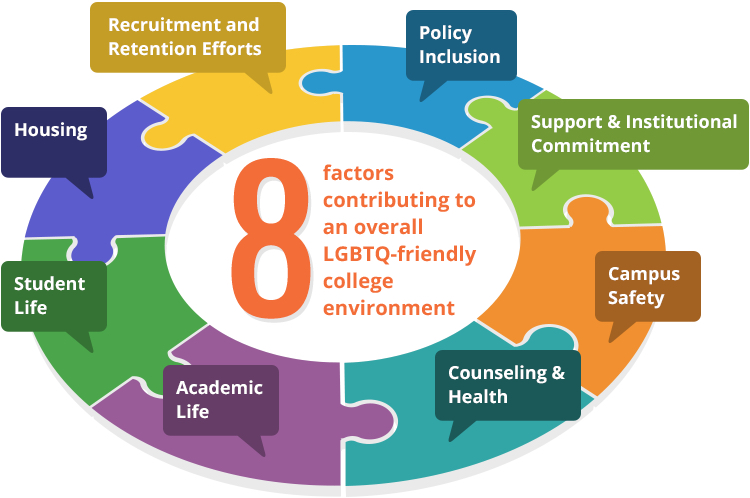 Source: affordablecollegesonline.org
As of this semester, Henry Ford College has designated fourteen single occupancy restrooms on its campuses as gender-inclusive, two of which are located on HFC's East campus. One of these, located in the Athletic Memorial Building H, also includes a shower and locker. HFC states on its website that these restrooms "can be used by anyone regardless of sex, gender identity or expression."
In October 2016, the college's Operations Council made the decision to install gender-inclusive restrooms for student use, many of which were formerly designated for faculty use. According to Aura Cazares, the college's Title IX officer, signs for the restrooms have been ordered and will soon be installed. Work on preparing the areas began in November, which was also when faculty on campus were made aware of the change.
The introduction of inclusive restrooms is part of a larger HFC initiative to make the campus a more safe and inclusive place for students and faculty. Currently, HFC offers counseling services with licensed counselors to all students. The college also allows students to file a name change on all college paperwork, according to Dr. Lisa Copprue, Vice President of Student Affairs. This would not extend to federal paperwork such as financial aid forms, but would change, for example, a student's name on a class roster, and on the college's online systems such as WebAdvisor and eThink.
There are also several LGBTQ-friendly initiatives that have been introduced, or are currently in the works at HFC. A volunteer coalition made up of faculty, administrators and staff, called SAFE@HFC, has the mission of establishing and maintaining a safe and affirming environment at HFC for LGBTQ, intersex, asexual and gender non-conforming students, staff and faculty. One of the groups will create a training program that educates all HFC staff on being LGBTQ allies, and will develop additional resources on campus. Another committee, chaired by Copprue, looks into current campus policies and services, both to assess how well the college is enforcing its existing policy, and where it may need reform and additions.
The college also plans to launch ROCC@HFC (Reach Out College), an app that informs students about on and off-campus support resources available to them. The app is customized for HFC, and is being funded through a grant from the State of Michigan's Campus Sexual Assault Grant Program. Cassandra Fluker, Student Activities Officer, says, "The college is demonstrating inclusiveness so that all students feel safe on campus."
The goal is to have HFC named a Pride Index Institution, meaning it has met standards for an LGBTQ-friendly college environment, including, but not limited to, providing inclusive restrooms and counseling for LGBTQ students and faculty. The list of issues identified by the Pride Index that will be assessed by HFC is twenty pages long, including issues such as whether the college provides employee benefits to same sex partners and if the college has student organizations highlighting LGBTQ people of color. The Pride Index is developed by Campus Pride, a national nonprofit organization dedicated to creating LGBTQ-friendly learning environments.
As The Mirror News reported in the Feb. 1, 2016, issue, the number of colleges and learning institutions designating single occupancy inclusive restrooms on their campuses was increasing. However, the topic is still a hot-button issue. In May 2016, a bill sponsored by Michigan Republican State Senator Tom Casperson was introduced into the state Senate. The bill would require people to use the restroom and locker room facility that corresponds with the sex on their birth certificate. It also provides a "reasonable accommodation" for transgender students, who could use unisex single occupancy restrooms, with parental permission for students under 18. Casperson introduced the bill after learning of the State Board of Education's intention to provide suggested guidelines to schools on allowing students to use the restroom of their choice, as well as being referred to by pronouns of their choice. The guidelines were eventually approved by Michigan's education board in September 2016, after passionate public testimonies both for and against the voluntary guidelines. Though Sen. Casperson's bill calls for "reasonable accommodation," liaison for the American Civil Liberties Union of Michigan, Amy Hunter, questioned the "reasonable accommodation" provided by the bill: "There was a time when water fountains had signs over them that segregated people. But segregation is a black eye that we don't want to repeat. It's one thing to provide a restroom that is available for anybody's use, it's a whole other thing when only one class of people are singled out to use that facility because other folks are uncomfortable with that class of people." Currently, Sen. Casperson's bill has yet to be taken up by either chamber in Lansing, and Senate Majority Leader Arlan Meekhof, R-West Olive, said the bill is not a priority, and he has no plans to pursue hearings on the issue.
As HFC takes further steps to increase its inclusivity of LGBTQ students, Fluker urges students to take the new changes in stride, saying, "With new policies and laws in place comes a changing reality and change is not always easy to accept. We're living in a new day and age, and maybe it would be an easier transition if we all show and exercise a little empathy." For more information on where restrooms are located on HFC's campuses, students can visit the Campus Life tab on HFC's web site, and look under "amenities."
Share it now!