"aLIgNEd" at the Sisson Gallery
Gallery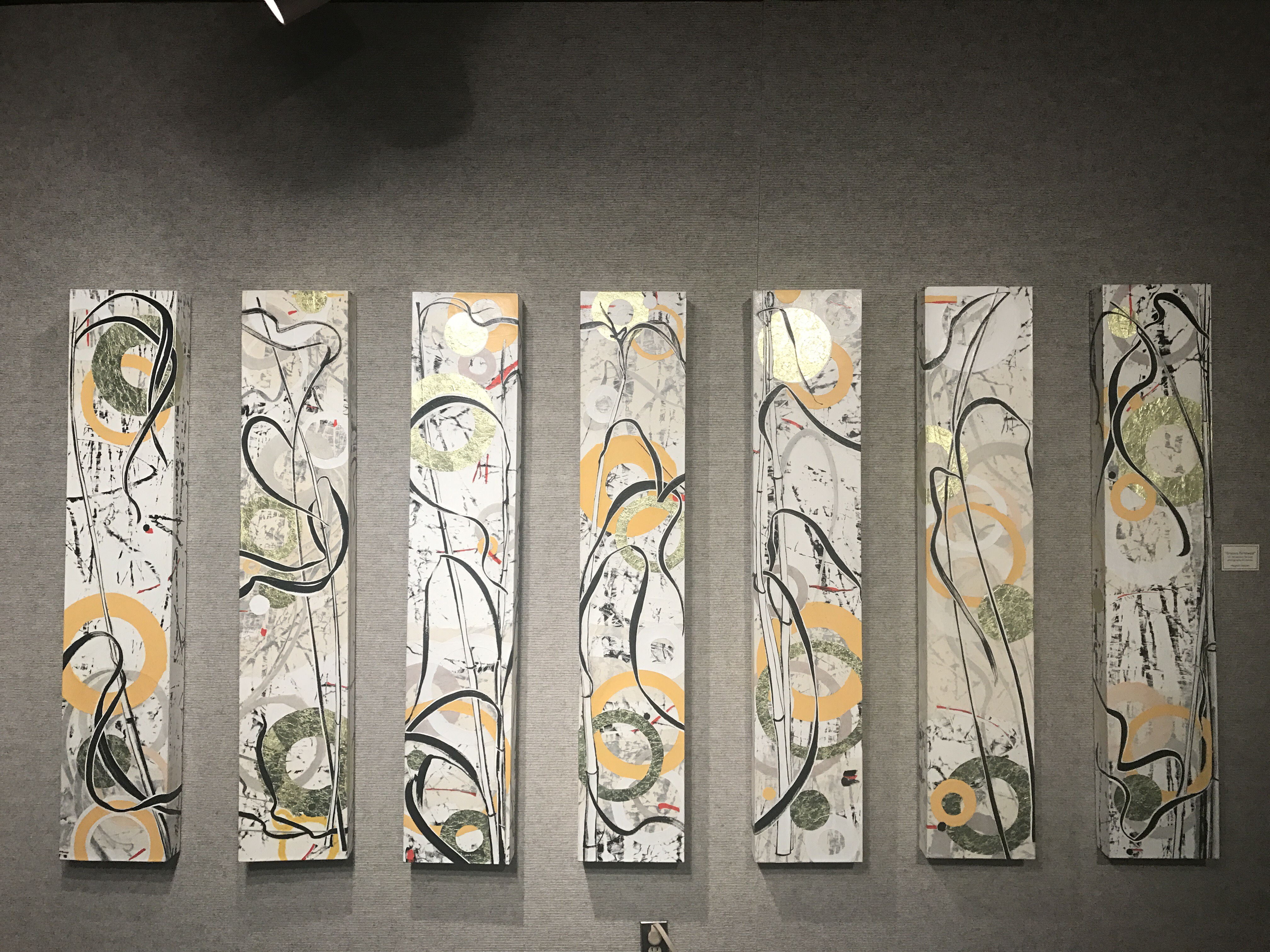 Meighen Jackson's internationally acclaimed art is featured in an exhibit at Henry Ford College's Sisson Gallery in the Fine Arts building through March 16. Trained as an oil painter while also working in mixed media, Jackson has been an artist for more than 50 years. Originally from Dayton, Ohio, Jackson received her bachelor's degree in fine arts as well as a bachelor's of science education from Michigan State University. She received a master's degree in fine arts from the University of Cincinnati. Jackson has been featured internationally in galleries in Toronto, Canada and Busan, South Korea, and domestically in Cincinnati, Miami and Chicago. She also had a solo show at the Walter Wickiser Gallery in New York. As Alexa Lawrence of ArtNews said of "Jacob's Marsh," a work similar to one of Jackson's pieces featured at the Sisson Gallery, "As our eyes trained across the panels and spaces in between, we could experience the illusion of motion."
Mirror News: How would you describe your journey as an artist?
Meighen Jackson: I have been making art for about 50 years and worked with Asian brush ink for the last 25 years. I am originally from Dayton, Ohio, where I studied at Miami University located in Oxford, Ohio. I later went on to receive my teaching degree at Michigan State. Later on, I also worked as a waitress to help support myself as I furthered my career as an artist. I also worked inside of an art studio for a number of years before finally opening my very own in Michigan. * M: Have you always loved art or did you once have other dreams and aspirations? If so, what were they?*
J: Yes, I've always wanted to be an artist. I originally went into art because there weren't any wrong answers involved. I went back to school to learn graphic design and became a graphic designer.
M: What is the story behind the art piece titled "Below the Falls"?
J: I draw outside sitting as close to the water falls as possible without falling in, which can be a little tricky at times. The idea of this piece is to give you the viewer a feeling of being so close to nature as humanly possible, showing the power of nature as well as its danger. As an individual, what is it like to confront something like that? I care about people getting a feeling of being around something more powerful than themselves.
*M: What inspires your artwork? *
J: Nature. I am a visual worker. Much of my artwork is based in nature in the natural world. Such as my art piece of panel art; it is inspired by palm grass near my home. I believe in showing a deep emotional level [in] my artwork. * M: As an artist, what has been some of your greatest triumphs regarding your artwork? *
J: My artwork has been shown in Busan, Korea. It was fascinating to me because people in Korea write with brushes and not pencil. Also, the University of Michigan has purchased a few of my panel pieces. In 2007, I was given a [solo] show in New York City.
*M: What would you say has been your greatest accomplishment as an artist? *
J: My greatest accomplishment is that I am still working.
*M: What do you find most inspiring about today's artists? *
J: Their creativeness, willingness to break rules. Today's artist has access to so much more, such as the internet. Although that can be a bad thing because it can become overwhelming. It's sometimes hard to figure out what's good and of value.
M: What can we expect from you and your artwork in the future?
J: Well I am always changing. I will be continuing to work with water. My art work recently is becoming a lot more abstract, louder, and simpler. I will also continue to show Internationally as well.
For more information on the artwork of Meighen Jackson and future exhibits at the Sisson Gallery, please go to: sisson.hfcc.edu
Share it now!