When the Lights Go Down in the City
Gallery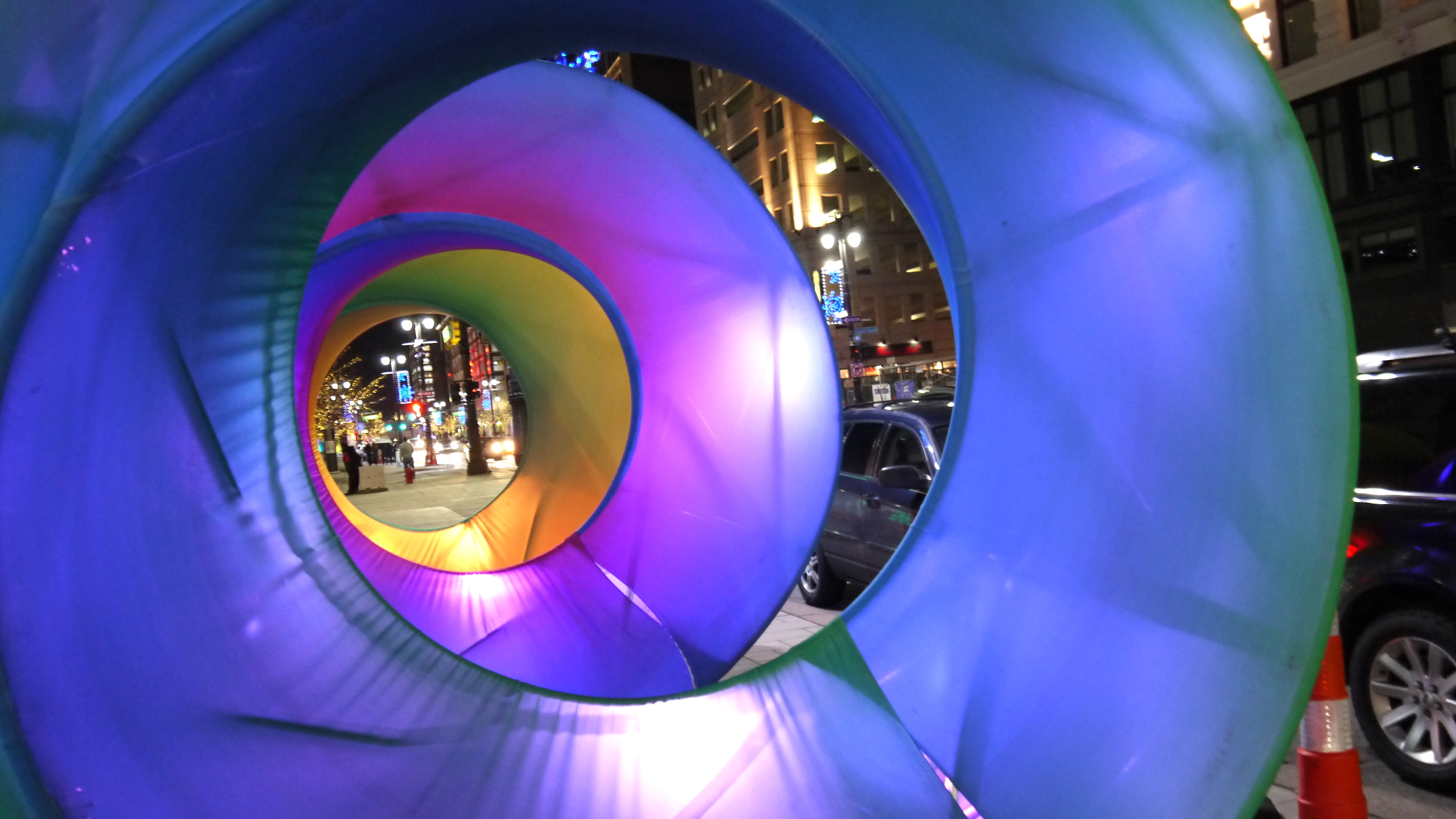 Looking at Woodward Avenue through spiral "180 Beacons." | Photo courtesy of Peter Kim
Cobo Center in Detroit was where the North American International Auto Show had taken place, where the world's automakers displayed concept cars and high tech vehicles. At the same time, another kind of display was also taking place in and around Cobo Center. Light structures called LuminoCITY were set up around the city in locations where people would have to get out of their cars and walk to see them up close. Designed by Stereobot, a Los Angeles company featured at L.A's Coachella Valley Arts and Music Festival, LuminoCITY was made possible by Quicken Loans, in collaboration with Bedrock LLC and DTE Energy. One of the goals was to get people to walk in the downtown area and experience the sights of Detroit. Sixteen light installations were set up downtown for people to discover and admire. On the LuminoCITY website, a map showing the placement of where the light displays are located helps make the experience of finding each of the artistic pieces a kind of scavenger hunt, creating a fun reason for people to walk around the city.
The structures, which vary in shape and size, are strategically placed in and around Detroit's Central Business District, including East and West Grand Circus Park, Hart Plaza, the site of the old Hudson's department store, Woodward Avenue, and in and around Cobo Center. The structures consist of more than two thousand metal tubes drilled together covered by custom made fabric, which are illuminated in different colors and patterns.
Some of the installations reflect the architecture or landscape surrounding them. At Hart Plaza, the structure named "Halo" is a large wavy object that looks like a gigantic circle from an overhead view. The lights from the piece shine fluctuating colors inside and around the circle. Spread throughout the city are ten small circular showpieces called "180 Beacons," which seem to guide people to look downtown.
At Capitol Park, a structure named "Arcade" spread over the ground like an undulating snake. Nearby, another structure called, "Light Weaver," which is located at the site of the old Hudson's department store. is an impressive two stories high. "Light Weaver" was modeled with U-shaped and V-shaped pillars that intersect with each other, and uses automated spotlights that change color. Spotlights twirl around on the illuminated pillars. Light then shoots upward in the air and dances around in the sky for a bit before repeating in an automated process.
The final two art pieces are located at Grand Circus Park. The first one, called "Gateway," consists of arched tubes that make a rainbow of lights and abstract designs that periodically change color. Across from "Gateway" is a beacon on the other side of the park that is identical to the one at the Cobo Center, helping to connect the city literally from across the park.
According to the Opportunity Detroit Facebook page, LuminoCITY was created to promote walking in the downtown area, along with discovery of public spaces, local businesses, and cultural institutions in Detroit. Why would getting people to walk around the city be so significant? According to Christopher Leinberger's report, "Foot Traffic Ahead: Ranking Walkable Urbanism in America's Largest Metros," thirty to forty percent of American households want to live where they can walk and not have to drive. Leinberger provides data that shows that places with increased levels of walkable urbanism have increased levels of education and wealth. Particularly among millennials there is a demand for environments where home, school, work, and shops are all reachable by foot. However, in metro Detroit, foot traffic is not a common sight.
When the lights go down in New York City or Chicago, which have some of the most walkable urban spaces in the United States, crowds of people can be seen on any given night frequenting restaurants and bars or strolling the streets. When the lights go down in Detroit, residents go home, and the streets look empty. According to Leinberger, out of the top thirty metropolitan areas for walkability, Detroit ranked twenty-two. However, Detroit is second, rivaled only to Miami, for areas with the fastest-growing urban spaces being designed for foot traffic, in part due to the rapid growth of businesses and walkable spaces in downtown and midtown. Events like LuminoCITY help increase the foot traffic in the city, which can, in turn, help increase business.
While LuminoCITY will only remain in Detroit until February 18, it leaves a lasting impression. We were amazed at how many people were walking in the city and going in and out of restaurants and stores in midtown and downtown. We almost felt like this was a different city, and that Detroit's lack of pedestrian traffic was a thing of the past. As we drove around the city looking for the LuminoCITY light structures, we could not help but be inspired by the Detroit that we actually had to get out of our cars to see.
Interview with John Marcicky, LuminoCITY spokesperson:
1) What was the inspiration behind the concept of the sculptures? What was the message you are trying to get across?
Bedrock is always looking for ways to make the city more colorful. When I first came across these larger-than-life structures at a music festival in California last year, I knew they were just the thing to add a pop of color the Detroit winter landscape and help visitors discover the city and all it has to offer. LuminoCITY further solidifies the fact that downtown Detroit is THE place to go for art, design and technology. They are also meant to connect all of the great things happening downtown and encourage people to explore the city, wherever you see LuminoCITY sculptures, you'll also find public spaces, shops, restaurants, cultural institutions, galleries, events and more.
2) Once the idea was planted, how long until it was approved?
Many different partners came together to make this project happen, including Bedrock, Quicken Loans, DTE Energy and The City of Detroit in a relatively short amount of time. From concept to execution took about 3 months.
3) Can you walk me through the process of physically putting up the sculptures? What was required, what materials were used, how large was the building team, and how long did it take?
Building each structure starts with more than 2,000 metal tubes, each a different length but precisely measured, cut and numbered; and hundreds of heavy metal balls, or "nodes," each with a different arrangement of holes drilled by a robot. By connecting the tubes to the "nodes" according to precise design specs, they create the complex space frame which is then covered in custom-designed fabric. Using bold design ideas and eco-friendly plans, Stereo.bot works with existing power grids and incorporates LED fixtures with minimal power consumption, anchoring their structures only a few inches into the ground as opposed to several feet. For this project, we worked closely with Stereobot and the City of Detroit to create a punctual, strategic activation plan. The building team consisted of 15and it took 3 weeks to complete the project.
4) How were the locations picked?
The selected LuminoCITY activation sites were chosen to link more than 200 local restaurants, retailers, public spaces, and office and residential buildings in two to five minute walking intervals. LuminoCITY installations are at the following downtown Detroit locations through mid-February:
Capitol Park
East & West Grand Circus Park
Hart Plaza
Hudson's Site
Woodward Ave.
5) What were some unforseen challenges that occurred?
The weather is always unpredictable in Detroit but the LuminoCITY team dressed in warm layers and was able to work through the rain and the freezing cold temperatures.
6) Has the public's reaction matched with your expectations?
The public's reaction has far exceeded our expectations. The engagement on social media has been phenomenal, we've seen a ton of buzz surrounding this project.
7) Why is it important to create art in big cities, particularly Detroit?
Having a rich cultural fiber is important to having a strong downtown. We're passionate about supporting arts and culture – and look for unique opportunities (like this) to give artists of all disciplines the opportunity to showcase their work in the city. Place-making projects like this help boost a city's livelihood, make art accessible to everyone and help foster a sense of community.
8) Are there any future plans for more art projects from your company?
Absolutely. We are constantly working with various partners throughout the city on unique and exciting art and place-making projects. Stay tuned!
*More information on LuminoCITY can be found at: http://www.luminocitydet.com/ *
Share it now!