Taystee's Burgers in Dearborn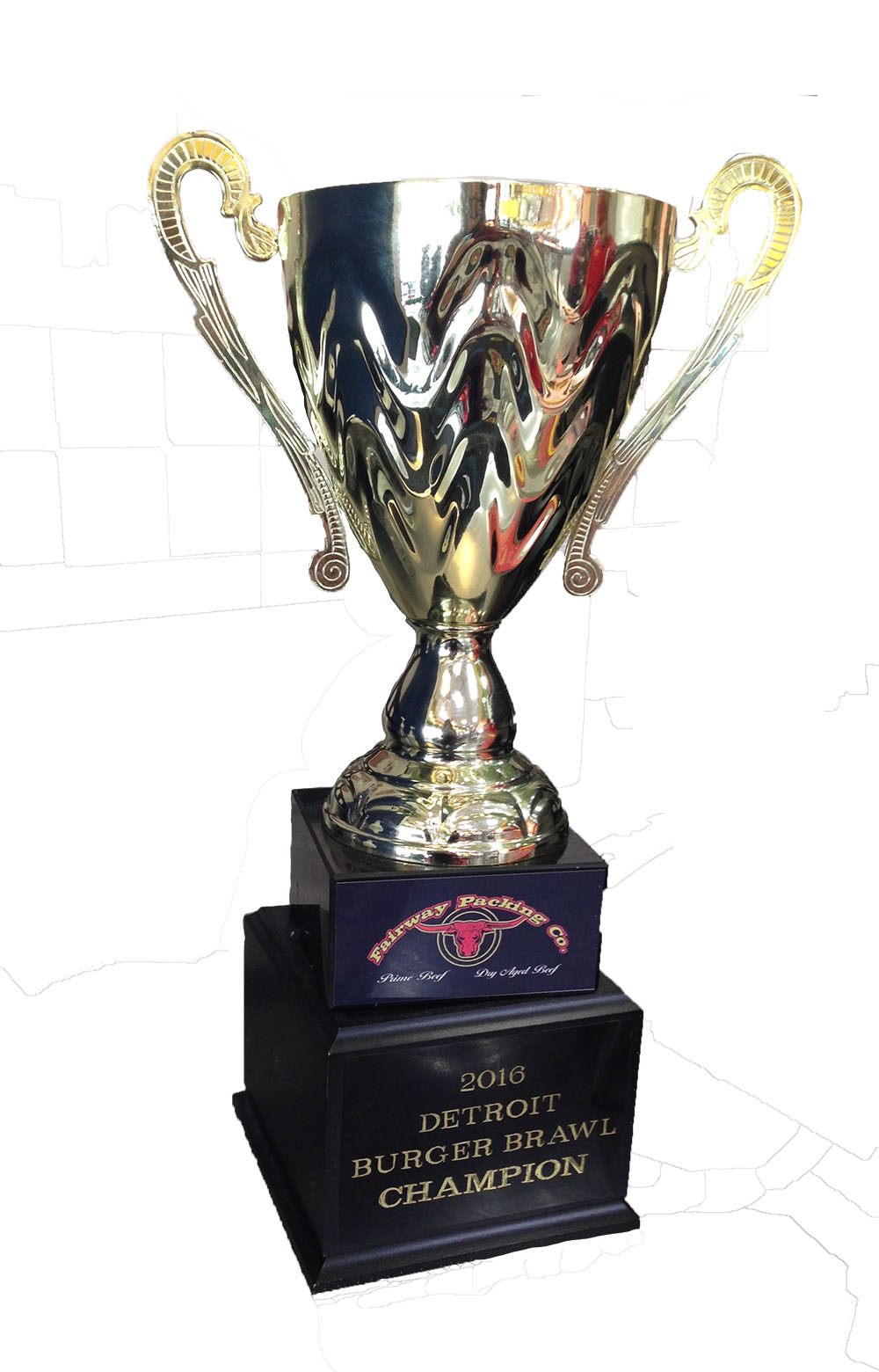 Located across the street from the Ford-Wyoming Theater, Taystee's Burgers won the gold trophy at the "2016 Detroit Burger Brawl," and is listed in the Detroit Free Press as one of metro-Detroit's best burgers. I have to admit, my husband and I were caught a bit off guard as we pulled into the parking lot. We hadn't expected to find the home of one of Detroit's best burgers to be actually located inside a gas station.
Taystee's Burgers sits inside a BP service station, furnishing several family-sized tables and a modern twist on 1950's décor. What I noticed immediately was how clean everything was, from the organized convenience aisles of the store to the carefully wiped restaurant tables. We ventured to the counter ogling descriptions on over a dozen extravagant burgers. Here we were kindly greeted by Lila Jawad, who recommended several favorites, including Ali's-Notch-Yo-Burger, named after her son, 23 year old co-founder, Ali Jawad, and winner of the Burger Brawl. I dove in, ordering the 1/3 lb. halal beef patty, smothered in grilled onions, four kinds of cheese, beef bacon, lettuce, tomato, Jalapeños, and yes, Nacho Cheese Doritos all on a toasted Onion Bun. Of course when she told me the fries were hand cut, Cajun-seasoned, golden brown and served with a side of secret Taystee Sauce, I added those as well. What's in the secret sauce you ask? Well, Lila wouldn't tell me either.
My husband took a chance on the Pizza Burger, a tower of mozzarella sticks, Swiss cheese, fresh basil, pizza sauce and ranch dressing atop its own beef burger served on a toasted pretzel bun. Without the usual sideways glance from me, he tacked on a side of bacon cheese fries. Why cut corners at this point? Roll us out the door if you have to. In addition to favorites, customers at Taystee's can choose to build their own burger or sample the selection of chicken wraps, quesadillas, hot dogs and wings. We watched as bacon, onions and beef patties sizzled on the grill, fresh vegetables were hand-picked from shiny tubs and an array of cheese was melted over everything that held still. Lila told us how the halal chicken, beef and bacon are bought fresh daily up the street from Al Ghadeer Meat Market and then seasoned with Taystee's own secret burger blend. Gourmet sesame, onion, brioche and pretzel buns are delivered three times a week from local bakeries. Clean, fresh and homemade. This is what makes this high calorie meal so worth it. All the deliciousness of carnival food made with high-quality ingredients and a homemade family touch. No dripping greasy hands, no soaked and sloppy bun. Taystee's Burgers opened in 2014 when Ali Jawad and business partner Mohamed Nassereddine decided to put a new twist on an existing family establishment. The BP station is owned by Jawad's grandparents. The restaurant is doing well, thanks in part to that gold trophy on the counter. The partners would like to expand, but are unwilling to compromise their high-quality standards.
I was pleasantly surprised to find such flavor and thoughtful ingredients served inside a gas station amidst notable cleanliness and family pride. The portions were generous and everything on the menu fell under $10. They say you can't judge a book by its cover, and I guess you can't assess your lunch at the fuel pump. Before we left, I gave myself a mental high five for dodging the dessert assortment of "Mama's brownies," milk shakes and deep fried Oreos. After all, let's not be ridiculous, a girl needs to remember her figure.
Share it now!