Tasteful Art at the DIA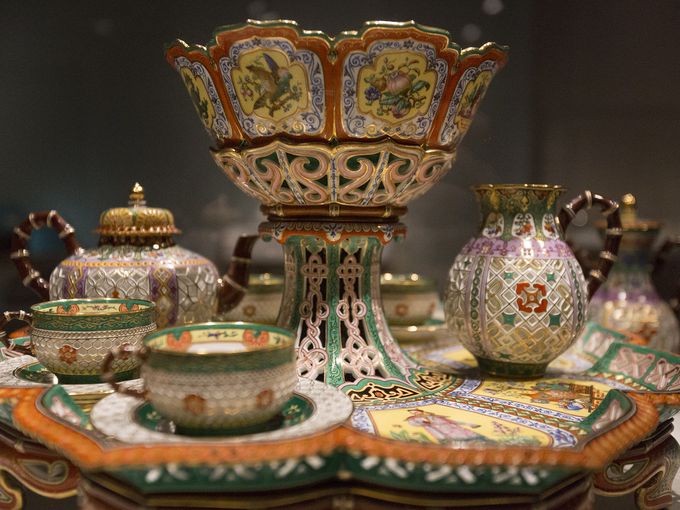 Photo courtesy of the DIA
The Detroit Institute of Arts recent exhibit, Bitter Sweet: Coffee, Tea, & Chocolate, engages the viewer with all five senses. Some parts of the exhibit are the art pieces that can only be seen but not touched, but other parts permit the patron to touch, smell, and even taste the bitter-sweet experience of the history of coffee, tea, and chocolate exchanged from Asia, Africa, and the Middle East to Europe. Visitors will learn how coffee, tea, and chocolate became so popular in modern day society and how it became integrated into so many different cultures. The exhibit begins with a focus on coffee and all things related to it. From coffee's origins in Ethiopia to the Ottoman Empire's use of coffee for trade. During trade with Europe, coffee became partnered with European fashion trends of high society and inspired etiquette on how the drink was served. One display shows a publication of a popular fashion critic explaining the proper techniques for drinking coffee as a sign of status and wealth. The coffee trade created demand for cups and pitchers being designed specifically for coffee use. Coffee nearly rivaled beer in some places as evident in a painting depicting patrons using the beer stein for drinking coffee. At this point in the exhibit, visitors are encouraged to smell powerful fragrances from a vented box of coffee grains while examining a map of the world to see where coffee was traded between Africa, Asia, and Europe. As one of the captions on the map explains, some cultures smelled coffee grains for rejuvenation.
After the coffee portion of the exhibit is finished, visitors shift their attention on tea. Like the coffee section, the history of where tea comes from was explained. Starting in China, it circulated around Asia for thousands of years before reaching European culture, where it introduced new ideas for European tea sets that were inspired by the highly prized trade in porcelains from China. There were many porcelain cups and bowls on display in this section and even a couple of tea kits involving spoons and tea pots, some clearly blending Chinese porcelain with European fashion and scenery. In one part of the display, visitors are encouraged to touch porcelain cups and compare them with stoneware. As a sign of wealth, porcelain cups were preferred. Eventually, the exhibit explains, the special clay required to create porcelain was imported to Europe permitting European porcelain companies to develop their own tea sets.
The final part of the exhibit was definitely the most intriguing. Chocolate now may be most popularly consumed in solid milk or dark form; however, chocolate was first a hot drink that used similar vessels as were used to dispense and consume coffee and tea. While a majority of chocolate's modern import is from Africa, it's origins developed in South America and were originally used by the Maya and the Aztecs. In the 1500s the Spanish interacted with it and shortly thereafter (about a century) the fad spread throughout the rest of Europe. Some of the art displayed were old Mayan pots with ancient symbols that meant chocolate. Other art pieces were silver pots and silverware associated with the sugar that Europeans would mix with their chocolate. One rather risqué painting that depicted a woman waiting for her lover dramatized the belief that chocolate was an aphrodisiac.
Part of the chocolate exhibit includes a video of food historian, Marc Meltonville, who gives a brief history on the use of chocolate in beverages, then narrated a step by step process for making a richly textured chocolate mixed alcoholic chocolate drink "fit for a king." Before exiting the exhibit, guests are offered two different chocolate drink samples along with recipes. A French milk chocolate drink and an Aztec chocolate flavored drink mixed with chili pepper, which gives it a slight kick to it.
Overall, the exhibit is definitely a wondrous and enjoyable visit. Of note is the bulletin board at the end of the exhibit where guests can write comments. Most comments were very positive, but some did reflect on the exhibit's apparent glossing over of the history of slavery. While some of the paintings and drawings did show the bitter history of black and white servants with brief explanations of the class differences, most of the art pieces were posh decorated serving tools and objects meant for the wealthy and elite.
Perhaps not intended as part of this irony of class difference, the exhibit ends in the DIA gift shop that sells the Bitter Sweet exhibit's own brand of coffee, tea, and chocolate treats, as well as novelties used for preparing or serving these luxuries. In addition to the $10 entrance fee to the exhibit, guests may feel compelled to bring some of the Bitter Sweet exhibit home in the form of premium ingredients for their own culinary craftsmanship. The exhibit runs through March 5.
Share it now!