A Hard Look at the "Class Divide"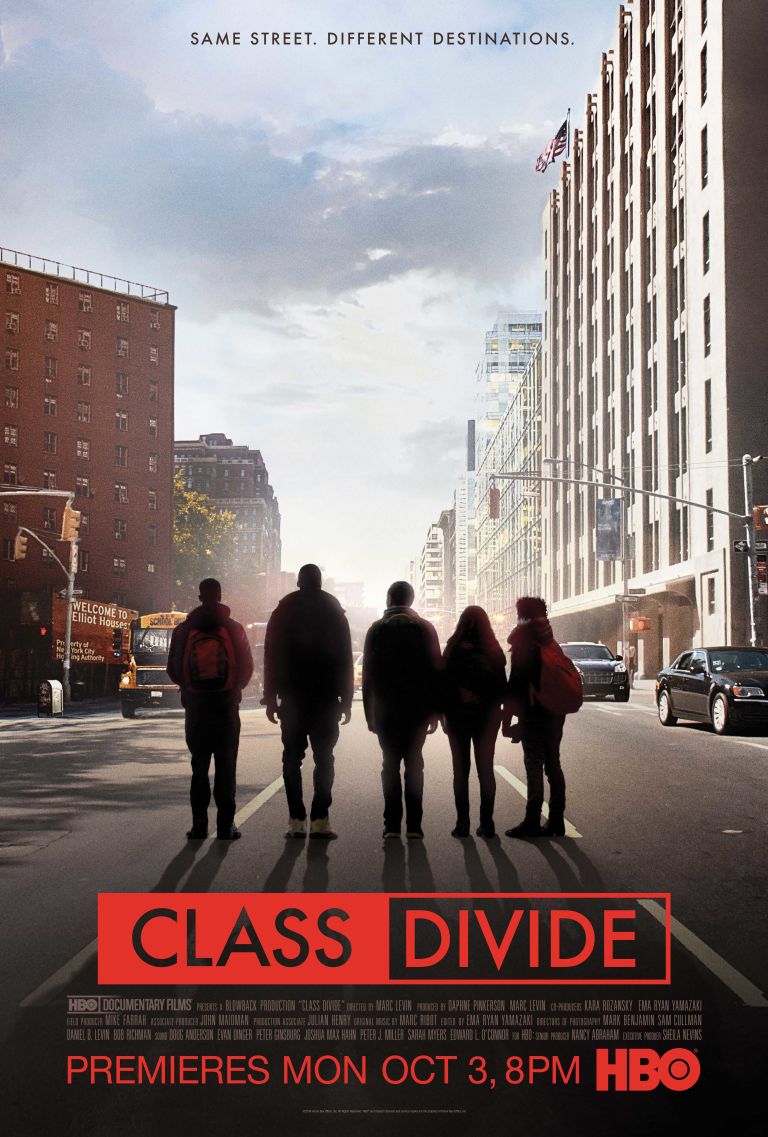 Courtesy of Home Box Office (HBO)
"Class Divide" is a documentary from director Marc Levin and producer Daphne Pinkerton about the gentrification of the Manhattan neighborhood of Chelsea. It focuses on the effects of Avenues: The World School, a private, state of the art school that cost upwards of $40,000 a year to attend, being built across the street from the Elliot-Chelsea public housing project. Through interviews with both students and residents, we are given a look at how the two groups view each other and what they see happening with gentrification.
The director/producer team of Levin & Pinkerton worked together before on other documentaries for HBO that are about wealth inequality, so this movie was in their wheelhouse. The filmmakers delve into the earliest signs of the neighborhoods gentrification process which began with The Highline project, the conversion of abandoned high rise railroad tracks into an elevated park, completed in 2009 in Chelsea. In the 1980's the highline tracks were considered blight by the city and a group of business owners fought to have it demolished through the work of activist and Chelsea resident, Peter Obletz it was saved. In 1999, The Friends of the Highline was founded by Joshua David and Robert Hammond and the planning for an elevated urban oasis meant to be enjoyed by everyone began. The film briefly explores how The Highline may have prompted long standing neighborhood landlords to raise rents and/or sell the buildings that were mainly occupied by low income residents, often driving rents out of the reach of those who have lived there for generations.
The film instantly highlighted the visual difference between Avenues: The World School and one of the poorest public housing projects in the city. The slick glass and steel construction of the school is in stark contrast to its neighbor's bleak, old brick public house project. The film shows us that the kids at Avenues seem to be acutely aware of the luck they have been born into, while the kids in the projects also seem acutely aware of their lack of birth advantage. The contrast between the lifestyles is highlighted with sensitivity through interviews where they show that the Avenue kids are worried about being the best of the best, while the Elliot-Chelsea kids are worried about parents being deported, having enough money for rent, food and wondering why they don't have the same opportunities as their counterparts across the street.
This film handles the sticky topic of gentrification with a level head, yet leaves you wondering if gentrification is just another tool being used by those who have wealth to get what they want despite the potential for further social alienation of those who don't have the same advantages or is gentrification really meant to lift these neighborhoods up from poverty? The movie won't answer that question, but it will make you take a hard look at the possible pitfalls as well as possible benefits of gentrification.