Board of Trustees Election: Balancing Henry Ford College and Dearborn Public Schools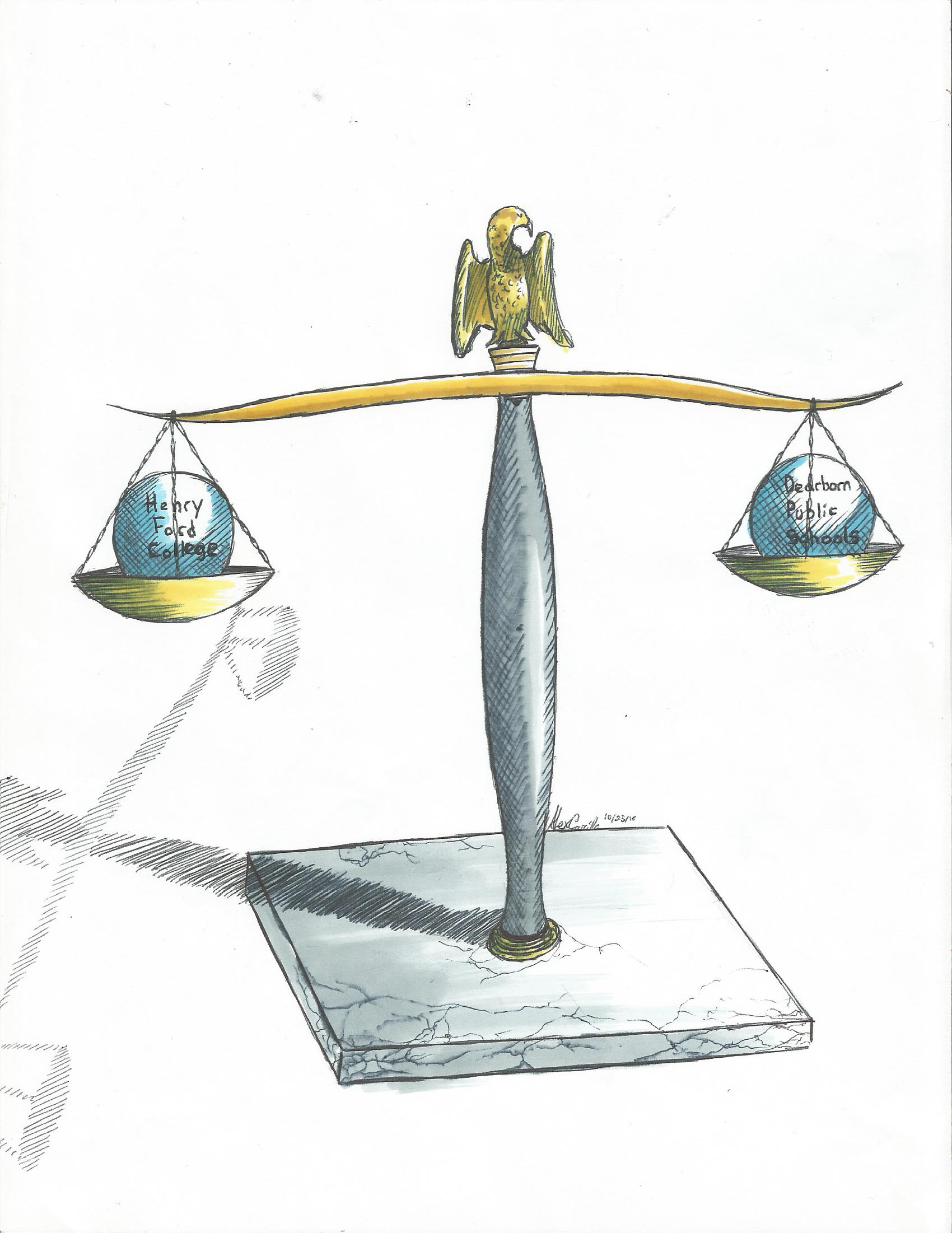 Illustration by Alex Carrillo
The Dearborn Public School Board serves as the elected board over both Dearborn Public Schools and Henry Ford College. The board has several responsibilities in regards to the college ,including overseeing the finances and general operations as well as hiring and evaluating the president.
HFC was founded in 1938 as Fordson Junior College under DPS. In 1952 the college changed its name to Henry Ford Community College after the assets of Henry Ford Trade School, which closed, were allocated to Dearborn Public School District. Up until the passage of the Community College Act of 1966, it was common for public school districts and community colleges to share a board of trustees, referred to as a P-14 district.
After the Community College Act was passed, most shared boards were replaced by independent community college districts. According to the Labor Relations Division of the Michigan Employment Relations Commission, "DPS [Dearborn Public Schools] is the last remaining 'K(or P)-14' school district in the State of Michigan." In 1974, a proposal backed by American Federation of Teachers (AFT) Local 1650 was put on the ballot in the Dearborn Public School District to form a separate board for the college. The proposal was voted down by the residents of Dearborn. In 2014, the college started offering bachelor degrees and became Henry Ford College. The separation of the college from the district has not been voted on in 42 years.
Due to the fact that HFC is in a P-14 district, the school is partially funded by property taxes from within the district, which includes Dearborn and Dearborn Heights residents. Colleges not in P-14 districts, like Wayne County Community College District and Schoolcraft College, receive funding and property taxes from larger county-wide districts. Out-of-district students pay a higher tuition rate. For the 2014-15 academic year, in-district tuition was $92 per credit hour, out-of-district was $158 per credit hour and out-of-state tuition was $225 per credit hour. Dearborn and Dearborn Heights residents make up 45 percent of the student body, while 55 percent of students live out of district. According to the college's website, in the 2015-2016 academic year, Dearborn and Dearborn Heights in-district property taxes made up 16 percent of the school's revenue. In that same year, tuition and fees made up 55 percent of the school's revenue, while state assistance provided 25 percent of the school's revenue, with the remaining 4 percent coming from other revenue sources.
The P-14 school district has its advantages as well as disadvantages, and opinions have been formed on both sides of the issue. Director of Teaching and Learning Services at HFC, Adam Cloutier, stated, "There's pros and cons, so I'm not going to argue one way or the other. But I will say that I report to the Vice President of Academic Affairs, who reports to the President, who reports to the Board of Trustees." Cloutier later pointed out one of the pros of a P-14 district saying, "As a Dearborn resident whose kids go to a Dearborn Public School, it's kind of neat to be able to say that we are unique as a school district in that our board has a very, very large picture of education in our district."
Former Trustee, James Schoolmaster stated in the Dearborn Patch he favored the split. In an interview in 2012, Schoolmaster suggested that the dual role of the board could cause a possible conflict of interest, especially when it came to funding. He also stated in the Dearborn Patch that "we used to have two separate funding sources, and that is changing." Schoolmaster went on to say that the $900 million from the school aid fund, which is used to pay for public education in Michigan, was diverted to community colleges in 2012. Because of this, Schoolmaster told Patch that the line has been blurred between colleges and public schools. Current Trustee Fadwa Hammoud stated that while Schoolmaster makes a good point, these issues have been resolved. She says that DPS and HFC now "have separate budgets, audits, and funding." Hammoud stated that, "I believe that if the Board performs their duties with integrity and transparency, the types of conflict that could arise would be manageable."
Hammoud serves on the DPS Board of Trustees and is one of six candidates running for three of the seven seats on the board. She is running for one of two six-year terms. The other open seat on the board is a two-year-term. The election will take place Tuesday, Nov. 8. Due to the number of open seats, this election could impact the direction of the board. Hammoud is a Dearborn resident and an alumna from Fordson High School and HFC. She has a law degree from Wayne State University School of Law and currently serves as a Wayne County Assistant Prosecuting Attorney. Outside of the Board of Trustees, she is currently a member of the League of Women Voters, American Association of University Women, Women Lawyers Association and Arab American Political Action Committee as well as serving as a board member on The Islamic Center of America and the Dearborn Education Foundation. When asked what could be improved at Henry Ford College, Hammoud replied: "From an employer perspective, we need to find a way to get back on the same page with our staff and instructors. We need to make positive changes towards working as a team. The financial stress of the past decade has helped deteriorate our interpersonal relationships and we need to work harder to mend this before we see serious impacts on our student body."
Former Board member Hussein Berry is also running to be elected to the Board of Trustees. Berry served on the Board from 2012 to 2014. He did not seek election in 2014 in order to run for State Representative of the 9th district. Failing to be elected as State Representative, Berry is now seeking to be re-elected to the School Board for a six year term. Berry served as secretary, then as president of the board during his term. Berry has been an associate broker with RE/MAX Leading Edge since 1993.
Also running for a six-year position on the Board of Trustees is Khodr Farhat. Farhat is a current student at the University of Michigan-Dearborn and has earned an associate degree in special education from HFC, where he graduated with honors. He is a motivational speaker, volunteers at local schools, and serves as a mentor and tutor for other blind students. Farhat was born blind in Lebanon and moved to Dearborn seven years ago without knowing the English language. Farhad says, "We need somebody in office who can feel with people and know the true meaning of struggle. I was born in the universe of hardship." Farhat went on to say that he hopes that students can use the challenges he has overcome as an inspiration in their own lives. In 2015, Farhat raised $113,000 for the Foundation Fighting Blindness. Farhat currently hosts a weekly radio show called "Your Voice Does Matter" on 102.3 Cina Radio.
Adel Mozip is on the ballot for the six-year term as well. He attended DPS and HFC and has a bachelor's degree in computer engineering from the University of Michigan - Dearborn, as well as a master's degree in business administration from Wayne State University. Mozip founded the Michigan Chapter of the American Association of Yemeni Students and Professionals (AAYSP), a nonprofit organization to promote higher education in underprivileged communities. He has been endorsed by the Dearborn Federation of Teachers, Police Officers Association of Dearborn, and by Dearborn Councilman Mark Shooshanian. Mozip stated that he is running for office because, "I want to make sure that all the students in Dearborn receive the best education they could ever receive from a public system."
Faize El-Khali is running for the two-year term on the Dearborn Public Schools Board of Trustees. He was born and raised in Dearborn and received a bachelor's degree in business administration from Western Michigan University and master's degrees in finance and business administration from the University of Michigan-Dearborn. El-Khali is the Vice President of the Financial Management Association and the President of AAYSP. He works at Bosch as a key account manager and plans to use his experience in finance to help balance the budget. "I want to be a board member who actually goes to the schools. I want to meet with the teachers and the students to see what's going on and what are the issues. I'm driven by the end result which is to help as many people as possible get a good education and have faith in the Dearborn Public School System," El-Khali stated.
Jim Thorpe is also running for the two-year position on the board. Thorpe is a lifelong Dearborn resident. He attended DPS and is currently a member of the Dearborn Area Chamber of Commerce. Thorpe has been a member of the Dearborn Rotary club since 2008, serving as club president from 2013 to 2014. Thorpe served as the vice president of the Lindbergh Elementary School PTA from 2012 to 2014. Thorpe also served as treasurer on the DPS millage campaigns in 2014 and 2015.
While there may be advantages and disadvantages for the board to serve both DPS as well as HFC, Dearborn voters will have the opportunity Nov. 8 to decide three of the seven members of the only board of its kind in the state. Running for two six-year terms are Fadwa Hammoud, Hussein Berry, Khodr Farhat and Adel Mozip. The remaining position is a two-year term and the two candidates running are Faize El-Khali and Jim Thorpe. Students and staff at Henry Ford College who live both in and out of the Dearborn Public Schools district will be interested in the outcome.
Share it now!