Who Are the White Helmets?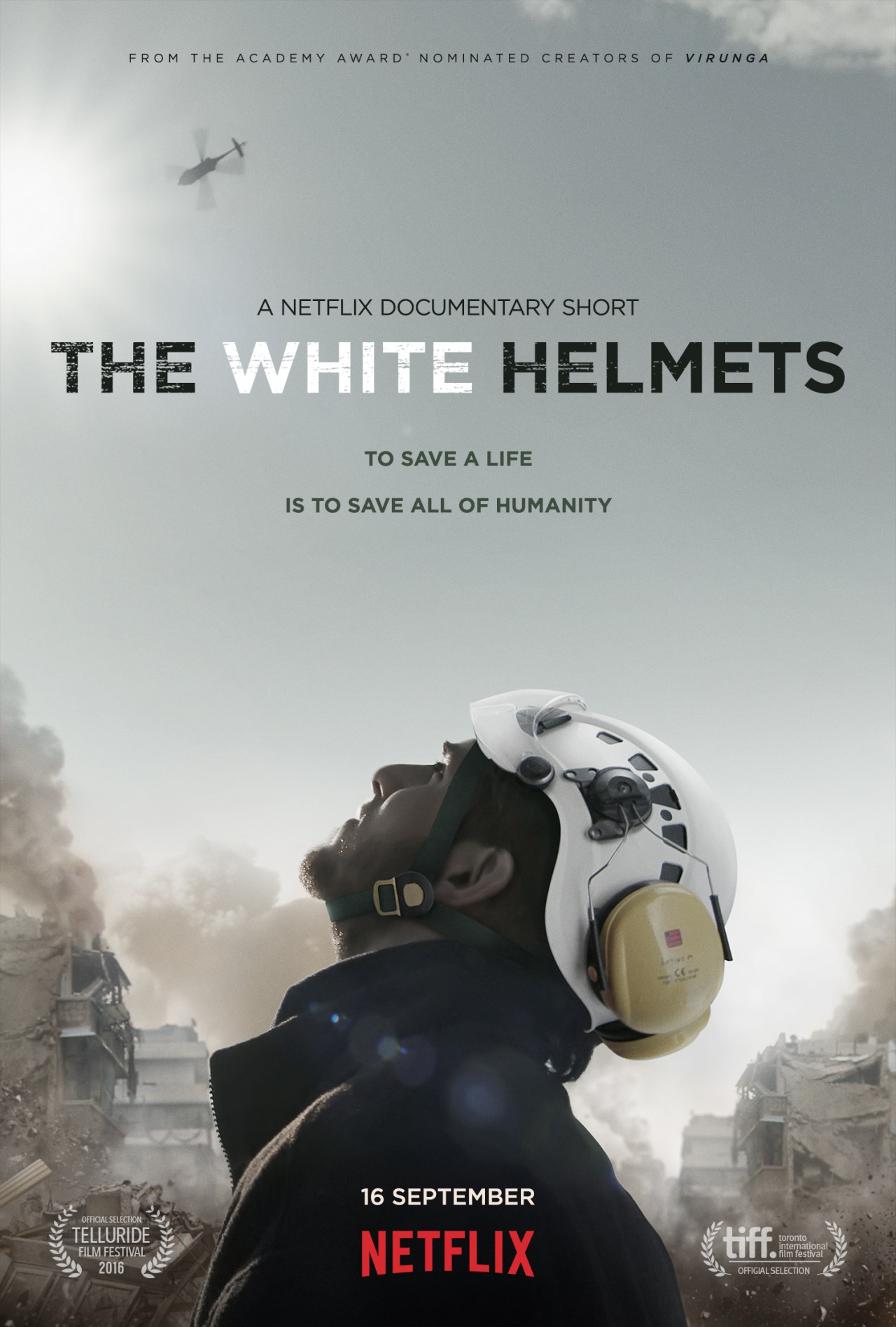 Photo courtesy of Netflix
The White Helmets have not received the amount of attention they deserve for their many accomplishments, and they are rarely acknowledged by news outlets when tragedy hits. Also known as the Syrian Civil Defence, they are a group of volunteer rescue workers who have saved about 62,000 lives in Syria since they first formed.
Before the year 2013, the White Helmets did not exist. Before 2011, there was no need for them to exist. The brave women and men who comprise this group were teachers, parents, students, businessmen, doctors, and just normal everyday Syrian civilians. Once the Syrian regime started violently targeting its own people, lifestyles were altered negatively as children lost their parents and parents lost their children. The White Helmets formed two years after the beginning of the war to aid the dying nation of Syria by rescuing people from under the rubble caused by the rocket strikes and bomb attacks unjustly raining down upon them without concern for the destruction they cause.
The White Helmets are the most effective humanitarian group in Syria due to their speed, responding within minutes after any attack in Syria. There are about 3000 volunteers spread in different locations and cities, and they were nominated for the Nobel Peace Prize in 2016 for their humanitarian aid in Syria. Hours after the announcement of the prize being awarded to Colombian President Juan Manuel Santos, a White Helmet was killed in the Southern City of Daraa when responding to an airstrike there. Whether or not they won this prize, the White Helmets' mission still continued in service of others despite the risk of losing their own lives. They publicly congratulated the winner and responded with, "It is not the Nobel we long for, but peace itself."
In an interview with Syrian president, Bashar Al-Assad, AJPlus questioned him whether the White Helmets deserve to win the Nobel Peace Prize in which he answered, while laughing, "Well, what did they achieve in Syria?" He denied an ongoing siege in Aleppo and believed that only those working for peace should be awarded the prize. The fact that he completely disregarded the White Helmets' work and achievements in a collapsing Syria just shows how ignorant he is in seeing that this group has done more good for the victims in Syria during the past few years than he has in a long time.
A Netflix documentary, filmed by 21-year-old Syrian Khaleed Khateeb, was released early Sept. 2016, titled "The White Helmets." In the span of 41 minutes, the documentary captures how emotionally and physically difficult it is to be a White Helmet and exposes the volunteers' moments of relief and raw emotions when victims find solace in them after every successful rescue. Khaleed Khateeb's dream of being a photojournalist became reality with the filming of this documentary. He sought to get the Syrian story out to the world, and did so successfully.
The White Helmets live and work by a motto that is actually a verse from the Quran: "To save one life is to save all of humanity." Whether or not their work is acknowledged and rewarded by the public is not an issue for them and will not change their work ethic or lives, but empathy and sympathy should instill in us a devout motive to help continue on their legacy of saving Syria and its children.
Share it now!