HFC Golf Team Stays Strong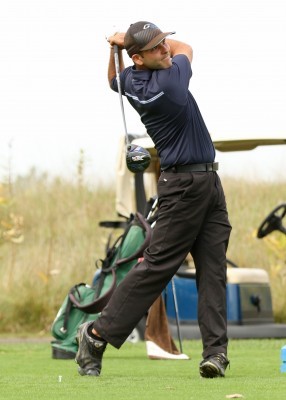 Photo courtesy of Corey Davis
You would think that after losing a state champion golfer to graduation that the Henry Ford College golf team would be on the decline, but that is not quite true for this year's Hawks team.
With a plethora of young talent, mixed in with a couple of second-year players, the HFC golf team has put together some solid scores in the fall portion of the season. With some experience under their belt, the Hawks should be set to take flight in the spring. This Sept. 19, the Hawks hosted the HFC Invitational at Dearborn Country Club. With eight teams competing, the Hawks finished nicely in fourth place with a total team score of 312 (+24). Mott Community College (293) won the Michigan Community College Athletic Association event. HFC was carried that day by freshman Anthony Balazsi who finished in sixth place out of 39 golfers with a 73 (+1). Trevor Monaco and Connor Greenlee also had a strong showing for the Hawks, with both of them finishing with scores of 79 (+7), good for 17th place.
On Oct. 3, HFC had another solid finish, coming in third place out of eight teams at the Wayne County Community College District Invitational, held at the Lakes of Taylor Golf Course. Oakland Community College won the tournament. The team's solid play is despite the caliber of player it lost from last season's team.
Last spring, HFC golfer Jake Kieronski took home his second career state championship. He has now moved on from HFC after earning his associate degree. Kieronski has said he would like to be a college golf coach in the future. After Kieronski left, third-year head coach Jim Uelmen knew he would have a huge hole to fill. He did that by adding an abundance of young talent, while hoping his two sophomores would step forward.
"Healthy competition, practice, and hard work," Uelmen said, explaining how his team would fill the hole left by Kieronski's departure. The team is much more balanced this season, "we have five guys that can all shoot in the 70s," Uelmen said. One of the team's sophomores, Connor Greenlee, has earned his coach's praise.
"Connor is a solid kid, a hard worker, and still hasn't hit his full potential," Uelmen said. Greenlee is currently the eighth-ranked golfer in the conference.
I asked Uelmen what he thought about the season so far, and his reply, "Excited…and lots of potential going forward."
Share it now!