HFC's Theatre Presents "Charlotte's Web"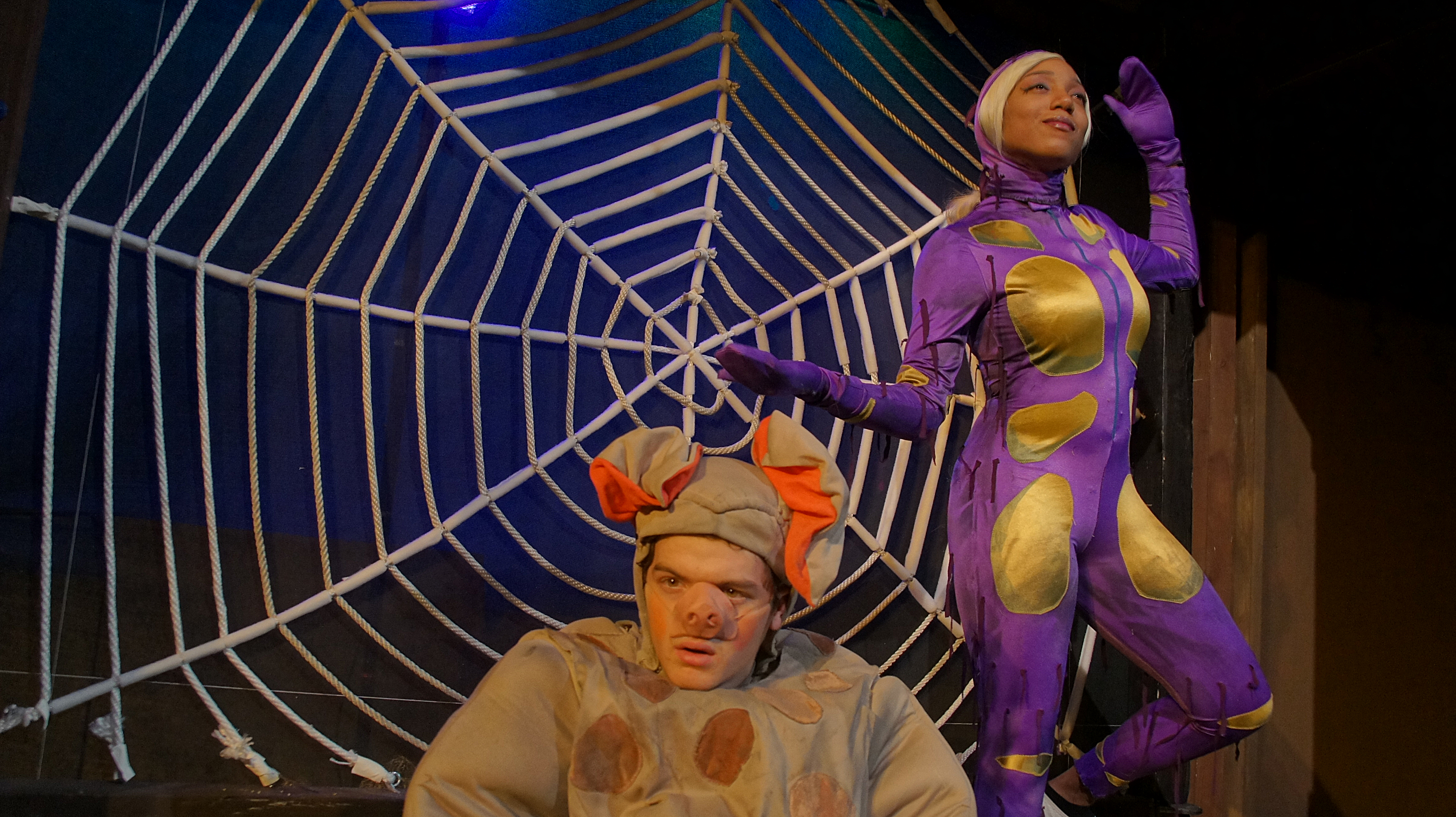 Photos courtesy of George Popovich
Are you a fan of the theatre? Do you enjoy live performances that are created to cater to family fun nights and a heart-warming experience? Then check out HFC's theatrical performance of E.B. White's "Charlotte's Web" adapted into a play by Joseph Robinette. Dakota Nuttall stars as Wilbur the pig, who gets sold to a farm and runs the risk of being killed for his precious meat, but with the help of his friend Charlotte, portrayed by Natasha Hawkins, he may be able to survive the slaughter. Hawkins explains, "This show is really about what it means to be a friend and doing anything to help out your friend."
This show features themes of friendship and comedy, but also includes serious ideas pertaining to animal treatment. "It makes us think about our relationship to nature, and how we deal with nature," said director Gerard Dzuiblinski. When asking about those themes from an actress's standpoint, Demi Signori said, "The show will definitely be more rolled towards the kids and a child's audience. It's comedic and sad at points, but I think it will be a lot of fun for anyone who watches."
The performance will also offer some fun special effects that are unique to this adaption of the show. The animal characters move and sway to actually promote their animalistic behavior. A lot of detail and creativity was put forth in the creation of these motions, in an effort to portray the roles and personalities behind the animals featured within the show. Similar acting techniques, as Dzuiblinski mentions, were employed by Gollum from "The Lord of the Rings." "Anytime an actor portrays anything other than an human being, he or she, together with the director, have to find a movement that fits the character and personality of the creature that is being created." So, a lot of fun is placed into the mannerisms of these characters, which should be enjoyable to see. In addition to the unique acting methods employed, there are technical effects as well. There will be fog machines and special lighting used to convey the right moods in certain scenes. There will also be an original music score created for this particular showing of "Charlotte's Web" composed by Music Faculty Member, Anthony Lai. "There's music not only in scene changes, but each character holds their own musical theme for when they enter," Dzuiblinski said.
Matinee showings will be performed November 14-18 at 10 a.m. Tickets are 3 dollars for students, and teachers and chaperones get in free. The show will also produce eight weekend performances at 7 p.m. on Friday and Saturday, and at 2 p.m. on Saturday and Sunday. November 11-20, prices start at 10 dollars for adults, and 5 dollars for children. Also, on weekends, for parties of more than ten, it will cost 5 dollars per seat.
Note: The cast will feature actors Salem Acka as John Arable, Joana Aldrich as Avery Arable, Dakota Nuttall as Wilbur, Demi Signori as Templeton, Natasha Hawkins as Charlotte, Karah Noel as The Sheep, Angie Marie as The Narrator, Brittany Goodman as Mrs. Arable, Hani Bug as Lurvy, Alex Jaafar as Homer Zuckerman, John Evans as The Spectator, Mike Row as The Judge, and Mike Ross as the Uncle. This show will be directed by Gerry Dzuiblinski, who holds a Masters Degree in directing and was instructed by renown artists such as Marcel Marceau. Also as the Director of the HFC Theatre department, Dr. George Popovich, oversees the production of the show.
Share it now!