City Hall Artspace Lofts and Rejuvenating Art in Dearborn
Gallery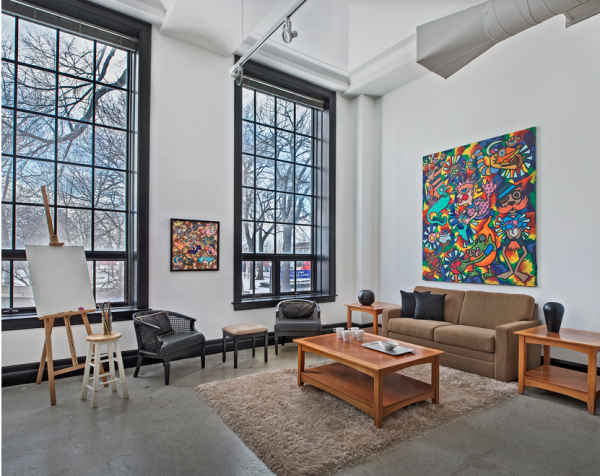 Photos courtesy of Artspace
Ever since you were a child you loved to create. Your ever-messy fingers never seemed to be unpainted, and your room was full of your pretty drawings. Your dream job was having your artwork in museums and magazines. As you grow older, "I want to be an artist" becomes less of a dream and more of an embarrassment as you hear society thinking of all sorts of things to come up with about "this generation of artists."
The term "starving artist" is used when describing someone who is of rather low income. The insult in the phrase comes when it is assumed that artists do not make money from their work. In today's society, art can be anything from painting, to photography or videography, to writing and even journalism. Some consider everything a sort of art. So where did the idea of the starving artist come from? What is so wrong with being an artist?
"I don't think [artists] are seen as people who will end up making a lot of money," Jacqui Mozier, local Dearborn painter, says. Why is that? Who decided to put together the phrase of a starving artist? In recent years, there have been an increase in students who want to pursue Doctoral and Master's Degrees. According to the U.S Bureau of Labor Statistics, there is a much higher demand for education in the sciences, with an increase in achieving Master's Degrees or above. The average salary of a person with a Master's Degree, depending on their field of study, can range from $70,000 to $115,000 give or take. Compare this to the salary of an independent artist, which again can range wildly compared to how much work they sell and how much they charge, can be anywhere from $20,000 to $60,000. The average, according to the Bureau of Labor Statistics, recorded the average salary of a fine arts artist to be $42,000 in 2008. Many people think that just because somebody doesn't make as much money as a neurosurgeon, that they can't support themselves. Most artists are independent, meaning they don't work for somebody. This can give people the impression that they aren't as successful as someone with an hourly-based job. On the contrary, this is just an assumption. The most impressive artists can sell their work for thousands of dollars a piece. "Starving artist," used to refer to when artists were just starting out in their career. They would have a new studio, be buying their art supplies, working a low-income job and trying to afford food at the same time. Now, it is widely thought of as an assumption and insult.
It has been years since there has been a real art movement, especially in Dearborn. With the newfound interest in entrepreneurship in metro-Detroit, Artspace is trying to harness both the business savvy of marketing with the untapped talent of new artists. .
In 2011, the Dearborn City Hall was relocated to a different building. The old city hall was left vacant and it was unclear what the plans for the historic building would be. It was then that a company called Artspace became interested. Artspace has different locations across the country, those locations being buildings full of studios and lofts specifically for saving "starving artists." Kristian Rodriguez reported in the Dearborn Free Press that the mission of Artspace "is aimed at preserving landmarks such as city hall and at the same time providing low income housing for starving artists." Rodriguez went on to quote Jennifer Bridges, property manager, as explaining that, "the artspace organization [is] a way to protect artists and their homes so that they don't get pushed out of their homes because rent is getting raised."
With more than 50 different living spaces, The City Hall Artspace Lofts are designed for up-and-coming artists to live in and create. The interior of the building is sleek and modern. Elegance is laced into the halls and stairwells, and the living spaces are white-walled, adding the sense of a larger space to the studios.
"I like the fact that it's creating a sense of community among artists," Mozier says. "[Art] is a wonderful form of expression and sharing that so often is like putting a little bit of passion in the world each day." Her statement is true. Studies show that children and young adults benefit greatly from self-expression and art. It has been proven to lessen anxiety and help combat depression.
The Dearborn Free Press reports that after just 3 months, more than half of the spaces were occupied. With a new community of artists banding together to rejuvenate the art scene in Dearborn, families can expect more opportunities for their kids to be exposed to the arts and to be encouraged to be creative. Kids that grow up surrounded by beautiful things made with passion can only help their lives. Not only do artists have forms of expression, they inspire others.
*Story updated by Katelyn Crumb on May 8, 2017
Share it now!