Netflix: A "Love" Story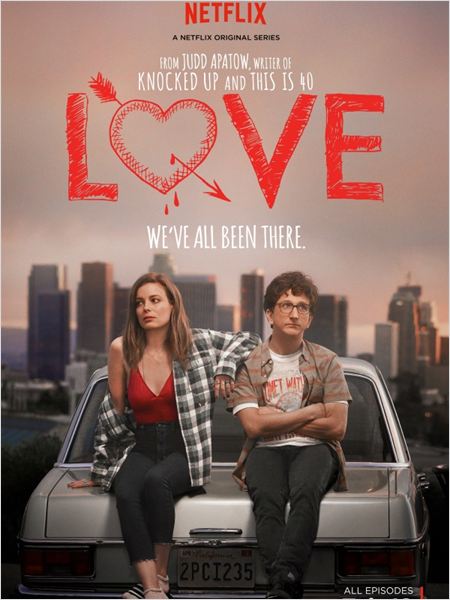 Poster image courtesy of Netflix
When scrolling through the thousands of titles featured on Netflix, it is very easy to get caught up with simply browsing. Before you know it forty minutes have gone by and you haven't made up your mind. Other times you probably end up just selecting something tried and true like That 70's Show or Cheers, simply for the comfort of the familiar.
Throughout the past couple of years however, Netflix has released an array of fantastic original series that can compete with the best of network television and even HBO and Showtime. With titles like Sense8, Orange is the New Black, Daredevil, Grace and Frankie, and House of Cards, the question may soon become "Why do I even bother with broadcast television or cable at all?"
Judd Apatow is perhaps best known for his work on movies like 40-Year-Old Virgin and Forgetting Sarah Marshall and shows like Freaks and Geeks and Girls. With a body of work like his, it comes as absolutely no surprise to me that Netflix's latest hit show "Love" is co-created by Apatow and Paul Rust, who also co-stars in the series.
The show revolves around the stories of the two main characters Mickey (Gilian Jacobs) and Gus (Paul Rust). From the title alone, it is relatively easy to surmise that it is going to tackle love as its central theme. However, it draws a stark contrast to most others centered around the same concept. The premise of the series is perhaps best summed up in one line from the very first episode in which Mickey says, "Hoping and waiting and wishing and wanting love ... Hoping for love has f—ing ruined my life."
The story depicts very emotional characters and an extremely realistic take on life in Los Angeles and life in general. What I found to be the most charming part of the season wasn't just Mickey's relationship with Gus, it was her character and Jacobs portrayal of a very flawed woman. From the first episode I was hooked on what she would say or do next.
Apatow's previous works have demonstrated his skill in depicting rich dialogue, intriguing character interactions, and strong female roles. The conundrum with Mickey is that she is strong, successful, and intelligent, yet her life is riddled with alcohol, drug, and sexual addiction. Despite all of her flaws, she remains an unapologetically human character throughout the season. Paul Rust recently told Rolling Stones Magazine, "We didn't want it to be that thing where a woman just needs to find the love of a nice guy and she'll be okay and it'll fix her. That's just an incorrect way of thinking." The depiction of Mickey's character as troubled yet still strong and capable is a really important piece of the story being told.
This series is not the same recycled love story that we have been sold time and time again, repackaged and rebranded. It is an exploration of what it means to balance the intricacies of one's own individual life with the trials and pitfalls that come with starting a new relationship.
Netflix as the medium for broadcasting has allowed for it to be filmed and uploaded as an entire season. What I find to be revolutionary about this and other Netflix original series is that it remains one coherent piece of storytelling that stays true to the creators intended creative vision. It is not subject to cancellation for poor ratings mid-season and the story doesn't unfold based on the popularity of certain characters and themes as dictated by the audience.
Netflix hasn't yet released the dates for season 2 of the series. I can only hope that it happens soon and in this I am sure I'm not alone.
Share it now!