Mirror News Reporter Attends Detroit Lions Draft Party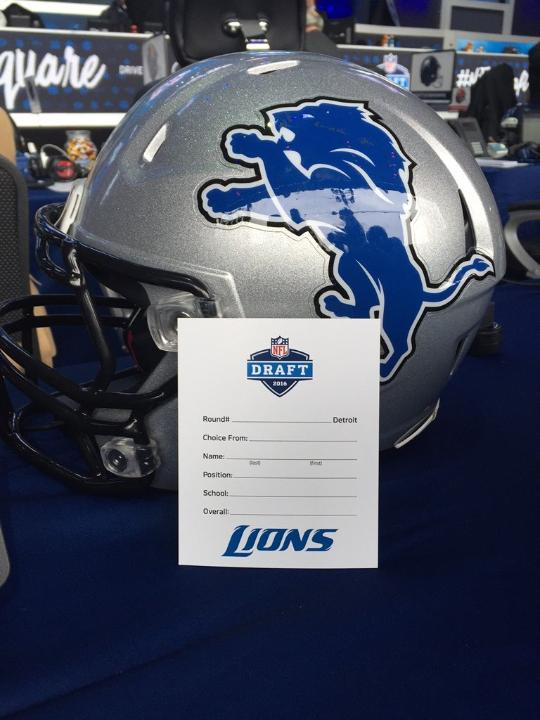 Photo courtesy of the Detroit Lions
The Detroit Lions held their NFL draft party on April 2. I was lucky enough to be one of the only college sports reporters in attendance.. The party had Fox 2's Dan Miller as emcee and opened with statements from General Manager Bob Quinn and President Rod Wood welcoming fans.
Fans were treated to food, drinks, music, and autographs from Lions players like last year's first two picks, Laken Tomlinson and Ameer Abdullah, along with running back Theo Riddick and punter Sam Martin. After Sam Martin was done meeting fans, I was able to ask him how much it meant being being there for the Lions NFL draft party.. Martin said, "It's really cool man to see the fans come out and support the team and see the fans get excited." He added, "It brings back a lot of memories to when I was drafted."
Color commentator Jim Brandstatter also commented about seeing all the fans out to support the team when he said, "It's really important but it's more important that the fans show their passion for Detroit Lions football and to have this event show how engaged they are. It's a reciprocal agreement between the management, players, ownership and the fans. It shows how desperate the fans are for a championship, and it's a win-win for both."
The Lions had the number 16 pick and selected Taylor Decker, an offensive tackle out of Ohio State. The fans were split down the middle with some enjoying the pick and some not liking it with what they thought were better picks left on the board, such as Ryan Kelly. GM Bob Quinn said, "Taylor is a very durable player, tough player, smart, really long player. (He has) good playing strength, good agility, good balance. I think he has good pass protection skills, good run blocking. I thought he was a really, really solid overall player that can really help the Lions. We spent a lot of time with a lot of the offensive linemen in the pre-draft process, including Taylor, and it really came across to us that he was clearly the best guy on the board at the time." Quinn then talked about Taylor's leadership saying, "I think that's part of it. I think we want to acquire a lot of players that are team captains, that have good leadership because the NFL is a long season and we need guys that love football, that are passionate about it, and I think Taylor fits that description."
Taylor Decker talked to the media via conference call about what it meant being drafted by the Lions and the day he went through: "I was just so excited because, again, one thing – it's close to home. So all my family will be able to come and see me play and I know that's important to them. You know, I'm just so excited for the opportunity. That's really all I can say. I'm not going in there expecting anything or thinking anything is going to be handed to me because it's not. So, when I got back home and my phone rang and I knew they were on the clock, you know, my heart jumped a little bit."
In the second round the Lions selected defensive tackle A'Shawn Robinson. Robinson said, "I had a visit with [the Lions] in April and it was honestly my best visit out of all the teams, out of my 30 visits."
Overall Bob Quinn addressed the biggest needs that were on the team heading into the draft and hopes that his moves will help the Lions win a championship. For anyone who has heard a joke about the Lions, which has never made it to the Super Bowl, these sound like lofty words. Maybe a more realistic goal is to make the playoffs. While the success of next season is unknowable, the excitement of the Lions NFL draft party was very real for this Mirror News sports reporter.
Share it now!