HFC Students Attend National Conference for College Women Student Leaders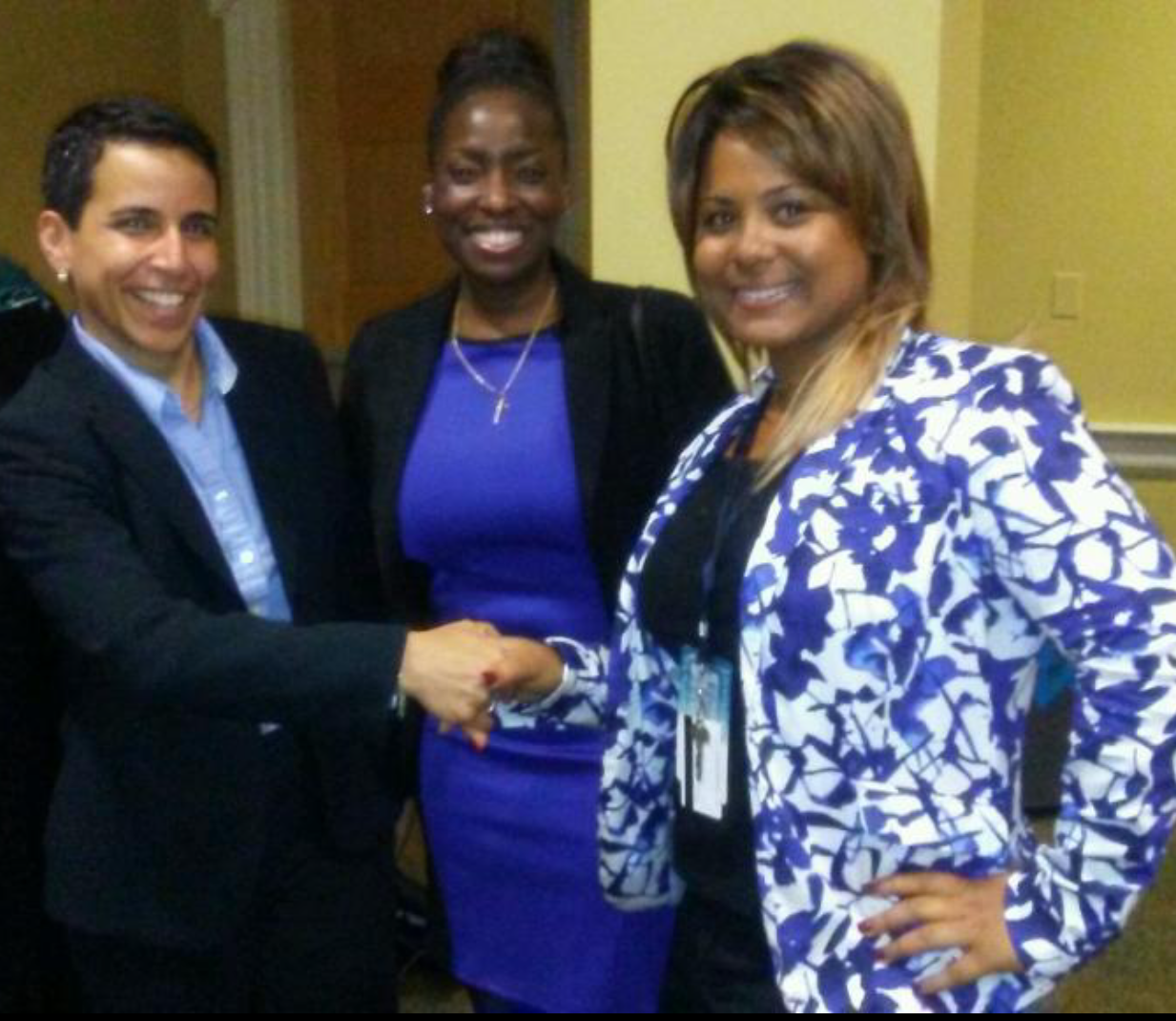 Photo of HFC student Ashley Ball shaking hands with two of the speakers; photo by Brittney Arafat
On June 1-4, nearly 1000 students from across the United States went to the University of Maryland, College Park to attend the National Conference for College Women Student Leaders (NCCWSL). This year marked the 31st anniversary of this program, which was, according to NCCWSL's official website created to help, "college women make their future what they want." In attendance were 4 HFC students: Brittney Arafat, Ashley Ball, Linda Chatmon and Keiera Johnson. Each were nominated and given a scholarship to attend because of their involvement at the college. NCCWSL was comprised of speakers and conference sessions that were designed to help women students grow personally, academically, and professionally. There were also five awards given for Women of Distinction. At the Women of Distinction Awards Ceremony and Reception, Sarah Mcbride, Kelly Tsai, Anu Duggal, Kimberly Bryant,and Marisa Demeo spoke and received their awards.
Sarah Mcbride is a transgender woman, who has worked in the White House as an intern and has worked on several campaigns. Her message was to accept yourself.
Kelly Tsai shared her struggle as an Asian- American minority in her community. She writes, performs, directs, and produces, and she went against the wishes of her family in order to pursue her dreams.
Anu Duggal is the founding partner of the Female Founders Fund, also known as F Cubed, which is a firm that invests exclusively in women start-up companies.
Kimberly Bryant created a group called Black Girls Code, which teaches young girls about computer coding and encourages them to pursue STEM careers.
Marisa J. Demeo is an Associate Judge in the Superior Court of the District of Columbia. She was nominated for the position by President Obama, but she was met with resistance because of her sexuality.
At NCCWSL there were also keynote speakers who came and spoke with students. Hilary Corna, entrepreneur, author, and Founder of the #Dareyourself Campaign, presented on about what it was like becoming an author and a global business woman. Her message was to "dare yourself," in order to create the future you want.
Franchesca Ramsey was the featured presenter on June 3. She is a comedian, and writer for The Nightly Show with Larry Wilmore. Having gained her success through a humorous Youtube video, "Sh*t White Girls Say… to Black Girls," she uses comedy and humor in order to provoke thought and social commentary.
At the conference there were a multitude of workshops to choose from. Some women opted for the stress management workshop. It showcased on resilience and how stress will always be there, but it's up to the person on the receiving end of that stress, to better manage it. This workshop encouraged its attendees to be more optimistic about tasks and to stop competing with others on who is the busiest.
Another session was based on teaching women to value their accomplishments and not be critical of their weaknesses. The speaker said that women tend to feel that they must be competent and never wrong. She assured the participants that it is okay to not know something. Other key topics discussed were leadership development planning, missions, and values. A common take away was that it was important to identify what is most important to you and act on that.
"This was a life changing experience," states Ashley Ball. "It wasn't that long ago that women couldn't vote and were outcasts in STEM careers. Now we have female judges, a woman running for president, and nearly 1000 women accumulated here that will contribute to future leadership roles in our country,."
More information about future NCCWSL events can be found at www.nccwsl.org.
Share it now!