'Flying Frogs and Walking Fish' by Steve Jenkins & Robin Page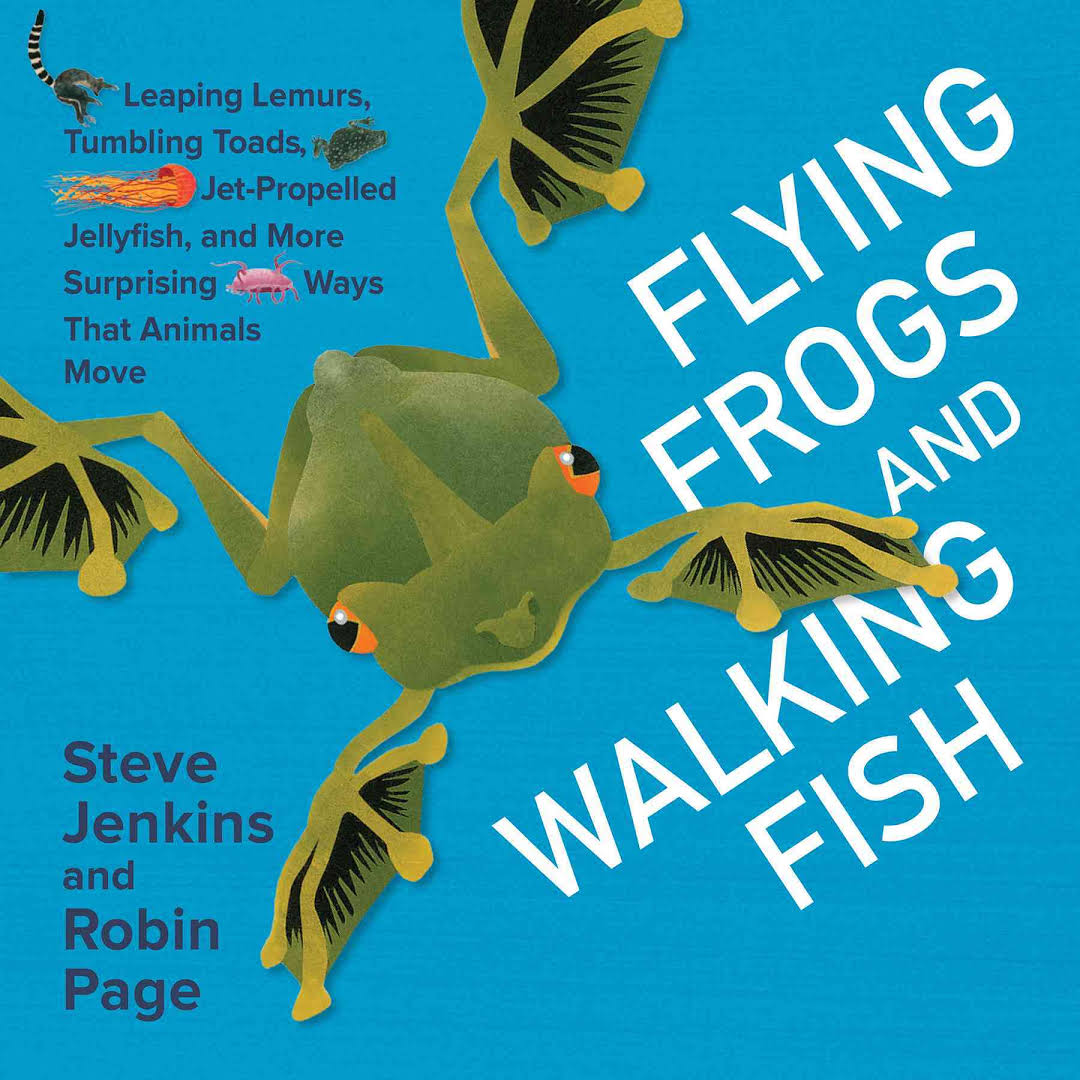 Flying Frogs and Walking Fish By Steve Jenkins and Robin Page (40 pp. Picture Book; ages 4-8)
Fish swim, birds soar, and many other mammals roam on land, but what about those animals whose movement is atypical? The newest informational picture book from Steve Jenkins and Robin Page seeks to explain to young readers the basics of animal locomotion, as well as the unique exceptions to the norm. "Flying Frogs and Walking Fish" succeeds to impress with it's vivid cut-and-torn paper collage illustrations, judiciously chosen content, seriated by types of mobility. This quality has come to be expected from Jenkins and Page, who have collectively published over thirty informational picture books including "Eye to Eye: How Animals See the World (2014), and the Caldecott Honor awarded "What Do You Do with a Tail Like This?" (2008).
Jenkins and Page have compiled fascinating facts to give readers an introductory framework for understanding zoology and locomotion. Animals are introduced by their respective types of mobility, including those which walk, leap, swim, climb, fly, roll, and even jet. While the explanations are fun, brief, and easy to understand, collectively they encourage the reader to think about biology, geology, and evolution in a critical way. "Flying Frogs and Walking Fish" gives just the right amount of information for a young reader to enjoy without involving ideas which are too complex to understand.
Some of the concepts or animals may already be familiar to a young reader, which helps to build confidence. The examples which are easy for children to grasp only make those which are unique more interesting.
For example, the rat terrier, which can "chase a squirrel right up into the branches of a tree" (20), is a common family pet, originally bred as a hunting dog. If readers already understand the dog's inborn pursuit and the squirrel's need to run or glide away, then the evolution of locomotion for any animal should be easily assimilated. At the least, many readers will be able to identify the dog among a collection of exciting animals that might not be so familiar, like the somersaulting Moroccan desert spider or the jet-propelled frogfish.
The endless source of fascination animals provide is undeniable, with so many species and so much to learn. "Flying Frogs and Walking Fish," like other works by Jenkins and Page, holds a high interest level for any young reader-even adults will likely learn a few curious facts. With a unique approach to a distinctly fascinating aspect of zoology, "Flying Frogs and Walking Fish" has the capacity to enchant readers with an interest in biology and animals they can grow with.
'Flying Frogs and Walking Fish' By Steve Jenkins and Robin Page (40 pp. Houghton Mifflin Harcourt. $17.99. Picture Book; ages 4-8)
Share it now!