N'namdi Gallery in Detroit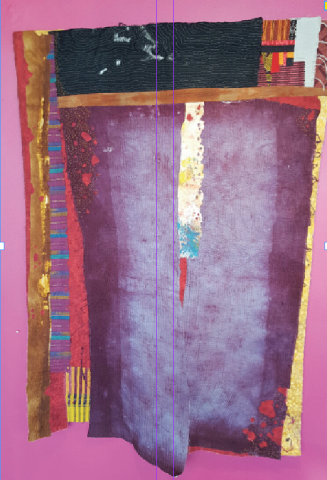 The N'namdi Center for Contemporary Art in Detroit off of East Forest Avenue is currently displaying the works by Allie Mcghee, Carole Harris, and Antonio Carreno. There was an opening night for the exhibitions on April 15 to usher in the artwork.
The N'namdi is a nonprofit gallery run by George N'namdi with the goal of providing local artists with a home for their art. The space is cavernous with egg-white walls, a slightly misaligned and bumpy wooden floor, and a high ceiling with thick wooden beams running vertically towards the entrance.
Allie Mcghee's "Now and Then" artwork chronicles different events, places and times. Mcghee has been a player in the Detroit art scene since 1968 when she created a series of work depicting Wayne County jail; she has continued to be featured in numerous museums and exhibits in Michigan and in other places like New York and Mexico. Located in the main gallery hers is the first work you'll see upon entering the museum. On the left there is a piece titled "Amazon." The piece is among one of her construction works where she paints in thick globs over a folded sheet of construction paper, this particular one is striped black and white, resembling the different currents in a river. Black and white coloring mixed with angular designs give off a tribal essence.
The biggest piece in the museum is displayed on the back side center wall. Titled "The Big Bang," it is painted brightly with orange shapes and flows to light orange, tan, blue, and black in a mercurial culmination of color shifts. Triangles, trapezoids, circles, and squares all begin taking shape only to be meshed in with other random shapes and colors. On the left there is a unpolished, crudely carved, checkered pattern of squares slashed into the thick canvas. The mood seems to be ubiquitous and ever-changing with a pattern of chaos in the shapes. The blues and blacks contrast with the bright oranges and yellows to provide a polarization of the color spectrum. The uniformity of disarray suggests that "The Big Bang" tells a story of randomness, chaos and order to audiences. As far as the order goes, that it provided by the recognizable shapes that ultimately bump, bounce, and pop into other shapes.
Carol Harris's "Reveal: Conceal/Conceal: Reveal" is featured in the Rose Gallery section. The works are untitled and show patrons a series of quilted designs. The seemingly prominent one appears to one much like a curtain for a beat up decoration outside the entrance of a home. The curtains are in lined purple and the outline of the painting is similar to the entrance of a tent. An intangible feeling is reminiscent of a mixture between a plantation home in the 1920s and what might be seen upon entering a gypsy tent.
Antonio Carreno's work is probably the most traditional type of painting in the museum; there's a discernable frame, a typical canvas, but a unique type of paint is used. The colors feel more natural to the eye, not dissimilar to the splotches made from gently rubbing dirt into a picture. The brightest color could be replicated from smearing strawberries or any other brightly colored fruit. Hearkening back to cave paintings, or some other primitive from of drawing, appears to be Carreno's goal, as it seems a lack of utensils or technical styles are used. In the featured painting a man with a red shirt is standing next to some sort of symbol.
For those into interpretative contemporary art the N'namdi provides a thought provoking chance to do just this. For more information, visit: http://nnamdicenter.org/
Share it now!