Game of Thrones Season 6 Premiere Lays Groundwork - And Not Much Else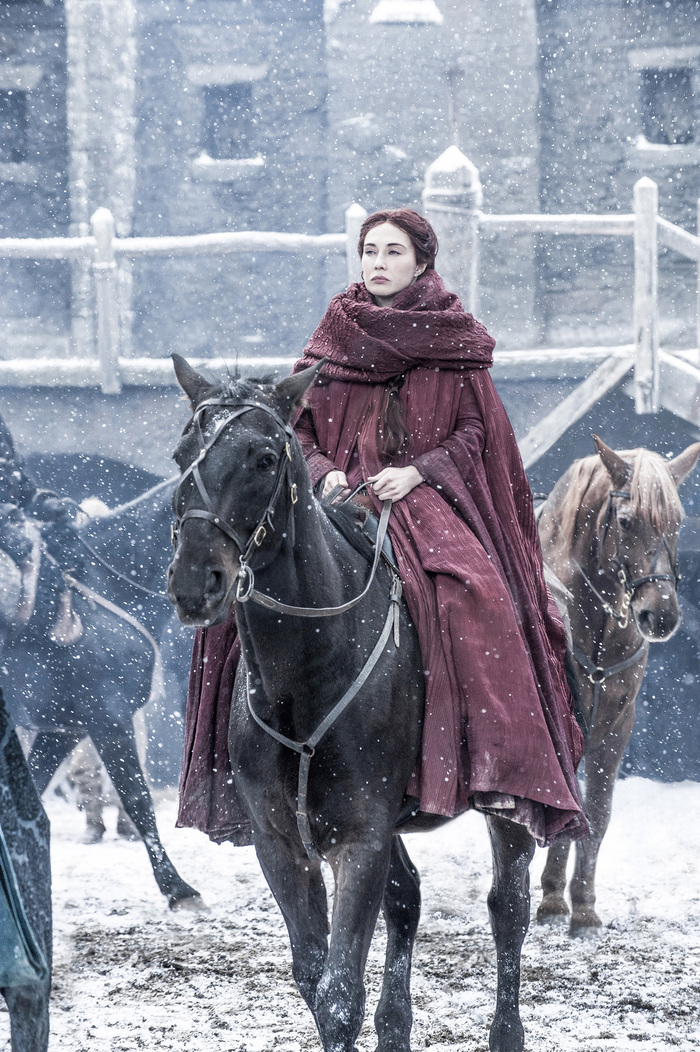 For the first time since the HBO series began, readers of George R.R. Martin's best selling series "A Song of Ice and Fire" are no better off than those who watch Game of Thrones unsullied. At the end of Season 5, the show had largely caught up to the books, leaving Season 6 to explore new territory. With this unknown expanse before it, the season premiere, "The Red Woman," didn't so much as explore as make plans to explore at a later date.
Since his death in the previous season's cliffhanger, the fate of Jon Snow (Kit Harrington) has inspired intense speculation. Usually, death is pretty final, but Game of Thrones has demonstrated that the dead can be resurrected by a priest of the Lord of Light. Luckily for Jon, one such priest, Melisandre (Carice van Houten) happens to be on hand. Viewers seemed convinced that this meant Jon would return to some semblance of life. Instead, the episode dealt with the reactions to Jon's death, focusing on Davos Seaworth (Liam Cunningham) guarding Jon's corpse and Melisandre's slide into depression.
In the capital, Cersei Lannister (Lena Headey) and her brother Jaime (Nikolaj Coster-Waldau) mourn their daughter, Myrcella. The usually acerbic Queen Mother is instead downtrodden, seeing her misfortunes as the fulfillment of prophecy, creating an interesting dynamic between Melisandre and Cersei. Melisandre loses hope after prophecies she spent her whole life trying to fulfill collapse around her, while Cersei does the same after prophecies she tried to prevent come to fruition. This crystallizes the theme of hopelessness and the inevitability of suffering that is central to the series.
Dorne, arguably the lowest point of Season 5, looks to continue in this role. Ellaria Sand (Indira Varma) stages a coup to further her plans to get revenge on the Lannisters. In the books, Dorne provides a foil to the ambitions of the Lannisters, but key players of this story being absent from the show forced the showrunners to find another way to create conflict. Unfortunately, the coup reduces the political intrigue of the books to another gratuitous display of violence.
The final scene mitigates any failures, however. As the seductive and dangerous Melisandre undresses, the camera drifts to her reflection as she removes her necklace, revealing a decrepit woman. With this scene, we finally see Melisandre as she truly is. Depicting Melisandre, a highly sexualized character, as an ancient crone was a brave choice that paid off by forcing viewers to realize that until now, they have never truly seen Melisandre naked. The audience experiences Melisandre's broken state, as everything she believes has fallen away, leaving her a tired old woman.
Game of Thrones, which was renewed for a seventh season before Season 6 even premiered, is a pop culture phenomenon beyond what anyone could have imagined when it first aired. Though it has occasionally stumbled, with infuriating story changes and sex so gratuitous that the phrase "sexposition" was coined, it remains a forceful presence in television. As the story moves towards a conclusion, it must gather its disparate threads. While this premiere may be exposition heavy and slow, it frees the show to dig deeply into the story in the coming episodes.
Share it now!