Why Bernie Sanders Won Michigan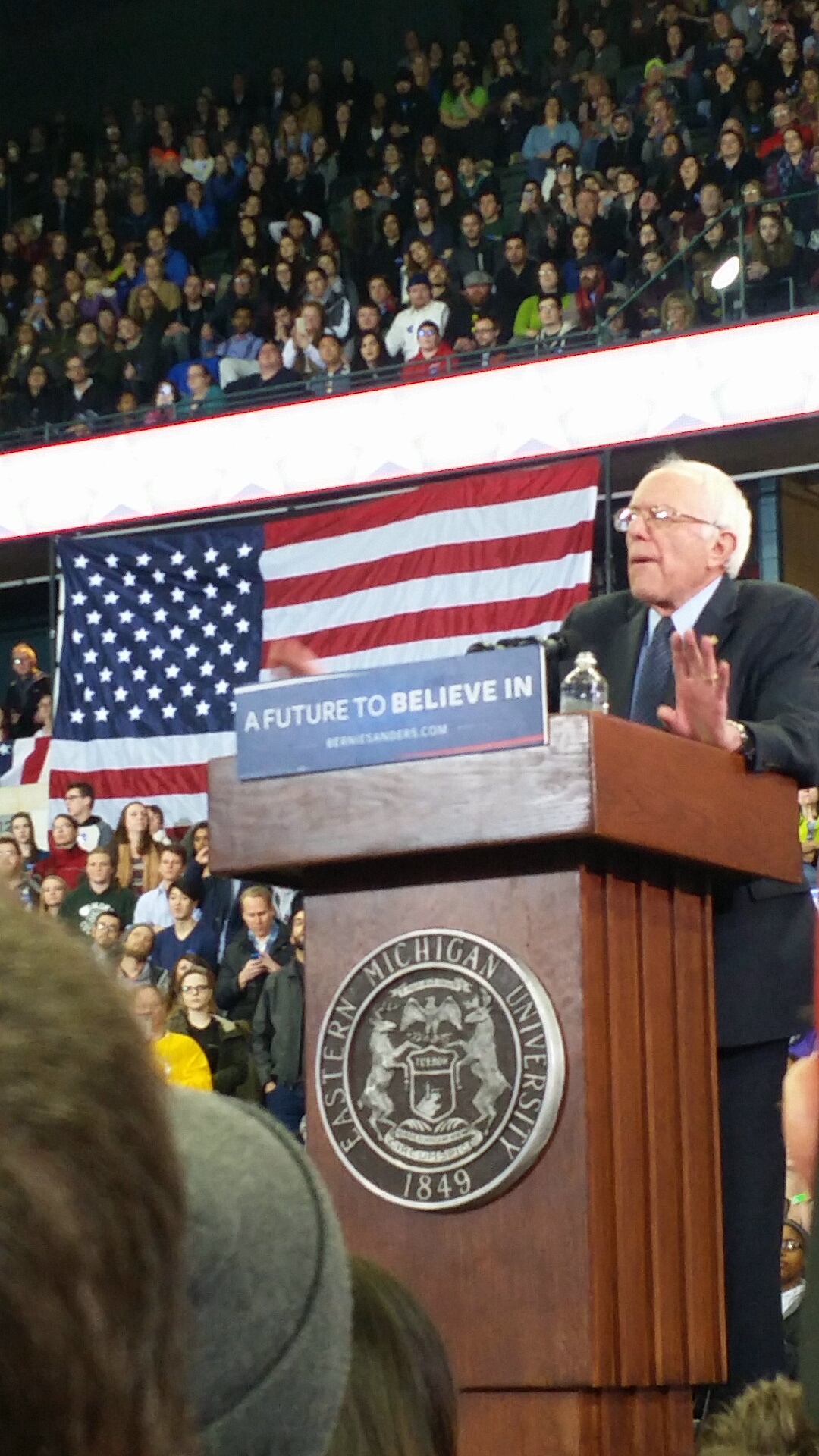 The primary elections for the state of Michigan were Tuesday, March 8, and news of the victories spread across the nation. Wayne County was trending throughout the country on Twitter, since the turnout resulting from the county most likely determined the Democratic primary winner for the state. Bernie Sanders, a 25 year veteran of Congress, won the primary election despite his low number of delegates compared to Hillary Clinton. Numerous polls were conducted in Michigan and every single result had Hillary Clinton as the victor by a difference of double-digit points. This was a reason as to why the American people were so surprised by the announcement of Sanders' win. Sanders won Wayne County and the city of Dearborn made headlines on Huffington Post, CNN, MSNBC, and other major media outlets, regarding a Muslim majority city voting for a Jewish presidential candidate.
Senator Sanders traveled to a number of cities and colleges spread throughout Michigan to deliver speeches discussing Islamophobia, lead poisoning, and tuition-free public college education, among other topics. In every location he altered the subject to suit the location and its people's issues. Residents heard of this "tour" and rallied around them. Sanders spoke at Eastern Michigan University, Macomb Community College, University of Michigan-Ann Arbor, The United Automobile Workers (UAW), Ford Performing Arts Center, as well as some smaller venues. His active campaigning in Michigan may be a key reason as to why he won the state's vote.
Monday, March 7, Bernie Sanders presented himself in the Ford Performing Arts Center in the afternoon. His audience was young and diverse. Being in the city of Dearborn, his speech focused on condemning Islamophobia and criticizing Trump's rhetoric against Muslims. "Love trumps hate," was a phrase Sanders used throughout the afternoon, stressing unity between religions, races, and genders.
Last month, Bernie Sanders attracted a crowd of around 10,000 college students at Eastern Michigan University in Ypsilanti. Sanders talked about how Americans are all one big family and the importance of caring and worrying about each other in order to drive out hatred and the unspoken barriers between different groups of people. A few students talked about how they saw Sanders as a paternal figure in their lives because of his reasoning on many issues they hold to heart, like student debt. Senator Sanders believes in making public colleges free because of the unfairness in the system and because student debt is alarmingly increasing by the year.
On March 6, the Democratic Debate was hosted by CNN reporter Anderson Cooper in Flint, Michigan. The issue of Flint's water crises was a main topic during the debate. Sanders was the first major politician to call for Michigan's Governor Rick Snyder to resign, back in January 2016. He restated this during the debate, receiving applause from many in the audience. Hillary Clinton also called for Snyder's resignation during the debate. The poor conditions of Detroit Public Schools' were also a topic during the debate
Both candidates held similar views on many topics, like stricter gun laws. They admitted to having racial blind spots and not being able to empathize well with the discrimination that African Americans, Mexicans, and Muslims face, especially with the recent hate crimes, since they are both white and privileged in America. There is a 1 in 3 chance of a black man ending up in jail in America and Sanders believes in helping educate these black Americans rather than jailing them to end mass incarceration.
Bernie Sanders won Michigan's vote when many Americans doubted him. Sanders ended the debate by repeating his message that he has a higher chance of defeating Donald Trump than Hillary Clinton does. As the race to earn the Democratic nomination continues, we will have to see if he will have the chance to make that happen.