Same Tiger New Stripes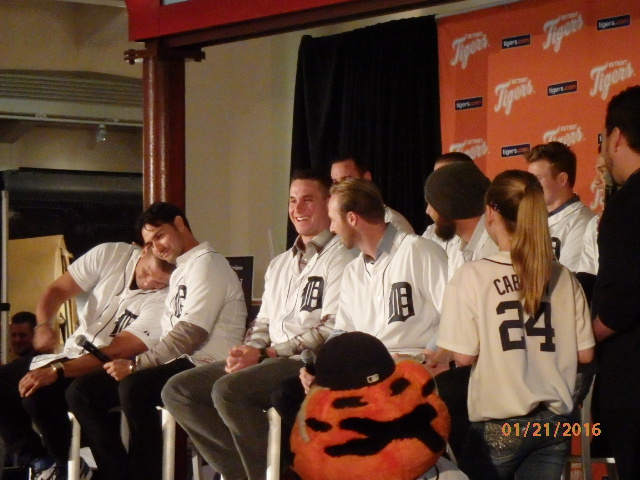 With the 2016 baseball season fast approaching, the Detroit Tigers are retooled and primed for a brand new season with new players in fold. The Tigers have gained pitchers Jordan Zimmerman, Mike Pelfrey, and Mark Lowe through free agency while also gaining pitchers Francisco "K-Rod" Rodriguez and Justin Wilson in trades. Mark Lowe, Francisco Rodriguez, and Justin Wilson have added reliable arms to a bullpen that ranked last in baseball the past few seasons, while Jordan Zimmerman and Mike Pelfrey will add a front and back end of the rotation arm to the team.
The Detroit Tigers then looked to add a few batters to an already dangerous line up in the likes of Justin Upton, Mike Aviles, Jarrod Saltalamacchia, and former Tiger, Cameron Maybin. Maybin found his way back to the team after eight seasons apart. Justin Upton is the biggest addition to the lineup as he provides the team with a big bat and an above-average arm in the outfield. Maybin, Saltalamacchia and Aviles will prove to be a better bench than we've had since 2012 when the Tigers last made the World Series. The Detroit Tigers also hired a new pitching coach in Rich Dubee who has World Series experience with the 2008 and 2009 Philadelphia Phillies and with winning the 2008 World Series.
Al Avila has had possibly the best offseason of any new GM, in any sport, in a long time and has spent money on many improvements which is something that Tigers fans haven't seen in years. Avila has done what his mentor and teacher Dave Dombrowski wasn't able to in multiple seasons with the team: build a bullpen and the bench of a winning team. The money spent on Upton and Zimmerman alone is over $200 million and that doesn't include the odds and ends on the trades and few other players which brings the total to just under $250 million.
Just like every year, the Tigers wanted to introduce their new players to the public in the "Winter Caravan." The team visited 30 places across the state of Michigan and one of those stops was the Henry Ford Museum here in Dearborn. They brought a handful of new players along with some current players such as Victor Martinez and James McCann to interact with fans. The "Winter Caravan" is an opportunity for fans to meet their favorite players in the off-season and for the Tigers to stay connected with the community.
The Tigers will be the talk of American League Central with the payroll additions and all of the new players. Along with current greats such as Miguel Cabrera, Justin Verlander, Victor and J.D. Martinez, and Ian Kinsler, the team is primed for another World Series run. With an aging owner in Mike Ilitch, the pressure on the coaching staff and GM Al Avila is high, so for them it may be World Series or bust.
Share it now!