'The Night Gardener,' by Terry Fan and Eric Fan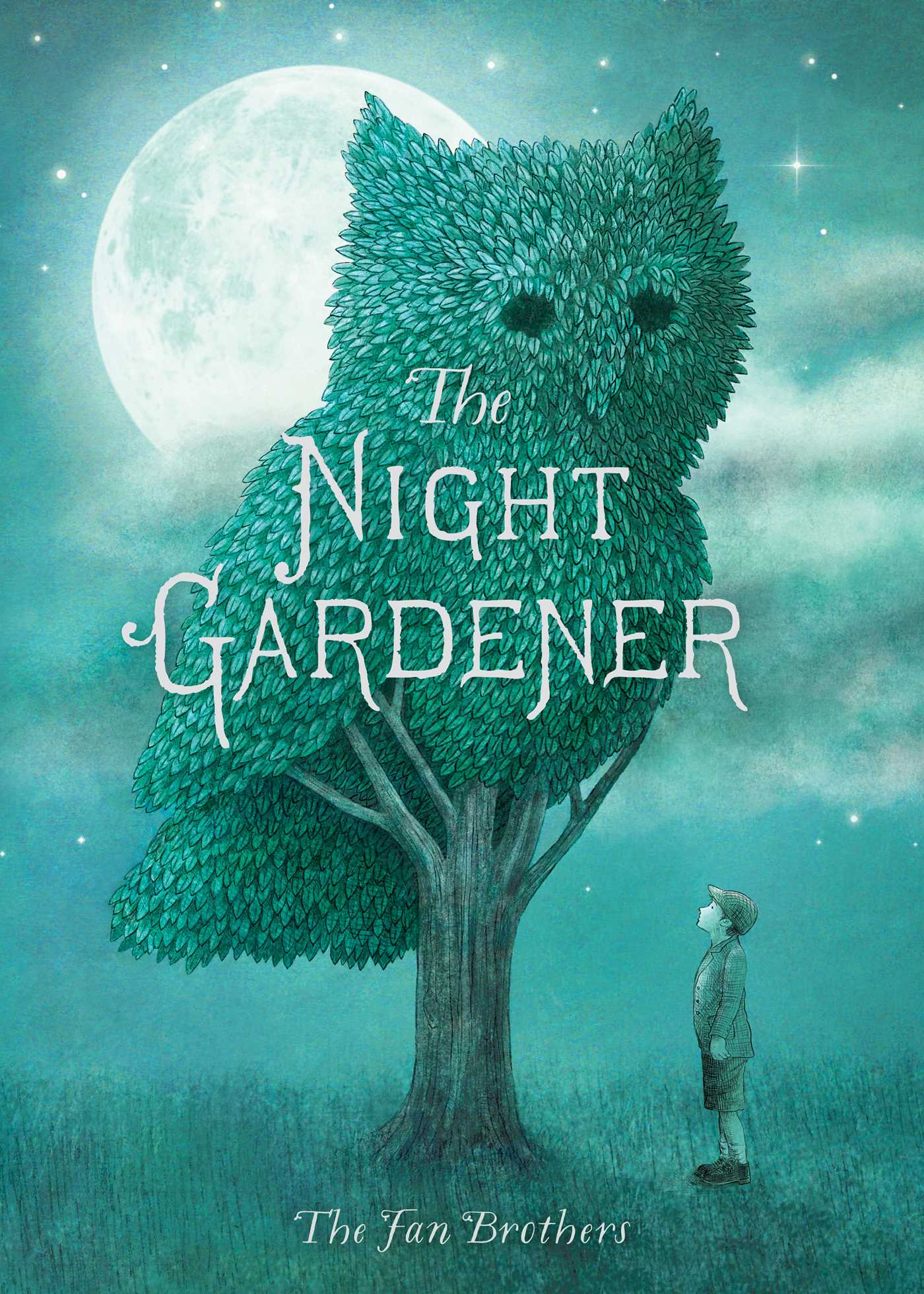 Nature offers boundless beauty and pleasure - if we choose to be vigilant enough to notice.
That is the idea behind the simply told and beautifully illustrated new picture book by brothers Terry and Eric Fan.
The story begins with the story's young protagonist, William, bleakly staring out of a window of Grimloch orphanage. The name 'Grimloch' is surely no coincidence, and hints at the dismal confinement he feels behind its meticulously shaded brick walls. When William begins to look beyond the sepia-toned reflection of his window, the landscape transforms before his eyes.
Each morning, William examines the world outside his window, and he is amazed at what he finds; the trees of Grimloch Lane are being carved into dazzling topiaries! First, a wise owl, then a cat-shaped tree with cats perched upon it. He suspects that the creations are the work of the night gardener, who gives William his very own pruning shears. Every day, William and the townspeople race outside to find another topiary, and a world more colorful than the day before. The night gardener's work changes their perception, which endures long after the seasons round the shapes of the trees.
This is a theme that never tires, as it will always be a struggle to search beyond the snares of negativity and open our eyes to the wonders that surround us always. It is particularly relevant now, when technology is everything and nature often becomes wallpaper. As consumers, it is easy to become complacent. We reach for canvas sunsets, floral candles, and owl-printed fabrics; we ignore the beauty outside our windows that has inspired everything. The topiaries are not carved into man-made objects - they are shaped like the creatures who inhabit them. The owl perched in the owl-shaped topiary is as much of a phenomenon as the trees themselves. When the night gardener points out the perfect creations all around them, William and the townspeople forget their anxieties and celebrate instead. This story is a sweet reminder of how important perspective is, and how much more resilient we are when we recognize the Earth's spaciousness. As William looks out and sees the trees, birds, and night sky, the vastness reminds him how small his problems are. The back cover of the book, which features two trees in the foreground of a starry sky, begs readers to seek out their novelty.
If the story itself is not lovely enough, the intricate sketches will surely steal any reader's heart. The illustrations Terry and Eric Fan created tell a story that does not require many words to make an impact. Young readers will be thrilled to find what new creation awaits on the next page, just as William anticipates each new morning.
The Night Gardener Written and illustrated by Terry Fan and Eric Fan 48 pp. Simon & Schuster Books for Young Readers. $17.99. (Picture book; ages 4-8)