Pho Lucky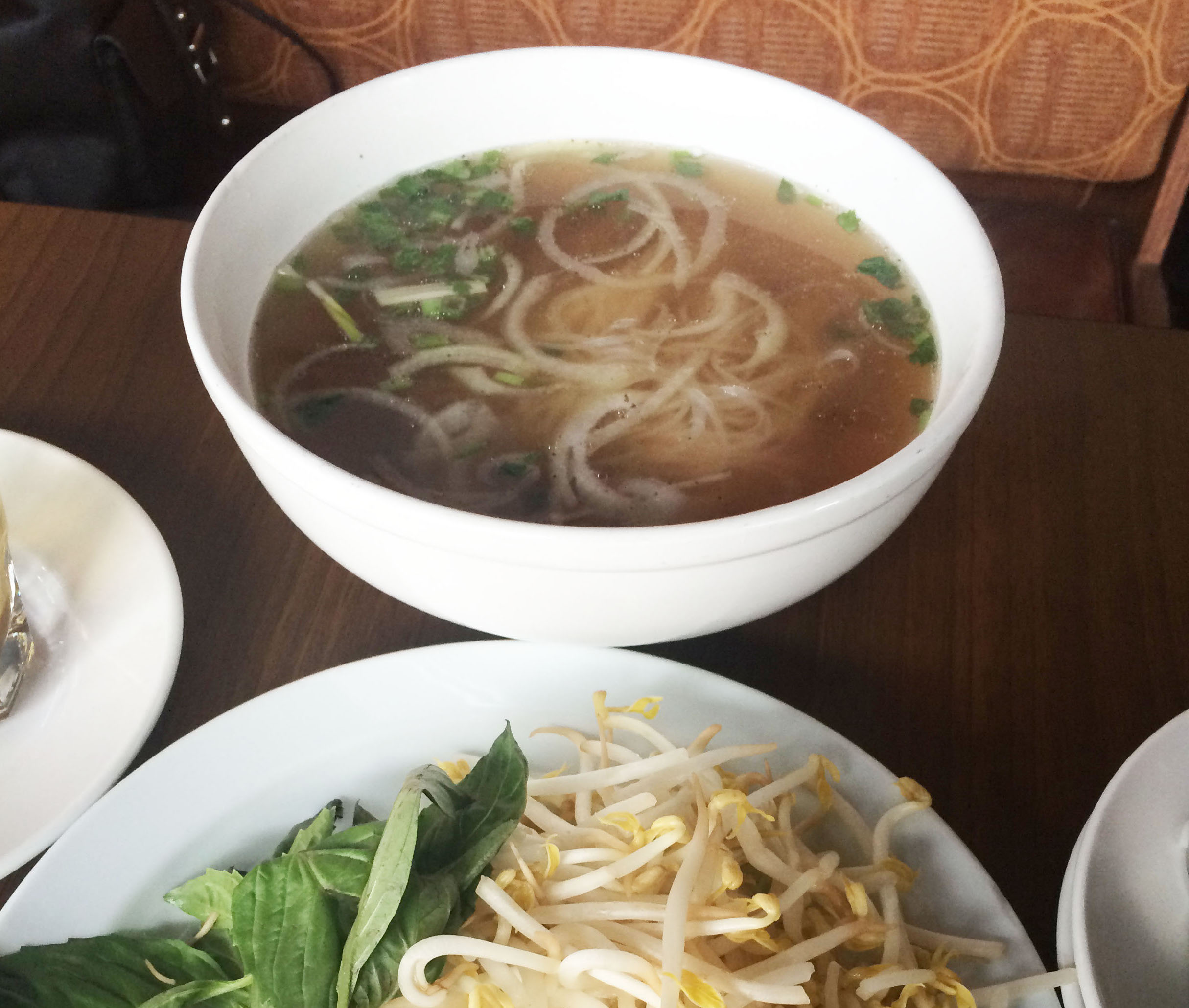 After listening to several different people rave about Pho Lucky, the relatively new Vietnamese restaurant in Detroit, I knew I had to give it a try. Owner Cong Nguyen opened his first Vietnamese restaurant in Redford in 2012 and has since expanded his business to several locations throughout Michigan. Luckily for us, Nguyen opened up the eatery right on Woodward Avenue in Midtown Detroit in November of 2015!
Despite the ongoing construction on Woodward Avenue, Pho Lucky is easy to spot and the drive is trouble-free (as long as you take Cass and turn right onto Charlotte towards Woodward). As I walked into the restaurant, I noticed that it had a very modern look. All of the walls were window panels that faced Woodward, giving customers full access to the outside view. The atmosphere was comfortable. The seating arrangement consisted of booths, hightop tables, low-top tables with cushioned crates for seats.
Once I sat down, the waitress immediately brought my sister and I ice-waters and took our drink and appetizer orders. I decided to go with the Vietnamese espresso with milk and the Summer Rolls, which consisted of rice noodles, lettuce, cilantro, pork, and shrimp wrapped in rice paper and served with Hoisin peanut sauce. The espresso drink, which was served in a glass with sweetened, condensed milk on the bottom and espresso on the top, was marvelous. It was the perfect winter beverage, and just the right kick I needed to start my day.
The Summer Rolls, on the other hand, were slightly disappointing. I wasn't sure if it was the rice paper, cilantro, or my unfamiliarity with Vietnamese food, but the roll was unsatisfactory. I decided to order the Pho—"a bowl of clear, beef broth, with thinly sliced rare eye round steak, cooked beef, meat balls, tendon and beef tripes; alongside asian basil, cilantro, lime, bean sprouts, hoisin sauce and srirachas"—as my main course, hoping the noodle bowl would turn things around. After all, Pho is considered "one of the world's 50 most delicious foods." I ordered the dish with no meat but decided to keep the beef broth.
Once our Pho came, we were very pleased with the presentation. The noodle bowls were gigantic (no wonder why it's called Pho Lucky—you're lucky if you can finish the Pho!), and the sides were placed delicately on a plate for us to share. The dish was delicious. We even had tons of leftovers to take home!
I have to say, I was very impressed with the restaurant overall. The atmosphere and service was great, the food was, for the most part, delicious, and it was very affordable. The espresso drink was $3.50, the Summer Rolls (2) were $4.50, and the Pho was $7.99.
If you're looking to try some different cuisine in Detroit, I highly recommend stopping by Pho Lucky!
Share it now!