Baseball Weather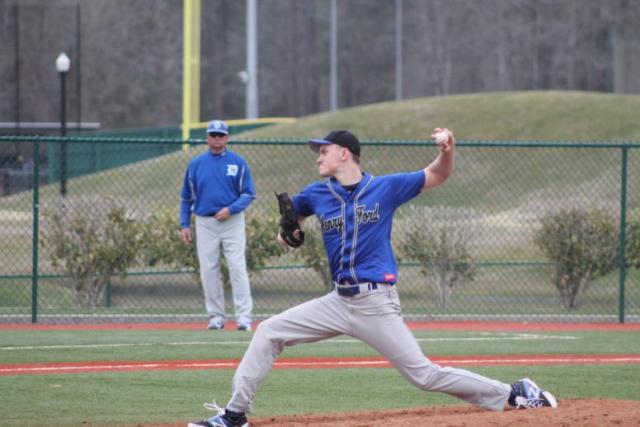 The Henry Ford baseball team is set to open their season on March 1st against Sinclair Community College (weather permitting). A few days after, they will take an approximately 13 hour drive down to Myrtle Beach for spring training at the lavish Ripken Experience complex. Much better weather is to be expected. The team is scheduled to play a total of fourteen games in only seven days. This should get them ready for the continuous double-headers during the regular season.
Coach Tim Leighton has been with the team in previous years as an assistant coach, but this will be his first time going as the newly appointed head coach. "I'm super excited to get to Myrtle Beach," Leighton is anxious to finally get this baseball season underway. He replaced Steve Brown at the head coach position; however, Brown is still with the program as the Assistant Athletic Director. There are some new anticipated challenges. "Managing time, a lot of behind the scenes and day to day stuff that needs to be taken care of," Leighton explained some of his biggest differences from assistant to head coach. "Thankfully, I have Steve Brown and [Athletic Director] Rochelle Taylor who have been awesome in helping me transition."
For the past month and a half, the Hawks have been holding 5:30 a.m. practices in the gymnasium at Henry Ford. They have been working out, training, throwing bullpens, and taking batting practice among other things. "The team has shown me that they are hungry by working extremely hard and getting in great shape," Leighton expressed. With some players living over an hour away from the campus, these practices have truly been a test to their willpower and passion for the game. Some players having to wake up at 3:30 a.m. to get to practice on time. Even one player has had to stay at another member of the team's house that lives closer the night before practice. This determination should payoff for the Hawks later on in the year.
Last season, the Henry Ford baseball team made it to the playoffs for the first time in twenty-some years, albeit that includes a few years without a team in between. They eventually would lose a nail biter to a nationally ranked team in the first round. Leighton would like to further that success from last season, "I feel we have the talent to make the playoffs and compete for a league championship."
Six members of the team have already committed to four-year schools to continue their baseball career next season. A couple more are expected as well. Those six are Nolan Duvall (Lawrence Tech), Brian Harris (Lawrence Tech), Enrique Reboyras (Lawrence Tech), Dan Johnson (Lourdes University), Jordan Longenbarger (Spring Arbor University), and Kyle Roberts (Central Michigan University).
Share it now!