Downtown Boxing Gym: Lessons in and out of the Ring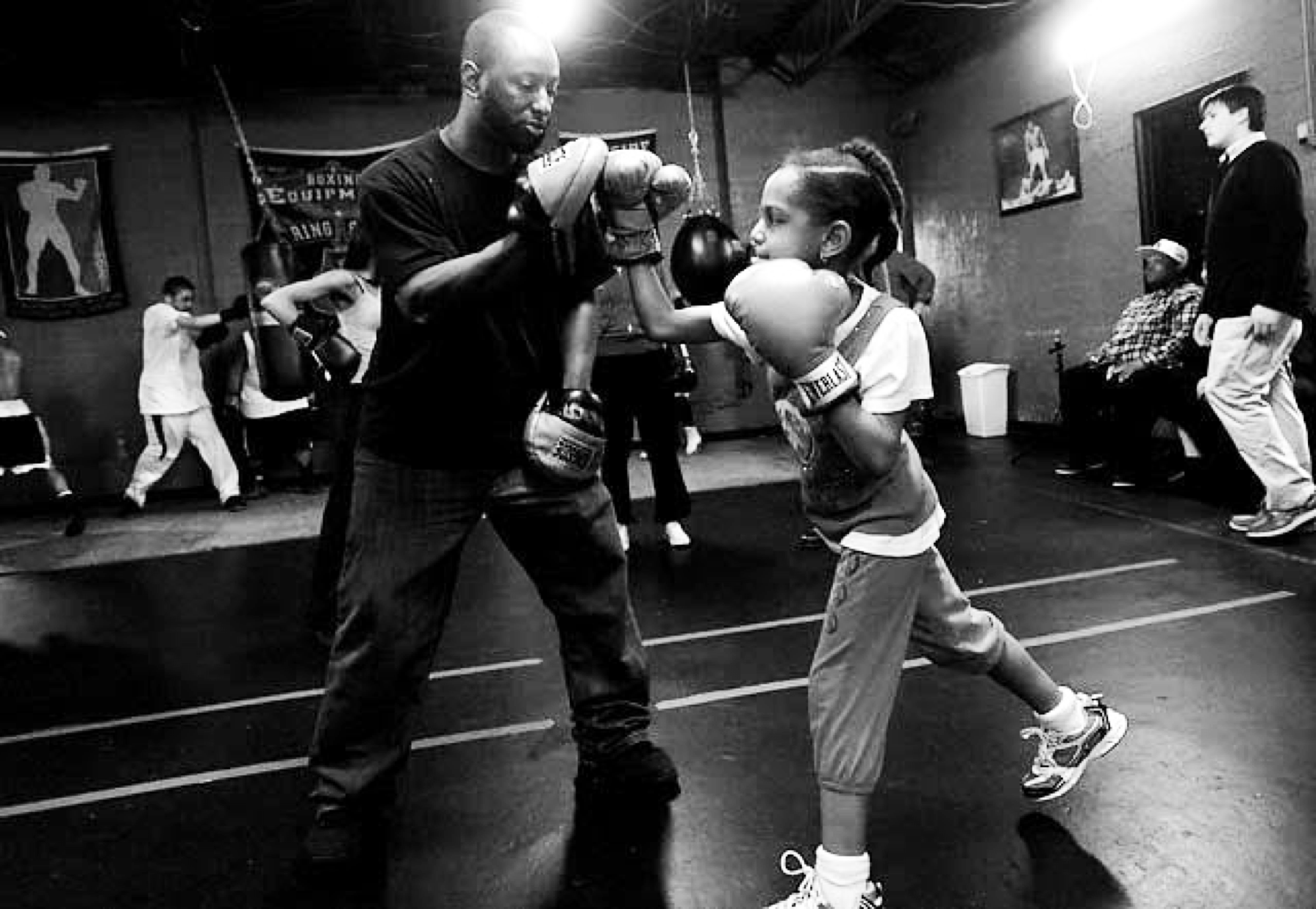 Photo courtesy of Khali Sweeney
In a city fighting for renewal, Detroit-native, Coach Khali Sweeney, is providing kids with a safe haven at the Downtown Boxing Gym (DBG). This non-profit organization helps its students start to develop strong values and discipline by combining a demanding boxing program with strong academic support and a connection to the community through voluntary service. By focusing on body, mind, and community, DBG helps these young people develop the skills they need to be successful in boxing, school, and life.
Detroit's Downtown Boxing Gym offers free academic tutoring, mentoring, and boxing instruction to about 100 boys and girls between the ages of seven and 18. The program, whose motto is "books before boxing," is heavily dependent on generosity and donations -- and the waiting list currently exceeds 500 students. The group's benefactors are often happy to help in any way that they can. Forgotten Harvest provides healthy meals every day and Door-to-Door Organics supplies fruit for the kids to eat.
"The Rachael Ray Show" even paid a visit to Detroit and surprised DBG with some big gifts as part of an entire episode shot at the gym back in November. Rachael Ray brought along boxing living legend Evander Holyfield and retired undefeated boxer Laila Ali to surprise Coach Sweeney and the kids. Ray also treated the kids and their families to a full Thanksgiving meal and presented a $25,000 donation from Conagra Foods to the gym's founder. Rachel Ray is not DBG's only celebrity fan. Madonna posted a pair of pictures of her visit to the gym on her Instagram page when the superstar and Michigan native made a special stop during her Rebel Heart Tour just the month before. "Downtown Youth Boxing Gym is the place to be!!" she wrote underneath one of the pictures, which showed her interacting with one of the program's students.
While Coach Khali's gym does have a competitive team of 12 to 16 kids that head into amateur fights and has produced nationally ranking Levan Johnson and pro fighter Anthony Flagg Jr., the goal isn't to prepare its participants for the ring but for life. Despite all the program has to offer, some of the youths just want to learn how to land a punch -- and end up getting more than they bargained for. Sarah Sorensen, the program's academic coordinator, told us, "Sometimes they come in and they just really don't want anyone to beat them up anymore. Kids who are bullied build a little bit of self-esteem here. They learn to carry themselves in a different way. They find community and kinship with the people here, and it changes their perspective about their world."
The sport's toughness also works another wonder for the kids: it provides them with an after-school program that is socially acceptable to even their toughest peers. Sweeney says in the program's promotional video, "It's easier to say to your friends that you are going to the boxing gym than to say you're going to an after-school program. To go to an after-school program, you will hear a thousand negatives why you shouldn't go. But for a boxing program, they might come along with you. Seeing a boxing program is really cool and, before you know it, you'll have half of your neighborhood over here trying to learn to box."
Share it now!