"Roadside America" at The Henry Ford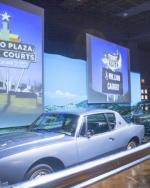 Artwork, whether it's a drawing, sculpture or photograph, is created to send a message or make an emotional impact. The phrase "a picture is worth a thousand words," comes to mind. If one picture is worth a thousand words, then what would the collection of three decades of photos be worth? John Margolies dedicated his life to his passion for photography and in addition has become a successful author and lecturer. He has over nine books, and has been published in prestigious magazines and newspapers such as Forbes and the New York Times.
Margolies has given lectures that have ranged from national conferences and civic organizations to historical societies and museum audiences. His impressive résumé was well complimented by his latest exhibit titled "Roadside America: Through the Lens of John Margolies," located at the Henry Ford Museum. Setting out on his first road trips in the mid-1970s and finishing recently, Margolies was determined to bring to light forgotten treasures that were once considered the building blocks of America.
As you stroll through the exhibit you'll be transported to Route 66, with the wind flowing through your hair as you ride down the highway. Captured in many of Margolies' photographs are those familiar, kitschy signs that dot the roadside, decorated with everything from cows to airplanes and rockets. Colors are vivid and bright and often cartoonish typography advertises businesses along the way. Along with the many prints on display, "Do Not Disturb" signs from various hotels and souvenir maps from all fifty states can be found. There are also journals that help document Margolies' over 100,000 mile journey. The small-town movie theaters, motels, gas stations, diners, and countless other roadside attractions that are captured in this exhibit are run down and beaten with age but still shine with character and charisma that is uncommon nowadays.
Margolies has done a wonderful job of preserving a slice of Americana with these photos, giving museum patrons a chance to cruise down memory lane. The exhibit is open seven days a week, with the exception of Christmas day, at the Henry Ford Museum from 9:30 a.m. to 5 p.m. and ends on January 25. Looking at the photographs in this exhibit, you'll get the feeling of traveling across the United States and back in time, without ever leaving Dearborn.
Photo by Megan Judge