New Lunch Spots on Dearborn's West Side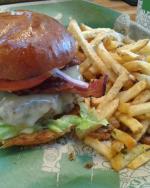 A recent decision to end nearly all metered parking on the west side of Dearborn has helped revitalize Michigan Avenue's lunch scene. Several new, independent restaurants have popped up in recent months and aim to captivate your taste buds. Here's a recap of just a few of these new additions.
Brera Pizza 1002 S. Military
Boasting fresh ingredients and a fresh atmosphere, Brera is a quality lunchtime experience. This pizzeria offers personal pizzas, salads, and wraps that come to you quickly so you can chow down before your next class. Though the restaurant makes other dishes, the pizzas are what really stand out here and they come in a variety of delicious flavors. Brera offers many traditional options such as the Queen Margarita and the Charcuterie Board (your standard meat-za), but also walks on the wild side with such items as Caribbean Jerk BBQ and The Salty Grandma. My favorite has to be the The Taco Stand. With black beans, avocado, roasted corn, and chicken, this pizza is really unexpected but totally delicious. Most pizzas are offered at $7.95 and students always get 10 percent off when they bring a valid student ID. Halal meats by request.
Los Galanes 22180 Michigan Ave.
This newest location of a Mexicantown favorite is dedicated to really fast food! Los Galanes offers your typical Mexican food, but is much quicker than other neighborhood restaurants in this genre. With no wait staff, you'll be placing your order at the front counter where you will receive a number. If you choose to dine in, know that you won't get free chips and salsa while you wait for your food, but that's because you won't have to wait long to eat! The cheese here is plentiful and the food is very tasty. Give the chicken enchiladas a shot if you're not sure what to try. Plenty of seating, later hours, and a liquor license make this spot a great option for after work or dinner as well. Most entrees are $7.50 and up.
Brome Burgers and Shakes 22062 Michigan Ave.
"Organic" is the name of the game at Brome, which introduces you to their eco-friendly values as soon as you enter the door. While you may agree with the heart of their business philosophy, I don't know that this can fit the college student budget. The average burger costs roughly $10, and that is before you've ordered fries and a shake, which is another $10. The taste of the burgers and fries is sit-down restaurant quality. Nicer than your usual fast food options, but almost three times the cost. Spending that much for a burger that doesn't knock your socks off makes this one hard to swallow. Brome's menu is always halal.
This is what a $10 cheeseburger looks like.
Share it now!