Hawks Nest Food Pantry Opens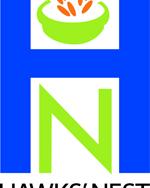 Hawks Nest logo designed by Robert D. Jones
A ribbon-cutting ceremony to celebrate the opening of the Hawks Nest Food Pantry will be held on Thursday, December 10 at 9:15am in the ASCC building L. The Hawks Nest will operate on weekdays during the semester from 10 a.m. to 1 p.m. and then from 4 p.m. to 7 p.m. Non-perishable food and toiletries will be available to students enrolled in at least one credit hour with a valid HFC student ID card. They may visit the food pantry once a week.
Hawks Nest organizers explain that the mission of the food pantry is to help students succeed. The pantry will rely on donations. Donation drives will be scheduled throughout the year. Students are encouraged to get involved and there will be a suggestion box available for innovative ways to collect donations. The Hawks Nest donation wish list includes all non-perishable items such as: canned meats, soup, fruit, and vegetables, instant oatmeal, cereal, macaroni and cheese, pasta, mashed potatoes, peanut butter, jelly, and granola bars. The pantry will also need toiletries and hygiene items, including toothbrushes, toothpaste, deodorant, shampoo and conditioner, soap, dental floss, lotion, toilet paper, dish soap, and laundry detergent.
The pantry will not be able to accommodate fresh meat, fruit, or vegetables. Damaged or opened packages and expired items cannot be accepted.. Further information will be sent to your college email. So look for the Hawks Nest logo.